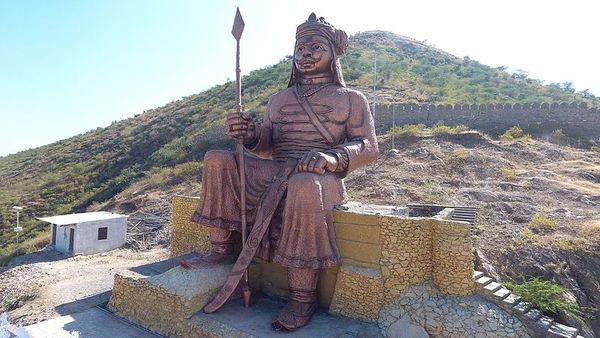 Courtesy, TV drama on Maharana Pratap and historical narrations on social media, we have been learning more about Rajputana especially Mewar. Real or not, the TV drama does create an impact on its audiences, often igniting them with curiosity.
Naïve or not, people in huge numbers are researching about the first freedom fighter of India with great pride and interest. And, I began with my own – Wondering why Maharana Pratap and the rulers of Mewar were called Rana and Maharana (Prime Minister or Custodian) – why not Raja or Maharaja (Great King)? 
The Rulers of Mewar
The predecessors of Maharana Pratap, starting from the 13th century, all used the title of Rana. From Mewar Ruler Maharana Mokal, to his son Maharana Kumbha and then his grandson Maharana Raimal, the trend of using the title "Rana" continued across generations.
Maharana Raimal's brave son Maharana Sangram Singh (Rana Sangha) used the same title and so did his son Udai Singh II, and his veer grandson Maharana Pratap. Never even in a single generation they changed the title from Rana to Raja.
What Is the Reason For This Modesty?
Well, the rulers of Mewar never saw themselves as Kings but merely as the custodians or deewan of the Hindu civilization epitomized in the temple of Eklingji, a manifestation of Lord Shiva. The deity was called the king of Mewar. Mewar was initially known as Medhpaat and its 'head of state' Lord Shiva as Medhpateshwar.  
Over the ages, the name Medhpaat became Mewar. Now that Lord Shiva was believed to be the ruler, they called themselves as Rana that is Prime Minister/Deewan or Custodians, and not Raja or Maharaja!
No wonder, this information makes one understand why Mewar continuously gave a tough fight to the invaders (The Sultans, The Turks, the Mughals) in spite of suffering extreme austerity and hardships over the centuries.
Also Read: The 20 Greatest Kings of India!
The TimeLine Of The Mewar King and Their Struggle for Their Land as its Custodian
It all began when Alauddin Khilji brought his armies to Mewar during Maharana Kumbha's time in the 13th century. Next, the Sultan of Malwa Mahmud Khilji started attacking Mewar in 1442. However, Maharana Kumbha could keep them away, as long as for 10 years.
Maharana Raimal, the next descendant faced the Shah's of Malwa and the Sultan of Delhi. He was the one who reconstructed the temple of Eklingji in Mewar. Maharana Raimal strengthened the state of Mewar.
Maharana Sangram Singh Rana Sanga played an important role in controlling Ibrahim Lodi and fought bravely against the Afghand under Lodi. Later, although Rana Sangha fought religiously with the Mughals (led by Babur) in the Battle of Khanwa, he was defeated. Rana Sangha, no doubt was the most powerful Hindu ruler then.
Rana Sanga's grandson Maharana Pratap continued his legacy by fighting with the Mughal Emperor till his last breath, proving a true custodian of Mewar and Medhpateshwar, the king of Mewar!
With Inputs from: 
Mewar Through the Ages By DL Paliwal
Featured Image: Pratap gaurav kendra udaipur / CC BY-SA via Wikimedia Commons