Not many know that Sharad Yadav, a noted politician from Bihar who represents the poor, backward and underprivileged classes apart from masses, entered the fray in 1971 as a student leader in Madhya Pradesh. Born in the year India attained its Independence, this seasoned leader was one of the many youths influenced by the ideology of Dr. Ram Manohar Lohia.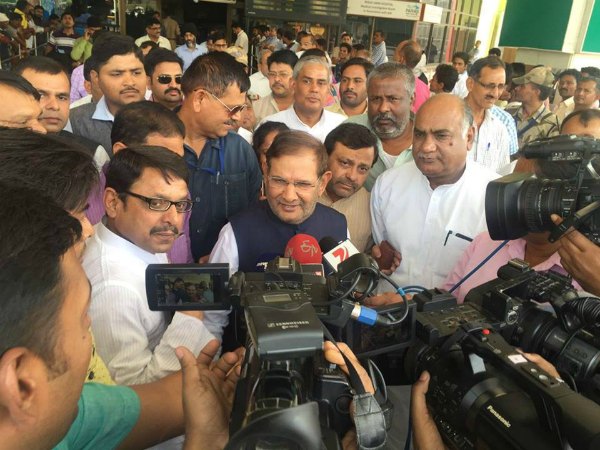 Shri Jai Prakash Narayan, the great socialist leader, chose Yadav as his first candidate to contest the Parliamentary election as Peoples' candidate from Jabalpur (MP) in 1974. Ever since the political path of this B.E. (Civil) gold medallist has been a roller coaster ride.
When he talks, people listen. It is this strong connect with his people at the grassroots level that has made Yadav a 'political teacher'.
Yadav has served seven times as Lok Sabha MP and has been to the Rajya Sabha four times. His political and leadership skills have garnered Yadav praises cutting across political lines.
 Over the course, one thing that hasn't changed is his unwavering zeal to fight injustice. Look close and he is a fighter whose magic still works on the last man in the queue.
Yadav is back in news.
The national president of JD(U) is in limelight for holding his ground or "rebellion", as perceived by some. Ever since the JD(U) has left the Grand Alliance in Bihar, there is a section within the party that is disappointed in the leadership. However, the dissent voices are not so loud and clear for reasons quite obvious.
Meanwhile, Yadav has already publicly criticised the decision of the JD(U) to walk out of the Grand Alliance. Apparently, the matter is with the election commission to decide which set (Nitish Yadav's or Sharad Yadav's) has more rights over the party. Sharad Yadav's contention is very clear that when two-thirds majority of voters voted for the Mahagathbandan and its manifesto, how can you divorce it after 18 months on the grounds that Lalu Yadav's family has been loaded with corruption charges. When they married in the name of Grand Alliance were his family without corruption charges? No, Lalu has been barred from contesting elections for 10 years and he still had corruption charges. His son, Tejaswi did not indulge in any corruption during his stint as Deputy C.M. of Bihar, then what was new as far as corruption charges were concerned? Sharad Yadav questions Nitish Yadav that would you call it democracy to win on one manifesto and switch over to another party's manifesto to remain in power without facing fresh elections?
Sharad Yadav, as he rightly puts it, is with the people's JD(U). After all, he isn't the one to leave the Mahagathbandan that was given a mandate by 11 crore people in Bihar. Now the scenario is similar of a household where a partner announces his extramarital affair assuming that his better-half would co-operate and keep mum. Although the partner's rebellion is maligning his reputation, kicking her apart will further worsen the case. So, he can only wait for the aggrieved to voluntarily exit.
The politician – who had resigned from Lok Sabha twice and even faced imprisonment for a 4-and-a-half year – has always been a key pillar behind the JD(U)'s rise and success in Bihar.
It is only foolish to image Sharad Yadav will take it lying down.
Though Nitish Yadav's camp is not so delighted with Sharad Yadav's presence, it is hard for them to dismiss his membership. They know by doing so they will only make him a hero.
Their claim that Sharad Yadav has already sacrificed his membership by breaking party norms seems unjustified. Well, the ball is in the EC's court now.
Whether Sharad Yadav remains as a Rajya Sabha member or not, his strong action has already enriched his reputation as a warrior who has the ability to go it alone.