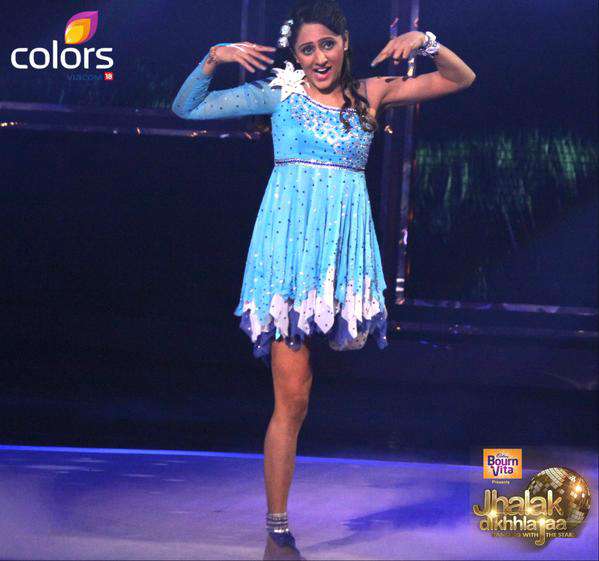 Shubhreet Kaur Ghumman  might not be one of the popular celebrities like other Jhalak Dikhhla Jaa 8 contestants, but she surely is a rockstar in herself. Young, courageous, and a fighter, you'll always find Shubreet smiling even if she stands only on one leg, even if she has to suffer a lot of pain to balance herself to execute those perfect dancing moves.
Here we share all about her life – The claim to fame, her struggles, and also about her personal life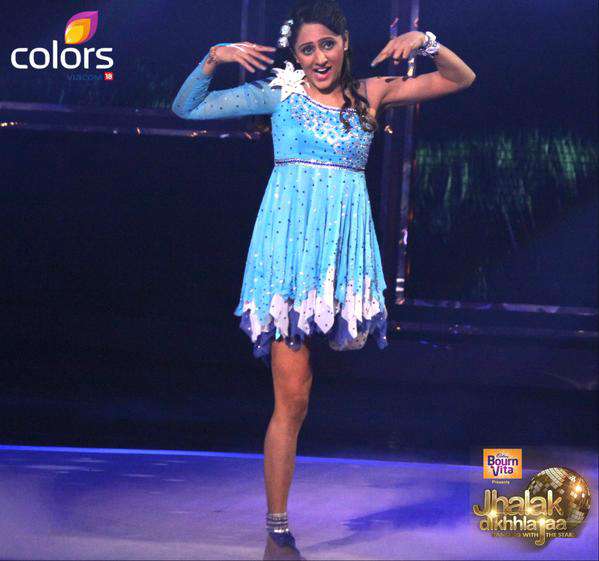 Image Courtesy: @ColorsTV via Twitter
Shubhreet Kaur Ghumman's Claim to Fame – India's Got Talent 5 (IGT)
Shubhreet rose to fame the same day when she came for the auditions of India's Got Talent. Not only she surprised everybody with her brilliant performance, but also left everybody teary eyed. Dancing and balancing oneself is not easy but here, Shubhreet was dancing effortlessly by catching every beat of the song. She danced on Chikni Chameli and it still remains her most memorable performance. What's more, 27 year old Shubhreet reached till the final stage of IGT.
She Wasn't Born As an Amputee
One might wonder whether Shubhreet Kaur was born this way. Well, she was born perfectly fine until she met with an accident and an error by the doctors led to the amputation of her left leg. It all happened when her scooty skidded and her left leg got fractured. Next, she went to a hospital for corrective surgery. Under local anesthesia the doctors accidently chopped off her veins. Soon the bleeding wouldn't cease to stop and her BP failed.
Next, she was given general anesthesia but even then the doctors couldn't fix the problem. To her mother's surprise the doctors told her that Shubhreet is bleeding to death. The girl went into coma for the next 12 hours. Neither did the doctors showed any remorse over the criminal negligence nor did they try to treat her. The condition worsened.
Even Though She Was Ready for Amputation none of the Doctors Took Her Case
Neither did the doctors treated Shubhreet Kaur nor did they referred any doctor. For three days Shubhreet remained in similar condition. Next, she saw some ants on her blanket when she removed the blankets, there was hundreds of ant eating her leg. She didn't feel anything because she had lost sensation in her legs. Finally, the courageous girl decided to go for amputation.
However, none of the doctors were ready to do so until they met a doctor in Christian Medical College who agreed to lead the process. After several  minor surgery, the Leg amputation took place in September 2010.
Shubhreet Kaur Ghumman's Family Remained in Financial Crisis and Nobody Helped Them
Shubreet's father expired due to his alcohol addiction and ever since then they faced financial crisis. Never did her father's family helped them. So, Shubhreet's mother (a mother of three) had to run the house on her own. In spite of that she never lost hope and patience. Shubh's total operation cost was 7 Lakhs and her mother took personal loan to pay her daughter's medical bills.
Many Dance Academies Refused to Train Her 
Ever since a kid Shubhreet Kaur loved dancing on Bollywood numbers. She was always passionate about dancing. This is the reason why she decided to continue dancing and participate in IGT . However, when she thought of approaching DANCE ACADEMIES to train her professionally for India's got Talent, all she got was rejection. The moment she would say about the amputation they would decline to take her until she met Sameer Mahajan, director and founder of Rockstar Academy.
Shubhreet Kaur was Cheated and Harassed by her 1 Month Old Husband
Allegations – Calling her an amputee, her husband Yash Makkar revealed that he married her only for money. Not only did he cheated her of 20 Lakhs, but also lied her about his background. He said his parents live in UK, but they resided in Chandigarh. What's more, though he said he is 27, Shubhreet Kaur later realized he is just 21. She has applied for a divorce.
Currently Shubhreet Kaur Ghumman is rocking the stage on Jhalak Dikhhla Jaa 8 and we just wish her all the very best for all her future endeavors!
Do Not Miss Reading
Know Sharad Chandra Tripathi – The Balaji Writer & Nach Baliye 7 Contestant
Why Mayuresh Wadkar and Ajisha Shah Cannot Be a Fake CoupleWhy