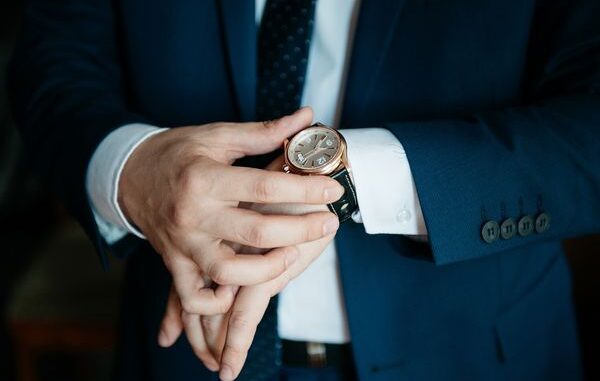 We understand that purchasing your first watch necessitates much study and consideration. Price and, of course, style are always factors to consider. The most crucial thing, though, is that you understand how to correctly wear a watch. Perhaps you're in the market for a new watch, or maybe you've just purchased your first one. In this section, we'll answer some of the most frequently asked questions from potential and new watch owners.
What Size Should My Watch Be?
When it comes to the best men's designer watches, size does matter, and you want to ensure that your watch fits properly. This comprises the watch casing as well as the band or strap. If your watch leaves impressions on your flesh, it's too tight, and if you can squeeze three fingers under the band and it moves about on your wrist, it's too loose. Instead, your watch should be snug enough to stay in place, with just enough movement to allow your wrist to breathe. If your watch chain is too wide or too tiny, you may take it to a local watchmaker who can remove or add links to make your watch fit properly.
In terms of wrist positioning, you don't want to wear your men's designer watch too low. Typically, it should be worn near the ulna's tip (the bone on your wrist that sticks out). You'll probably feel some discomfort if you try to keep your men's designer watches 0n top of or above that bone.
On which wrist should I wear my watch?
The majority of people wear their men's designer watches on their non-dominant hands. This implies that if you are right-handed, you should wear your watch on your left wrist. Because the majority of individuals are right-handed, most watchmakers build timepieces for the left wrist. Watch crowns are often located on the right side of the case. This makes it easier for right-handed people to wind the crown or operate the chronograph pushers while on the run. However, if you are a left-handed person, you are not entirely out of luck. You can check out several southpaw-friendly timepieces that is available in the market
Is it better to wear my watch inside or outside of my cuff?
When standing with your arms at your sides, your sleeve or cuff should cover the majority of your watch. When your arm is bent, your watch should be visible through the cuff of your shirt. Above all, avoid wearing your men's designer watches on top of your cuff. You don't wanna be that man!
When Should I Put My Watch On?
The answer to this query is dependent on the type of men's designer watches you have. Dress watches, for example, are appropriate for formal settings, as the name implies. A dress watch features a white face, a gold case, and a leather band. It is also more modestly proportioned and plainly designed. However, the adaptability of sports models has grown, as has the definition of a "dress watch." As a result, dress watches are no longer reserved for more formal situations.
Hopefully, this answers all your questions about styling men's designer watches. Whether it's a classic analogue watch or a men's designer smartwatch, it brings out the gentleman in you and acts as the perfect finishing touch to all your outfits. If you're wondering where to buy the best-branded watches for men, we recommend checking out online retail stores like Snapdeal. Snapdeal is one of India's most reputed online retail stores that offer Brand Waali Quality, Bazaar Waali Deal.
So, wait no more! Head to their website today and explore their collection of men's designer watches.