Students aspiring to pursue higher education from Telangana have an array of options to choose from.  There are nine state universities, two deemed universities, three central and five autonomous universities in Telangana. Each university conducts an entrance examination to test student's skills and abilities for admissions in various courses.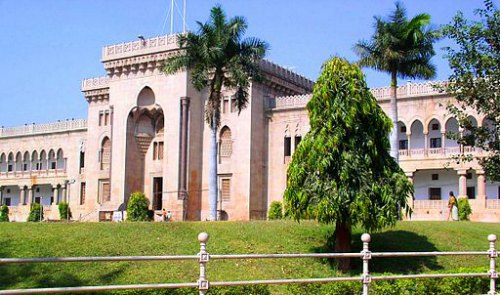 Telangana is home to many premier Universities such as Jawaharlal Nehru Technological University, or JNTUH, Osmania University, International Institute of Information Technology (IIIT), Indian Institute of Technology (IIT), University of Hyderabad, etc.
In this article, we have detailed the courses provided by these universities, along with their eligibility and admission criteria.
Jawaharlal Nehru Technological University, Hyderabad (JNTUH)
Jawaharlal Nehru Technological University Hyderabad, or JNTUH is a state-owned university, located in Hyderabad, Telanagana. It was founded in 1965 as Nagarjuna Sagar Engineering College and in 1972, it was finally established as Jawaharlal Nehru Technological University.
JNTUH is a UGC recognized university and has gained "A" Grade accreditation by NAAC.
It is one of India's leading educational university for Engineering and offers technical and research oriented courses. It offers B.Tech (undergraduate programs) in as many as 25 disciplines and M.Tech (post-graduation) in 77 programs.
Eligibility Criteria
B.Tech– Based on rank secured in Engineering Admission and Medicine Common Entrance Test (EAMCET) conducted by Telangana State Council of Higher Education, OR, 3-year Diploma holders with Engineering Common Entrance Test (ECET) ranking.
M.Tech/M.Pharmacy/MBA/MCA– Based on GATE or PGECET/GPAT/ICET ranking respectively, conducted by Telangana State Council of Higher Education.
The University has a placement cell which is responsible to guide and notify students about internship and job opportunities. There are several Indian and multi-national companies that recruit students of JNTUH.
B.Tech. graduates are offered a package of around INR 25,000 per month whereas B. Arch. Students can expect up to INR 40,000 per month. Students can grab these opportunities with their academic skills, IQ and knowledge.
Osmania University
Osmania University is a public state, non-profit university located in Hyderabad. It was founded in 1918. Osmania University is the third oldest university in Southern India. It is also the first Indian University to have Urdu as the primary medium of language and instructions.
The university offers courses in the fields of Humanities, Arts, Sciences, Social Science, Law, Commerce and Business Management, Engineering and Technology, Information Technology and Oriental Languages.
Admissions to Bachelor of Engineering, Master, and Doctoral programs in the main campus is on the basis of merit, evaluated by the national entrance examinations such as EAMCET, GATE, BCFSBTGMES-N&D, APLAWCET, or O.U. Ph.D. Entrance Exam for each course offered. Students who manage to score as per the university norms get admissions easily in the course of their choice.
Osmania University Common Entrance Tests (OUCET) are conducted by Osmania University for admissions into various PG, PG Diploma and 5-Year Integrated Programs offered by Osmania and other affiliated colleges.
There is a separate cell for placement in Osmania University which is responsible for conducting job skill and campus recruitment training in the last semester which helps the students in their interviews. Many companies like Oracle, Deloitte, HP, Net Cracker, Accenture, Wipro, L&T, Maruti recruit students every year.
International Institute of Information Technology (IIIT)
International Institute of Information Technology (IIIT) is a private institute located in Hyderabad. It was established in 1998. IIIT Hyderabad is one of the top Computer Sciences Institutes in the city. It emphasizes on research from under graduate level.
The institute runs Computer Science Courses and research projects and is research based. IIIT Hyderabad offers undergraduate, postgraduate and dual degree programs in various disciplines.
Admission to IIIT in any undergraduate discipline is based on one of the five modes, namely
Joint Entrance Examination (Main)
The institute's own Undergraduate Engineering Entrance Examination (UGEE) followed by an interview
Students representing India in the International Olympiads during 10+2
Direct Admissions for Students Abroad (DASA)
Lateral entry to dual-degree courses via entrance examination, group discussion, and interview.
Post-graduation can be pursued from IIIT by scoring in Postgraduate Entrance Exam (PGEE) conducted by the University itself.
Placements of this University is a plus point for students studying here. The university organizes campus drive where various giant companies like Facebook, Google, Microsoft, Indeed, Uber, Amazon, Walmart and Suchlike recruit the students. The average salary package is INR 12 Lac PA and the authorities make sure that all the students in the campus get placements.
Indian Institute of Technology (IIT), Hyderabad
The university which does not require an introduction is Indian Institute of Technology. It has maintained its reputation for quality education and best placements all over India.
IIT Hyderabad is one of eight new IITs recently established in India by Ministry of Human Resource Development (MHRD), Government of India. It is a public engineering and research institution. IIT is famous for its technical education in graduation, post-graduation and PhD programs.
IIT Hyderabad offers B.Tech degrees in eight disciplines of Engineering, M.Tech degrees in eight disciplines of Engineering, postgraduate and Research degrees across all disciplines in Engineering, Sciences and Liberal Arts.
Eligibility Criteria
Admissions to this University in undergraduate (B.Tech) programs is solely on the basis of rank scored by the candidate in Joint Entrance Examination (JEE).
Admission to M.Tech programs requires B.Tech./B.E. degree or equivalent in the respective areas and possessing a Graduate Aptitude Test in Engineering (GATE) score.
Admissions to M. Sc. course in requires a Bachelors in a similar discipline with minimum 65% for general and OBC and 60% for SC/ST. The candidate must also possess a Joint Admission Test (JAM) with an excellent score to get admissions.
Ph.D. program requires either B. Tech and GATE qualification or M. Tech and GATE score to be eligible for admissions.
The candidates who have a valid Common Entrance Examination for Design (CEED) score is eligible to apply for M. Des course.
There are plenty of job opportunities for students who hold an IIT degree. Top IT, Services, Banking and Industrial companies in the world like Microsoft, Amazon, PayPal eBay, Flipkart Morgan Stanley, Bank of America, IBM, Oracle and suchlike, visit the campus for placements and offer great packages. The average package offered is INR 10 Lac PA.
University of Hyderabad
University of Hyderabad is believed to be classified in education for students. It was founded in 1974 primarily as a post-graduation university.
The highly competitive entrance examination for admission in UoH is conducted by the university itself for all the courses. It is followed by an interview round, on the basis of which the students are granted admission in University of Hyderabad. The university offers post-graduation in M.Sc, M.A, M.F.A, M.Tech, M.C.A, M.B.A., M.Phil and Ph.D degrees.
The university claims to follow a positive- discrimination reservation as per the university norms for admissions. Most of the students land jobs in the end, provided they pass all the semesters with good score.
However, statistics say that the placement is average and companies like Microsoft, TCS, IBM, and other IT companies from Japan and Singapore recruit students. The average salary package is INR 8 Lac PA. If a student is hardworking and dedicated, he/she can get a good job in the campus placement drive.