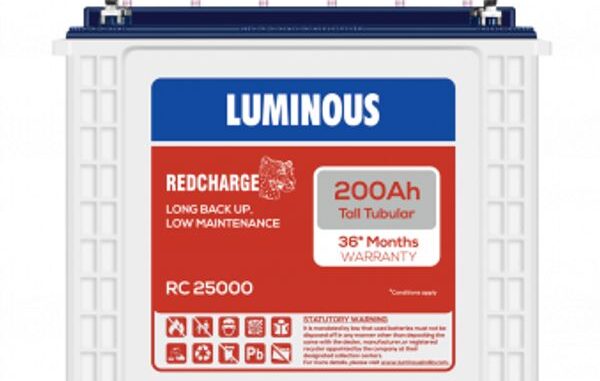 When someone is going to buy an inverter, special emphasis should be given on the batteries. The batteries are the main power source of an inverter, and the quality of the batteries decides how the inverter's performance will be for the most part. The battery of an inverter is where the electric current gets stored in normal conditions. This happens as the inverter gets charged, by the conversion of electrical to chemical energy. When power cuts occur, the stored chemical energy converts back to electrical energy and powers the household. As a result, choosing the inverter battery properly is very important.
There are many types of batteries. However, the tubular battery is one of the most popular ones, as it comes with many features and advantages over other battery types.
Tubular Inverter Battery – Description
In inverters, a tubular battery is a type of battery that has been so designed such that it contains tubular-shaped plates. The battery has both positive and negative plates, and it is like a regular lead-acid battery, with tubular positive plates. The shape of the negative plates is, however, flat. The shape is so designed that the chemical components active inside the battery get extra support.
Usually, a tubular battery has two components, structure and reactive chemicals. The structure helps in transmitting and holding the electric charge present in the plates. The reactive chemicals help in generating the electric charge, and the tubular structure keeps the components inside the battery.
Tubular Inverter Battery – Design
Usually, a tough and durable construction is used for a tubular battery, which increases the lifespan of the battery to nearly a decade. Such batteries are generally used for places that face power cuts frequently and for long periods. The design of these batteries also makes them able to support heavy loads.
Tubular Batteries – Advantages
Some of the advantages of a tubular battery are given below.
These batteries are specially made for providing service over frequent and long periods.
The design reduces the amount of distilled water that is needed for keeping the batteries from dying out in comparison to other batteries. The design enables easy circulation of the acid, and thus, these batteries dry slowly when compared to flat plate batteries.
A tubular battery provides more reliability than other battery types.
These batteries have a much stable performance than other variants.
Also, the warranty period of a tubular battery is usually much higher than the other types of batteries.
Tubular Inverter Battery – Features
A tubular battery is composed of lead alloys, and this makes the battery resistant to corrosion, and it increases its purity. As a result, the service life of such batteries is usually long and free from disruptions. The batteries are designed to take high loads, run longer, and give backup in areas with high power cut frequency. For places with high temperatures, a tubular battery is safe to use. These batteries are easy to handle and operate. Also, these batteries need very low maintenance.
These batteries need distilled water, however, and there are water level indicators in any tubular battery inverter. Usually, the green and red colour are used to demonstrate the adequateness and shortage of water respectively.
Final Words
A tubular battery thus has lots of advantages over other battery types. As a result, more and more people are getting inclined to buy inverters that have tubular batteries in them. With more features and better prospects, the tubular batteries are much more worth the money than the other battery type inverters. Since most people look for investing in an inverter battery that returns the most, inverters with tubular batteries are a much better choice than standard flat plate battery-equipped inverters. An inverter with a tubular battery will last longer, have extended warranty periods, will have a better charging efficiency, and can provide loads better. For places that require heavy-duty loads on a frequent basis, or for places that require backups for prolonged periods, an inverter with a tubular battery is a great choice.
Also Read: 5 Things to Check for Before Buying a New Car Battery