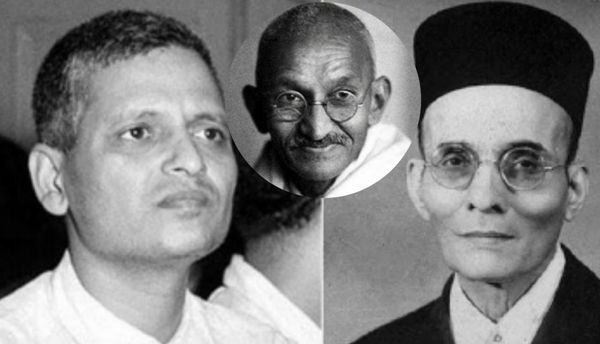 It was quite shocking to me that a large number of people on Twitter was applauding Nathuram Godse, a killer, an assassin on Twitter yesterday (May 19,2020) which happened to be his birth anniversary while remembering him for his bravery as well as courage and blaming Mahatma Gandhi for partition. Despite the history stating that Mahatma Gandhi had no role in the entire concept of two nation theory these Godse fans not only accused him for partition of India but also justified his killing by Nathuram Godse, some even citing Mahabharat to do so – totally ignoring that there are sources that claim it was the founding father of Hindutva politics VD Savarkar aka Veer Savarkar who was in agreement with the two nation theory.
Mahatma Gandhi Was Against the Two Nation Theory and Partition of India
On Jinnah's stress on the two-nation theory in a letter sent by him, Mahatma Gandhi opposing it totally replied him back –
"I find no parallel in history for a body of converts and their descendants claiming to be a nation apart from the parent stock. (sic)"
Gandhi also often opined that
"Hindus and Muslims were sons of the same soil of India; they were brothers who therefore must strive to keep India free and united. (sic)"
Along with Mahatma Gandhi even Khan Abdul Ghaffar Khan aka Frontier Gandhi too opposed Jinnah's two nation theory and called it un-Islamic.
On the other hand, VD Savarkar Had No Qualms About the Two Nation Theory –
buy cozaar online https://infobuyblo.com/cozaar.html no prescription
On August 15, 1943, in a press conference in Nagpur, Vinayak Damador Savarkar aka Veer Savarkar said,
"I have no quarrel with Mr Jinnah's two-nation theory. We, Hindus, are a nation by ourselves and it is a historical fact that Hindus and Muslims are two nations. (sic)" (cited in "Indian Annual Register", 1943 Volume II, page 10)
Dr BR Ambedkar who was always a keen observer and a strong critic of the competitive Hindu-Muslim communal politics in pre-independence India find it odd and said,
"Strange as it may appear, Mr Savarkar and Mr Jinnah instead of being opposed to each other on the one nation versus two nations issue are in complete agreement about it. Both not only agree, but insist that there are two nations in India — one the Muslim nation and the other Hindu nation. They differ only as regards the terms and conditions on which the two nations must live. (sics)" (BR Ambedkar, "Pakistan or the Partition of India", 1990 [reprint of 1946 edition], p142.)
buy cymbalta online https://infobuyblo.com/cymbalta.html no prescription
During the Quit India Movement, Hindu Mahasabha Had Aligned with Muslim League
Besides, it is a well-known fact that the Hindu Mahasabha did align and support the Muslim League and they together even ran a coalition government in Bengal, Sindh and NWFP (North West Frontier Province) during the Quit India Movement. Historically, when Congress opposed any dealings with the Muslim League, the Hindu Mahasabha readily joined hands with them.
Not long ago, honourable Home Minister of India Shri Amit Shah in Lok Sabha had blamed the Congress for diving India on religious lines while Congress MP Shashi Tharoor in a session at Zee Jaipur Literature Fest mentioned that going by the historical canon it was VD Savarkar who was the first one to advocate two-nation theory in 1937 much before the Muslim League passed the Pakistan resolution. This has been a debate from a decade now, a story for another time.
Coming back to my original dilemma – Despite knowing the facts, history and findings why do people the Right-Wingers on social media blame Mahatma Gandhi for the partition when he was the one who opposed it completely right from the start? Why is his killer Nathuram Godse applauded for his act when his alleged mentor had no qualms with Jinnah's idea of two nation theory? And why are the RWers still hail Godse when PM Narendra Modi himself said he can never fully forgive MP Pragya Thakur after she praised Godse and called him 'patriot'?
buy depakote online https://infobuyblo.com/depakote.html no prescription
Source and Reference:
David Arnold Gandhi. Taylor & Francis. p. 170
The Gandhi – Jinnah Conversations
"Pakistan or the Partition of India" by BR Ambedkar [reprint of 1946 edition]
"Indian Annual Register", 1943 Volume II, page 10
Gandhi's Political Philosophy: A Critical Examination by Bhikhu Parekh
Palgrave Macmillan UK. p. 178. ISBN 978-1-349-12242-4.
Anil Chandra Banerjee, "Two Nations: The Philosophy of Muslim Nationalism"