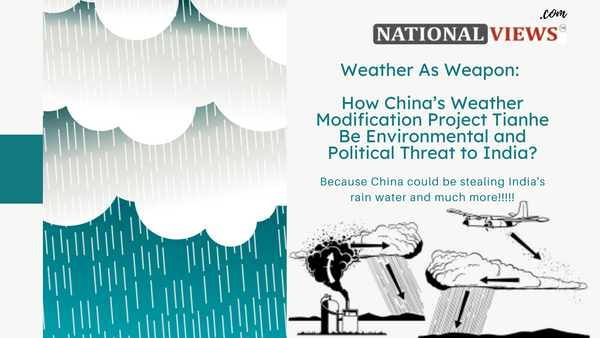 Ahead of the Beijing Olympics 2008, the communist nation did something very startling. It used nearly 11,000 cloud seeding weapons (4110 rocket launchers and 6781 artillery guns) to control rain and clear skies during the opening and the closing ceremony of the Olympics in Beijing. The same technology was used in the 70th anniversary of the People's Republic of China in October 2019. Although these weather modifications have been peaceful and domestic, recently China's state council went on a record to say that their weather modification project Tianhe will be deployable by 2025 because of certain technological breakthroughs.
What is China's Weather Modification Project Tianhe?
The Chinese scientists aim to divert rainwater over the sky by working on the ambitious Tianhe Project (Sky River) plan. Started in 2016 by researchers at Tsinghua University, the project aims to divert water vapour northwards from the Yangtze River basin to the Yellow River basin, where it would become rainfall. Although the idea primarily was to target a landmass of 1.6 million sq km, China is now planning to expand its weather modification program to cover an area of over 2.1m sq miles i.e., 5.5 million sq km of land. Part of this weather modification program is to build a new weather modification system in Asia's biggest freshwater reserve, Qinghai-Tibet plateau (QTP) or the Tibetian Plateau.
A South China Morning Post report says that the extra rain generated could be up to 10 billion cubic meters a year or equivalent to 7% of China's annual water consumption. The long-term program by 2035 is to reach an 'advanced' level and focus on restoring ecosystems, revitalizing rural regions by dealing with severe drought and minimizing losses from natural disasters.
Now,
How Does China's Weather Modification Project Affect India?
While the technology of weather modification by blasting silver iodide or liquid nitrogen into the atmosphere to stimulate the formulation of clouds and precipitation will be used for domestic purposes by China, there is little consideration given to the consequences of this gargantuan project on the surrounding region, especially to the neighbouring Southeast Asian countries and India.
China's attempt to hydro-engineer the sky will not only ease shortages in the dry north of China but also affect India and neighbouring countries if it distresses the flow of the Brahmaputra, Salween and Mekong rivers all of which have their sources in the QTP.
The installation of permanent chambers to produce an upward air current and sweep particles into clouds to induce snow and rain can have severe impact especially in the bordering neighbouring Indian states of Sikkim, Arunachal Pradesh, Himachal Pradesh, Uttarakhand and Union territory of Ladakh. As of now, The China Aerospace Science and Technology Corporation has already installed more than 500 burners on mountain slopes in Xinjiang and Tibet to feed silver iodide into the atmosphere in large volumes.
Can China Use Weather as a Weapon? Will China's Weather Modification Project Be a Threat to India?
The dragon has had a long history of establishing dominance over natural resources through gigantic engineering projects and using them as strategic assets, think, the Three Gorges Dam. Now that huge swathes of the Indian populace are dependent on the river that follows the Tibetan plateau, China's weather modification program in Qinghai-Tibet plateau portends more challenges. What complicates this most is the geopolitical context.
A year ago, it was shocking to witness the analysis of satellite images that showed how China has been altering the Galwan river's ecosystem to gain an upper hand in the Galwan region and so it won't be much of a surprise if project Tianhe starts disturbing the ecosystem, weather, environment changes in the Indian states of bordering neighbouring Indian states of Sikkim, Arunachal Pradesh, Himachal Pradesh, Uttarakhand as well as Union territory of Ladakh and gain political mileage over the region.

Also Read: Galwan Valley Clash: PM Narendra Modi Has to Strategically Deal With China
Besides, if China's Sky River project works as advertised, it will also have significant control over the water supply which are important not just to India but also to Thailand, Vietnam, Cambodia, Myanmar and Laos. Could the Chinese then use the project to mitigate flood or intensify it further, is another potential threat?
It is interesting to note that the United States of America too once attempted to manipulate seasonal rains during their war with Vietnam in 1972. Known as 'Operation Popeye' it was aimed to flood supply route along the Ho Chi Minh trail. The same technology was later adopted as well as upgraded by the Soviet Union and then used by China during the Great Leap Forward.
Lastly, weather can be manipulated to use as a weapon to wage a hidden war. It can not only damage the opponent country's ecosystem but destroy agriculture and even disable communication networks. India cannot, therefore, afford to ignore this lethal weapon (although unconventional) by the dragon in the form of weather modification project Tianhe especially when the haughty and mighty neighbour has acquired enough proficiency in wielding it.
P.S: It is also important to note that the UN in 1976 passed the ENMOD Convention which prohibits military or any other hostile use of Environmental Modification Techniques and China is a participating member.