When SEBI conducted a survey recently, it was observed that 90% of the population prefer parking their money in bank deposits while only 10% look forward to invest their money in financial assets like equity, Mutual Funds, bond, ETF etc.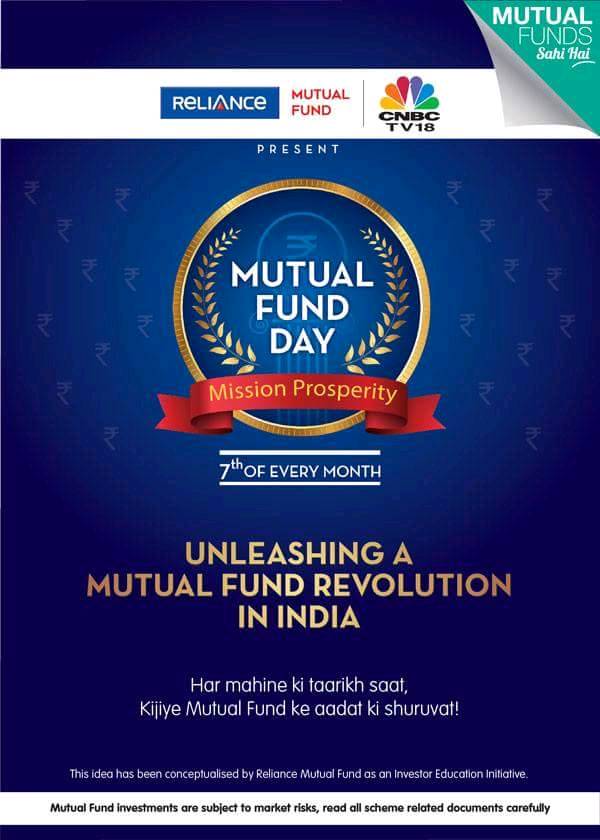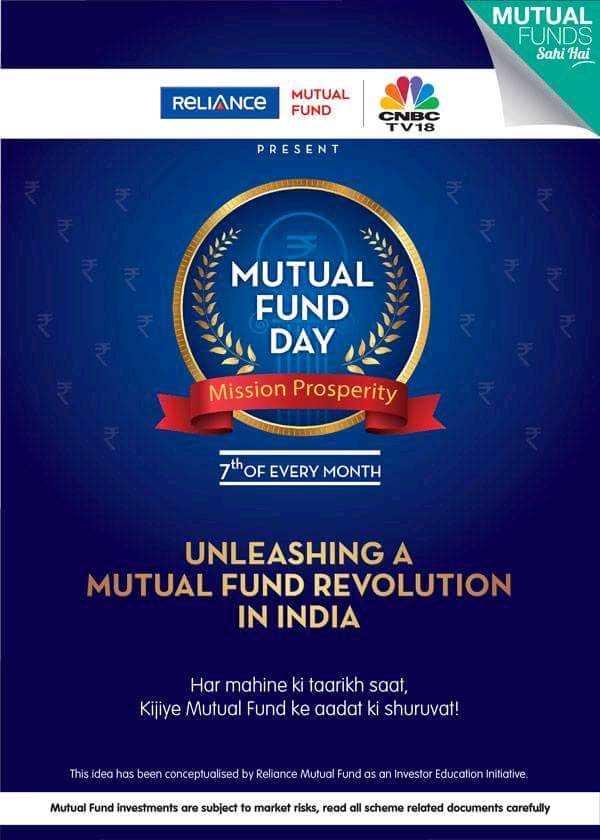 According to the survey, after bank deposits, Life insurance was the second most preferred investment, followed by gold, post office saving and real estate. It is unfortunate that despite the lack of appreciation in physical assets, people still prefer investing in these investment vehicles over financial asset.
This is the reason why educating people is a must when it comes to investing and making money. Nevertheless, this very cause has laid down the foundation of a very unique day called as the Mutual Fund Day (MFD).
What is Mutual Fund Day (MFD)? When Is It Celebrated?
When it comes to creating wealth over time with relatively small amount of funds, Mutual Fund is a great option as it not only provides diversification but also asset allocation. However, there are many prejudices surrounding it. This is the reason why Reliance Mutual Fund as an Investor Education Initiative in association with CNBC TV18 and Moneycontrol have come up with Mutual Fund Day (MFD) which is celebrated 7th of every month starting from March 2017.
What is the Objective of Mutual Fund Day?
Mutual Fund aims to generate returns higher than traditional investments. . The objective of Mutual Fund Day is clear – To help all type of investors achieve a high financial quotient while encouraging and motivating them to invest regularly.
Recognizing the need for financial independence, the initiative aims to inculcate a habit of investing early amongst the vast population of the country especially the youngsters.
What are the Steps Taken to Educate Investors about MFD? What are the Initiatives Taken to Spread the Word?
The following steps have been taken by the initiators to promote the cause across the nation –
Investor Awareness Camps: These camps are being set up across cities to educate investors. You can find out an Investment Advice Camp near you here.
Media Led Events: Newspapers, TV channel and radio channel are organizing events to create an awareness about investing in general for financial independence. There were 25 events for the Mutual Fund Day – May across the nation.
Family Financial Series Episodes on CNBC TV18: Here the channel brings out case studies every Mutual Fund Day where investors talk about their journey. Also, there are experts from various investment companies who come live and share their vast knowledge on how to invest successfully.
Fund For a Friend (FFAF) App: With the help of this app, you can now help your family, friends, relatives towards their financial goals by taking a simple Fund For a Friend quiz and help them with an investment profile that works best for them. You can share the result on social sites and simply tag them.
To know more about Mutual Fund Day, check out #MFDayson7th on social media.