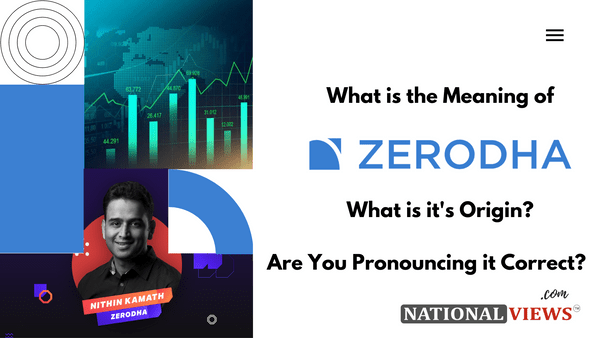 The name Zerodha is everywhere today. Interestingly, people who aren't into stock markets and trading too know this name. The adage 'bus naam hi kaafi hai' goes perfectly with this brokerage house. After all, they pioneered the discount broking model in India and before the company made its mark in the market, 'zero' brokerage was an alien concept in India. However, many still wonder, what is the meaning of zerodha.
Especially because even when the company was formed, there wasn't any concept of Zero broking. So, it is indeed interesting how the Founder Nitin Kamath and his team came up with the name Zero(dha). However, the founder has an interesting take on this. Hear it out –
So, What is the Meaning of Zerodha? What Is The Origin of the Name?
Well, going by Nitin Kamath, Zerodha is nothing but Zero + Rodha. Rodha is a Sanskrit word meaning barrier. So, during the inception of the company the prime motto was to remove all barriers for traders.
Although in the initial years it sounded quite unusual, over the years the name has been appreciated and at times even called visionary. What a smart word play! Besides, there is some distinct class and elegance in Sanskrit words just like the French ones.
Honestly, many of the new age companies would have never come up with such unique names if having no-common domain names wasn't a compulsion (I'm sure many will agree!). Even though name isn't that important half of the startups literally whack their minds during the initial stages of company formation because of domain and other registration norms.
Also Read: Amazon Hitting A Milestone: From Scratch to World Famous Brand
How to Pronounce Zerodha?
Well, it is pronounced differently by different people and there are all versions we hear like Jarodha, Jirodha, 0-dha. However, since Zerodha = Zero + Rodha, the closest pronunciation is Zero-dha as many of us has been using it. However, if you hear it from Team Zerodha, they pronounce it as Zay-Ro-Dha not Ze-Ro-Dha.
So, now you know what is the meaning of zerodha and how to pronounce zerodha? Where you using the one that the team uses or you prefer calling it as Zero-dha, do tell us in the comment section.
P.S: Zerodha was founded and bootstrapped by Nitin Kamath in 2010 and kickstarted it's operation from 15th August, 2010.
Also Read: 11 Top Dividend Stocks Whose Dividend Yield Is More than FD Interest Rates