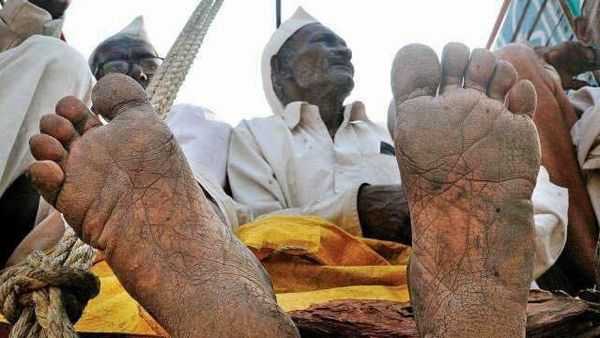 Yesterday was pretty horrible in Mumbai !!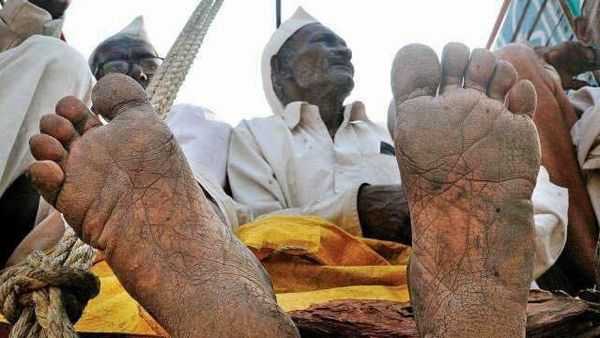 OMG Seriously !!! There were snarling traffic jams everywhere.
Apparently, some farmers from somewhere in Maharashtra took it upon themselves to hold the bubbly city of Mumbai to ransom.
They walked around 200 Kms from various places and came and ceremoniously plomped themselves in the middle of our beautiful city.
Why Mumbai?? Why does everyone want to come and destroy our weekend?
We work hard for the entire week and then we have got one or two days to have fun and we cant go out anywhere because the roads leading to the malls and multiplexes are blocked by these people.
Don't these farmers in Maharashtra realize what a tough life we live, which they are disrupting by the protests?
And they don't even look good during the protests. When we Urban classes protest, with those candles in our hands, we look so nice in those crisp white clothes. These guys look so shabby. They don't even have proper shoes. UGH !!!
And what are they even protesting about?
Loan waivers? Why did they take loans if they knew they would not be able to pay them back?
And why ask for a loan waiver? Did Mallya ask for a loan waiver? Did Nirav Modi ask for a loan waiver? Didn't that Dhoot guy from the ConVideo company asks for a loan waiver?
NO !!!!
Why do the farmers need a loan waiver? I mean, how hard could it be for farmers to take a plane ticket and leave the country? And if you cant afford a plane ticket take a train ticket or sit in an Aman Ki Aasha (I hope they are still running that service) and go to Pakistan !!
Moreover, they were carrying a sea of red flags, red is such an uncouth color. I mean, if they did want to carry flags at least they should have carried rainbow colored ones….oh no wait, that's Gay Pride… okay maybe some other colorful ones. Magenta is a nice color. It looks cool. This red color looks so angry. We don't want this kind of an angry emotion on a peaceful weekend.
The only good thing about the protests was that they didn't burn anything or didn't throw stones at school children. In fact, they walked the whole night just so that the Monday school and exam schedules would not be ruined. That was thoughtful of them, but then again, it's not like their Pride and Honor is at stake….. maybe their lives, but then Pride and Honor is bigger than life…hain na?
Thats it… I am done with these farmers. From now onwards, I am going to boycott the farmers.
From now on, I will not buy any product that is made by the farmers. Hah !! No khulla rice, no loose daal. Only packaged goods from Adani Wilmar and Vegetables from Reliance Mart.
Lets teach these farmers a lesson.
Wait….what? Even those packed products are made by farmers? And the Corporates earn all the money, on those products?
Umm okay, never mind then about the boycott, but still ….. Why the Red Flags !!!! 
:/ 
:/
~ ~ ~ The Rant Of An Urban Chu*****
This post was first published by Darshan Mondkar on his Facebook timeline.
Disclaimer: Maharashtra Farmers, big respect to all of you for being what you are !!! I hope all Farmers from across India join this protest. "Jai Jawan Jai Kisan" is not a mere slogan for PR campaigns, atleast not for the well meaning Indians.