A lot have been said about Yogi Adityanath, the new Chief Minister of Uttar Pradesh. From his hate speech to controversial statements to criminal cases and even disturbing harmony among the masses, the common man is well informed about his background.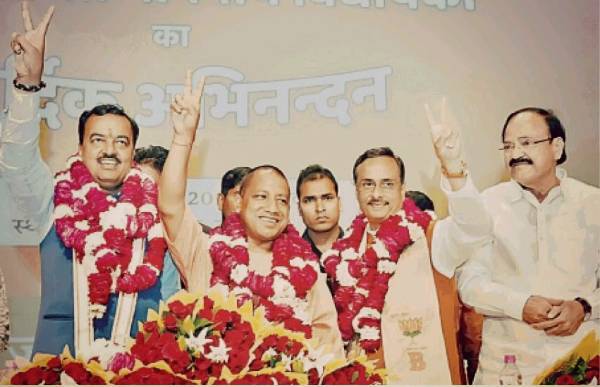 However, here we would share some facts from his personal life as well as his daily routine as a Mahant of the Gorakhnath Muth.
Yogi's Family Background
Yogi Adityanath's parents Savitri Devi and Anand Singh Bisht (85) reside in Panchur village that comes in Pauri, Garhwal, Uttarakhand. They have 4 sons and 3 daughters. Yogi is the second son. One of the brothers of Yogi is in a transportation business while other is a local journalist.
According to the family, Ajay Singh Bisht urf Adityanath had the passion towards social welfare ever since he was a student. His mother quoted that their son gave more time to social work than family but also mentioned that he visits the family on important occasions.
When He was in College, He Didn't Get the Ticket from ABVP to Fight the Student's Union Election
In the year 1991, while studying BSc (Mathematics) Yogi then Ajay Singh Bisht (19) decided to fight the Students Union Election. Unfortunately, he didn't get ABVP ticket to fight the election. Determined, he stood as an independent candidate but lost the elections.
Mahant Avaidyanath Is His Maternal Uncle
Disheartened post losing the Students Union Election, Ajay Singh Bisht wrote a letter to his maternal uncle Mahant Avaidyanath of the Gorakhnath Muth. Next, he left his house at the age of 19 in 1993 and came to Gorakhpur where he announced Avaidyanath as his Dharam Pita. He studied for 5 years and turned Yogi Adityanath from Ajay Singh Bisht.
Also Read: Narendra Modi – Facts from His Life as a Wanderer
Yogi Adityanath Wakes Up at 3 in the Morning
Yogi is known to get up in the Brahmamuhurta (the Creator's Hour), the auspicious time before sunrise that is ideal for yoga, meditation and all sort of religious practices. No matter what the season is – Winter, Summer or Rainy, the wakeup time remains the same for him.
He Starts His Day With Gau Seva
Post following all the yogic practices, the Yogi enters the Gorakhnath Temple Gaushala and feed the cow with the green fodder. Next, he spends some time there taking care of the cows.
Also Read: Narendra Modi – Facts From His Life as a Revolutionary
People Throng Across the Temple's Office to Seek Yogi's Help as Well as Advice
Post his archana in the temple, he joins the masses who come to the Mandir's office on a daily basis with their problems. He sits with them, listen to them patiently and then give his advice. Not just Gorakhpur, people from various nearby districts too come to seek his help and advice. Yes, he is that popular.
The Food Habits Of Yogi: Healthy Breakfast, No Lunch, Light Dinner
He eats simple food. His breakfast comprises of Daliya and fruit salad with seasonal fruits especially papaya, Boiled Grams and a Glass full of Milk. Now that he is busy with several work during the day, he usually skips his lunch.
Animal Lover Yogi Adityanath Have Special Provisions for Animals in the Temple
Besides, cow, Yogi is also known for expressing his love towards other animals and birds. In the huge corridor of the temple, grains are spread in the morning on a daily basis for the birds to eat. In addition, water is kept in utensils for the birds to drink.
There is also a labrador in the temple named Kaalu who is quite close to Yogi. No matter how crowded the temple is, one command from the Yogi and he is right next to him.
Besides, there is a cat in the temple who visits Yogi right at the time when he sits for his breakfast and dinner. She is known for attracting his attention through her sounds. This cat is quite fond of kheer and the temple kitchen ensures that they make kheer for the cat on a daily basis.
Also Read: Narendra Modi : Facts From Godhra and Beyond – Part 1
Though known for his firebrand image, Yogi Adityanath once cried openly in the Parliament in the year 2006 over police brutality in the state expressing his grievance to the then Lok Sabha President Somnath Chatterjee.