A fearless journalist known for her outspoken attitude, Gauri Lankesh is no more with us. Though bullets could kill her, the same cannot be said about her liberal and rational voice which till today continues to haunt the killers of the dissent.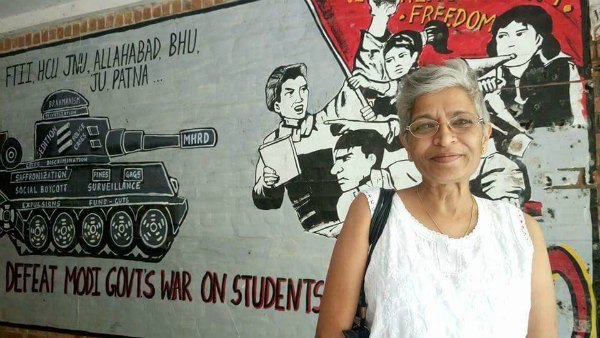 While her professional life and views are highly popular, here we share everything about her personal life:
She was The Eldest Child of the Renowned Kannada Writer P. Lankesh
Born in 1962, Gauri Lankesh was the first child of P. Lankesh (Palyada Lankeshappa) and his wife Indira Lankesh. Gauri had two younger siblings Indrajit Lankesh and Kavita Lankes. The family lived in the then Journalist colony of Bangalore. Journalist Radhika Mahalingaiah recalls her as a pretty sweet child who never stood any nonsense from anybody.
Gauri Studied Journalism in IIMC Delhi
After finishing school and college in Bangalore, Gauri took admission in Indian Institute of Mass Communication in Delhi. Post completing her course, she started her career as a journalist with the Times of India, Bangalore.
Gauri Lankesh Married Journalist Chidanand Rajghatta
In 1980s Gauri married Chidanand Rajghatta, another journalist. The couple divorced 27 years ago after 5 years of courtship, followed by 5 years of marriage. They remained friends thereafter and kept in touch with each other. He currently lives in Washington DC and is a foreign opinion columnist for the Times of India. He is married to Mary Breeding. The couple has a daughter, Divya.
Chidanand is also the author of the book author of The Horse That Flew: How India's Silicon Gurus Spread Their Wings. It is published by Harper Collins. Over the years, he has worked as an Editor and Foreign Correspondent for major Indian publications.
Gauri started her own publication post having differences with brother Indrajit Lankesh
In early 2005, a report was published in Lankesh Patrike with Gauri's permission. However, the same was withdrawn by her brother Indrajit as he alleged that the report favored the Naxals. Next, Indrajit, the paper's publisher, and proprietor filed a police complaint against Gauri accusing her of stealing. The following day Gauri filed a counter complaint against Indrajit for threatening her with a revolver. While Indrajit accused Gauri of favoring Naxals, Gauri stated that Indrajit opposed her social activism. After this incident, she started her own Kannada weekly, 'Gauri Lankesh Patrike'.
Also Read: 5 Lesser Known Facts You Need to Know about Gauri Lankesh
More about her Siblings – Indrajit Lankesh and Kavita Lankesh
Indrajit besides being the proprietor to Lankesh Patrike is also a film director. He started his career in 2001 and made the film Aishwarya in 2006 that marked the debut of Deepika Padukone. Gauri's sister Kavita Lankesh is a documentary filmmaker and lives with her daughter in Bangalore. In a video, she has warned the people behind the murder saying that, you can kill us but not our guts. Meanwhile, Indrajit has asked a CBI probe into the matter.
Prakash Belawadi was a Close Childhood Friend of Gauri Until He Became BJP Advisor in 2014
Gauri and Prakash shared a friendship of 35 years. However, it ended soon after Prakash, a Bangalore Mirror's columnist became a media advisor to BJP. Though she didn't support Congress, she was a staunch critic of BJP while Prakash was in favour of BJP. Their political differences made then unfriend each other not only in facebook but real life as well.