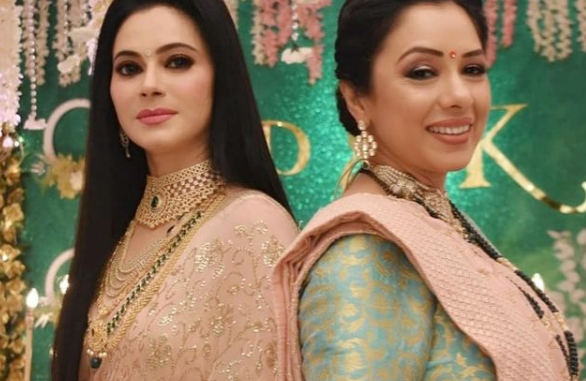 Rakhi Dave in Anupamaa serial is a character nobody likes. Full of devious plans, notorious tactics, her manipulative brain never stops to scheme things – one by one. She has been making everybody's life miserable including her own daughter's married life. While she should be ashamed of her actions, she is in fact very proud of them.
Here we share reasons as to why fans love to hate Rakhi Dave in Star Plus serial Anupamaa
Rakhi Dave Literally Cares for Nobody, not Even her Husband and Daughter
Me, I and myself is all what Rakhi is known for. Highly self-obsessive, this woman cares for nobody. She controls her daughter, dominates her husband, manipulates people and wouldn't think twice before insulting anyone. She is so inconsiderate that despite knowing Vanraj's father was ailing from his recent heart attack, she decided to expose Vanraj and Kavya's relationship in front of the entire family; not thinking even once how deadly the repercussions would be.
Rakhi Dave in Anupamaa Serial is Evil and Manipulative
When she realized she couldn't manipulate her daughter anymore, she quickly decided to target her son-in-law Paritosh. Being wicked she knows where to hit where it hurts the most, which is why, she was even successful in creating a rift between Kinjal and Paritosh. Rakhi knows that Paritosh is an easy target and bringing him to her side won't be much of a problem.
She Has Got No Morals and Values
While successful people have ethics, moral and values, this female has got nothing in her. She can go to any extent to get what she wants. Yes, even if she has to deceive and betray her own daughter, she will do it. From the day she has been introduced in the serial she has owned all these ill traits and that too proudly.
Rakhi Dave of Anupamaa Serial Is Irritating
Every time she is on the screen, she will either throw her sarcasm or shout on top of her voice. Yelling and screaming comes naturally to her which is why her screen presence is not only irritating but quite a pain in the ear. A natural scene creator, she can leave no stones unturned to scale maximum drama. Moreover, the way she can go nonstop about it, can really annoy anybody. Her sarcastic tone is what we personally find a bit too much.
Also Read: 7 Reasons Why Fans Love Anupama in Anupamaa Serial
There is No Limit to her Wicked Moves
First, she exposed Vanraj and Kavya in front of the family and then she went straight to Kavya to invite her to Anupamaa's house for Paritosh-Kinjal wedding. Precisely, this woman has got no limits to her wicked moves and actions. Besides, you never know what she is upto and where all she is trying to lit fire to destroy people's relationships and associations.
No wonder, Rakhi Dave in Anupamaa serial is the perfect female antagonist to watch for entertainment. We are sure actor Tassnim Sheikh who has been portraying this role must be happy the way it has turned out.
Do tell us your views on this character of Star Plus Anupamaa. For more updates and news, check out our Anupamaa corner.