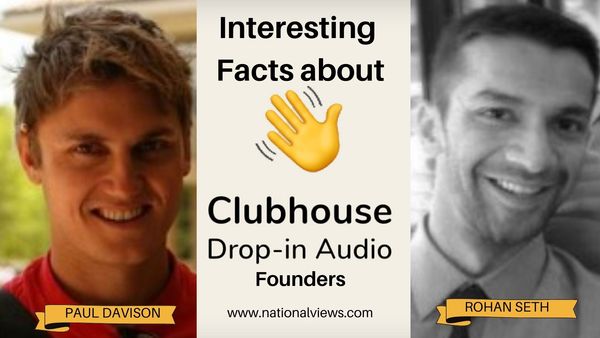 Launched in March 2020, Clubhouse drop-in audio app is the newest thing in the social network sphere where millions across the globe are using it enthusiastically. Here in the article, we will share interesting things and facts about clubhouse founders Paul Davison and Rohan Seth –
Both the Founders of Clubhouse – Paul Davison and Rohan Seth are Alumni of Stanford
While Paul Davison graduated from Stanford in 2002 (BS, Industrial Engineering), Rohan Seth entered the same year to pursue his BS, Computer Science only to graduate in 2006. Both the clubhouse co-founders have done their post graduate too from Stanford. While, Paul Davison did in MBA (2005-2007) from Stanford University Graduate School of Business, Seth did his MS, Management Science & Engineering from Stanford University (2006-2008).
Both the Clubhouse Founders Paul Davison and Rohan Seth Have Worked with Google
Interestingly, both, Davison and Seth, the co-founders of clubhouse have started their work journey with Google. While Paul Davison did his MBA summer internship in Google (June to September 2006), Rohan Seth got his first job (June 2006) at Google and he continued working there for almost 6 years.
Who is Paul Davison? Who is Rohan Seth?
The co-founder of Clubhouse Paul Davison is a San Diego native and an American entrepreneur who over the years have not only worked for tech companies but also founded tech start-ups. Paul held the Vice President position at Metaweb Technologies that was later acquired by Google. Rohan Seth is an Indian American entrepreneur in his mid-30s who too have been a founder of other tech companies besides working at Google.
Paul Davison Was the Founder of Highlight that was Acquired by Pinterest & Currently an Advisor for CoinList
In 2011, Davison started his own venture named Highlight, a Foursquare like app that could help people share their location details. The company was acquired by Pinterest in 2016. He then even worked with the utility app for almost 2 years at its San Francisco branch. However, later left the company to pursue another interest.
The CEO of Clubhouse Paul Davison is also CoinList's advisor. He also served as CoinList's CEO for more than a year to scale up the working of the company. He continues to help the company as an advisor.
Rohan Seth Co-Founded Memry Labs (Now Acquired by Open Doors) & is now a Co-founder of Lydian Accelerator
In 2014, Seth co-founded Memry Labs – a tech startup that designed and developed several applications including Goofer, Phone-A-friend, #hashtag and KIT Bot. 3 years later it was acquired by Open Door. At Open Door, Seth worked for almost 3 years after which he started on his own yet again to begin his own non-profit research accelerator Lydian Accelerator (named after his daughter Lydia) so as to work on an innovative personalized genetic treatment. 
Also Read: All About Clubhouse Co-Founder Rohan Seth – Biography, Education, Work Profile, Family Life
An-invitation only app, Clubhouse founders Paul Davison and Rohan Seth launched the app in March 2020 (iOs version). The android version was launched year later in May 2021. Originally, it was named Talkshow as it was designed for podcasts.