Reliance's Jio Institute recently got the status of "Institute of Eminence" which puts the institution par with two IITs (Delhi and Bombay) and 4 other prominent institutes – IIS, Bangalore, BITS, Pilani and Manipal Academy of Higher Education. However, the announcement by Prakash Javadekar, Minister of Human Resource Development shocked the entire nation because none of us have ever heard about Jio Institute for higher education.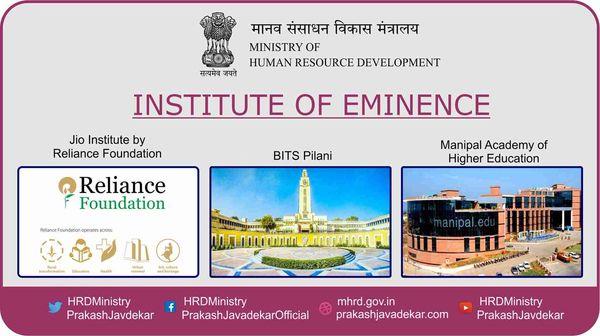 Does it even exist? Well, here let us find everything about the institute
Currently, Jio Institute Is Still on Paper
The institute that got the status of 'eminence' but it is yet to be established. The institute neither has a website nor a campus but has been already marketed as a world class institution by the government beating several existing private players in the market.
It is a Proposed Institute set up by Reliance Foundation
The institute is a project by Reliance Foundation, a philanthropic part of Reliance Industries led by Mukesh Ambani's wife Nita Ambani.  Strangely, ahead of its opening it had gained the status of eminence while other private institutes look confused as to how a proposed institute gets the status of eminence.
Jio Institute Has Zero Criteria that Can Qualify it to Get the Stats of Eminence
According to the government's criteria, an institute to be qualified as "Institution of Eminence" should have the following criteria –
Offer interdisciplinary courses and conduct research in areas of emerging technology

Must have a mix of Indian and foreign students

Should have foreign or foreign qualifies faculty

There should be at least 1 teacher for every 20 students

Should have student amenities as that of globally reputed institutions.
But Jio has none of the above.
The Institute by Reliance Will Be Set Up in Pune
Now an illusion, the institute will be built in Pune as a fully residential university city. According to the details submitted by the institute, it will use Rs. 9500 in capital expenditure and will be multidisciplinary from the start with 10 school and 50 disciplines including medical sciences and urban planning.
Till now we have only this much information on the institute that is yet to shape its building, classrooms, website and everything in between. Once, we have more information on this institute of eminence, we shall definitely update the article.