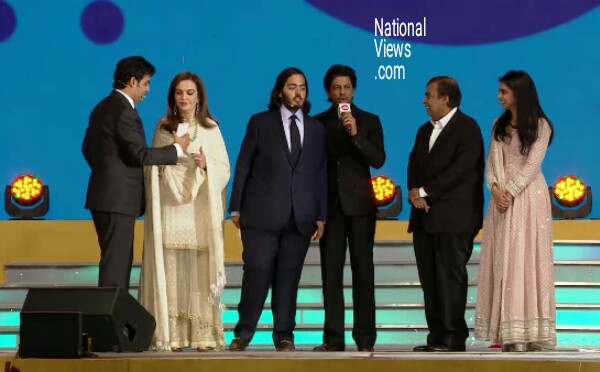 The love story of Nita Ambani and India's billionaire Mukesh Ambani is not only offbeat but also unique. After all, Dhirubhai Ambani, India's top businessman and the father of Mukesh became a matchmaker and arranged everything so that the two would get along and end up marrying each other.
Here we share some of the lesser known and fantastico facts about Nita Ambani and Mukesh Ambani's love story: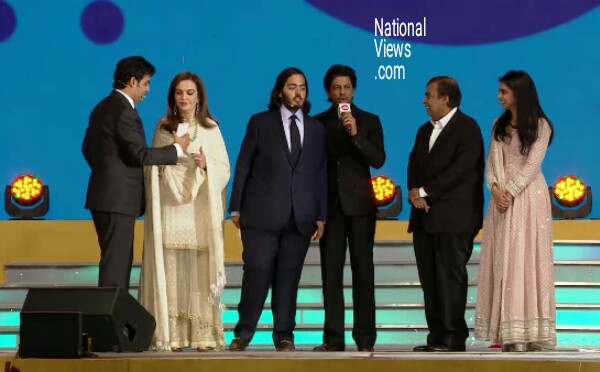 Dhirubhai Ambani Saw Nita Ambani, and Instantly Decided to Make Her, His Daughter-in-Law
Nita Ambani's grew up in a middle-class joint family. Her mother was a Gujarati folk dancer. Nita too started learning Bharatnatyam when she was merely 5 years old.
Soon, she started performing on stage and this is precisely where Dhirubai Ambani, her father-in-law saw her. During one of the Navratri festivals, when a 20-year-old Nita was performing at Birla Matoshree, Dhirubhai Ambani saw her and was impressed not only by her performance but also by her Indianness. He instantly decided to make her his daughter-in-law.
Dhirubhai Ambani Called Nita and She Proclaimed herself to be 'Elizabeth Taylor'
After the performance, next day, Nita got a call from Dhirubhai Ambani. Yes, Mr. Ambani had taken her phone number from the organizers. However, Nita couldn't believe – why would the country's big businessman would call her she thought. So, when Mr. Ambani told her on the call, "I'm Dhirubhai Ambani" she simply said "wrong number" and disconnected the call.
When she received the call again which said, "I'm Dhirubhai Ambani, may I talk to Nita?", a peppy, young and fiery Nita replied, "If you are Dhirubhai Ambani, then I'm also Elizabeth Taylor" and disconnected the call yet again.
Dhirubhai Ambani Invited Nita Ambani to His Office
Nita's father then insisted her to talk nicely to the man as he is Dhirubhai Ambani. When the call connected yet again, Nita greeted Dhirubhai, "Jai Shree Krishna" and he invited her to his office. She was completely stunned and wondered why such a big man wanted to meet her.
When Dhirubai Became a Matchmaker
Nita went to Dhirubhai's office. He asked her questions like – What is she doing and what are her hobbies? After the initial talks, Dhirubhai dropped the bomb. He asked her, "Would you like to meet my son (Mukesh)?" Dhirubhai Ambani was certainly being a matchmaker between the two. No wonder, he was impressed by a young and peppy Nita who he thought would be perfect to be his son's wife.
When They Met – Nita Ambani and Mukesh Ambani
Nita Ambani decided to meet Dhirubhai's son at their place Usha Kiran. She rang the bell and a young man dressed in white shirt and black trousers opened the door. He was none other than Mukesh Ambani who introduced himself to Nita and this is how they met.
The Awkward Proposal by Mukesh Ambani
It was Nita and Mukesh Ambani's sixth or seventh meeting. The two were in Mukesh's fiat driving across Peddar Road in South Mumbai. Nita was still not sure about the wedding as she wanted to complete her graduation. The car stopped at the signal and this is precisely the time when Mukesh Ambani proposed Nita, "Will you marry me?"
It was 7.30pm, the traffic was at its peak, horn of the cars blew continuously and Mukesh said, "Tell me or I won't start the car!" Yes, this is precisely how Mukesh Ambani proposed Nita Ambani. With no choice left, a confused Nita actually said, "Yes I will, Yes I will." Now isn't this a peppy style to propose the girl you love?
Rest we all know is a history. Nita Amani's life is no less than a fairytale and she feels she is really blessed to have a wonderful husband like Mukesh Ambani. This is the reason why she always confessed that apart from being anything, I enjoy being Mukesh Ambani's wife.
Source: Nita Ambani's NDTV Interview with Sandeep Khosla and Abu Jani
Do Not Miss Reading:
Lesser Known Facts about Sonia Gandhi and Rajiv Gandhi's Love Story & Marriage
Nidhi Razdan and Omar Abdullah Love Affair : Everything You Wanted to Know About!
Rahul Gandhi & His Two Love Affairs: Know the Relationship History!
Editor's Note: NationalViews is a home for people with views and opinions that caters to the changing India. It is a place for the common men to articulate their views and opinions on any topic. A platform where you express and we publish. Mail us your opinion, views, and thoughts at editor@nationalviews.com and we will help you reach out to the masses.