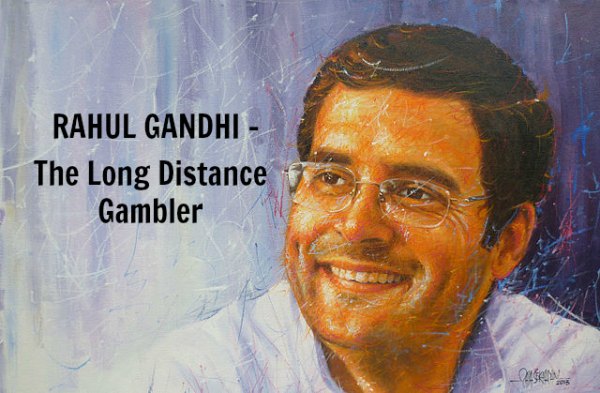 The nation wants to know whether Rahul Gandhi is dating or not and if yes then when is he getting married. No wonder, the dimpled Gandhi scion had said last year before the 2014 Lok Sabha Election that he will marry only if he gets the right girl.
Though we do not know whether the 45-year-old Rahul Gandhi is currently seeing anybody or not, we do feel that that he should get his "Ms. Right" soon and settled down as soon as possible.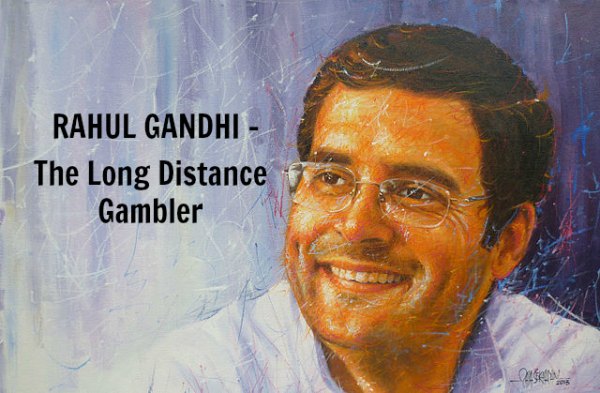 Image Source: OIL PAINTING BY Rajasekharan Parameswaran via Wikipedia.org
Meanwhile, let us scroll down the chapter of his past and unveil Rahul Gandhi's relationship history
Rahul Gandhi and Noal Zaher, the Afghan Princess – A Love Story
In June, 2012, Sunday Guardian reported that Rahul Gandhi was involved with late Mohamed Zahir Shah's granddaughter Noal Zaher. Zahir Shah was the King of Aghan from 1933 till 1973 (his cousin Mohamed Daud Khan dethroned him) after which he went to exile in Italy. His fifth son Mohammed Daoud Khan Pachtounyar married an Italian and thus was born Noal Zaher in 1980.
According to the news, Rahul Gandhi was not only spotted with Noal in Delhi's Aman Hotel where Gandhi spends his time in their Fitness center, but also in France. Noal reportedly graduated in European business from French University Institute Saint Dominique and later completed her specialization in jewelry design from Webster University in London.
The news also said that Noal is a converted Roman Catholic and she and Rahul often prayed together in Sonia Gandhi's home chapel in Italy.
The Congressmen expected Rahul Gandhi to marry this Afghan princess. No wonder 'that' would have brought them a lot of minority votes. However, looks like the affair didn't last long. Noal Zaher is happily married to Egyptian Prince Muhammad. The Royal wedding took place in 2013.
Also Read: Rahul Gandhi: From Pappu to Political Pugilist
Rahul Gandhi and Veronique Cartelli – A Decade Long Love Affair
Rahul Gandhi met Veronique Cartelli in Cambridge in the 1990s. This came into limelight when Rahul Gandhi had come down to Delhi to campaign for his mom's maiden rally in 1998. A year later, he was spotted with a leggy lass watching India Vs England World Cup Cricket Match at Birmingham. The photograph went viral and she (Veronique) was speculated as Rahul Gandhi's girlfriend.
The same year in 1999, Veronique was spotted holidaying with Rahul Gnadhi in the Andamans. By then the media speculated her to be of Columbian origin. In 2003, Veronique was seen once again with Rahul Gandhi, Priyanka Gandhi and her family during their year-end vacation in Lakshwadeep and Kerala. This time, the media assumed her name to be Juanita.
Finally, during the 2004 election, Rahul Gandhi shed some light on his relationship while talking to Indian EXPRESS Journalist Vrinda Gopinath. He said that his girlfriend's name is Veronique and not Jaunita. He also said that she is neither Colombian nor Venezuelan but of Spanish origin. Next, he also revealed that she is an architect and not a waitress further saying that even she was a waitress he wouldn't have any issues with that. He also said that Veronique is his best friend.
After the elections, when Rahul Gandhi was asked about the nationality of Veronique he said that though Vernoique is Spanish her family has been staying in Venezuela from long. After that, we didn't hear much about Veronique until today. 
Source: The Jakarta Post, Arabia Weddings, Outlook India
Do Not Miss Reading
Lesser Known Facts about Sonia Gandhi and Rajiv Gandhi's Love Story & Marriage
Nidhi Razdan and Omar Abdullah Love Affair : Everything You Wanted to Know About!
A Tale of Barkha Dutt and Her Two Muslim Husbands
Editor's Note: NationalViews is a home for people with views and opinions that caters to the changing India. It is a place for the common men to articulate their views and opinions on any topic. A platform where you express and we publish. Mail us your opinion, views, and thoughts at editor@nationalviews.com and we will help you reach out to the masses.