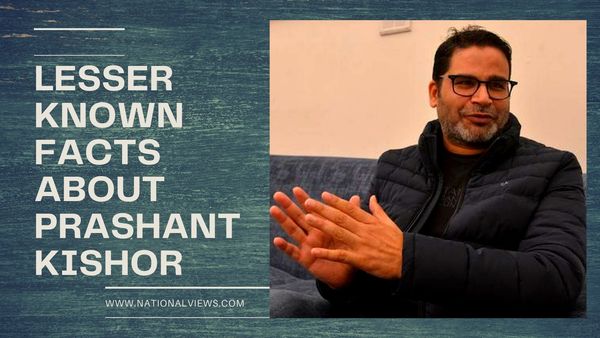 Contemporary Indian Politics is almost synonymous to the name Prashant Kishor – The man who has been winning elections for political parties right from 2012. A political strategist, Kishore's journey is inspirational – not because he has been so very extraordinary but because in spite of being ordinary, he has been quite an achiever.
Here we share few interesting and lesser-known facts about Prashant Kishore aka PK –
Early Life – Prashant Kishore did his Early Schooling from Bihar's Government School
Born and brought up in Bihar, Kishor was admitted in a government school in Bihar from where he did his early schooling. Yes, Prashant Kishore is the product of the same Bihar Government School that is often made fun of. He did his primary schooling in Rohtas district (his native) and completed his secondary schooling from Buxar, Bihar.
Prashant Kishor Education Qualification – As Claimed, Prashant Kishor Isn't an Engineer from Hyderabad but…
There is quite a rumour out there that Kishor is an engineer from Hyderabad. However, it is not true. Prashant Kishore's education journey is quite interesting although he is a post graduate in Public Health. When he got 148/150 (Maths) in Bihar board exam, everybody expected him to get into a reputed engineering college but he somehow convinced his father not to get into any of the IITs. He got into Hindu College, Delhi University to pursue BSc. In Stastics but went back to Bihar after falling ill and left it mid-way.
Prashant Kishore Has Been a Regular Drop-out at almost All the Educational Stages of His Life
In an interview with Saurabh Dwivedi, PK revealed how he almost sat home after each crucial educational phases of his life much to his father's dismay. Going by his words, Kishor took break after 12th for 3 years, left graduation mid-way and even after he completed his graduation, he took break for two years before doing his post-graduation. When asked what he did during his breaks, he amusingly said, almost everything that a young lad isn't supposed to do.
Caste-wise, Prashant Kishore Is a Brahmin
Though one cannot comprehend anything from his last name, Prashant Kishore is a Brahmin. His father's name is Shrikanth Pandey – a doctor who worked with Bihar Government during his professional years. This is the reason why Nitish Kumar wanted Prashant to contest elections from Buxar, Bihar – a seat that has been dominated by the community for decades.
Prashant Kishor Started His Career as a Public-Health Specialist at the United Nations
After completing post-graduation in public health, Kishor began his career as a public health specialist in United Nation. His first posting was in Hyderabad, Andhra Pradesh and then he was transferred in Bihar to run the Polio eradication program. Back then, Rabri Devi was Bihar's CM. After working for 2 years, he was called at the UN Indian Office and then after working for 2 years, he was called to work at the headquarters of United Nations in USA.
PK Asked for Field Work During His Tenure in UN's Headquarters
Prashant didn't really enjoy working at the UN headquarters in USA, which is why, he asked for some field work. After 6 months, he then was offered to work as division head in Chad – a landlocked country in North-Central Africa where nobody wanted to go. It is here he learnt French. He worked here for almost 4 years.
Prashant Kishore's Paper on Gujarat's Malnutrition Is How He Met Modi and Got in Touch with Him
After completing his tenure at Chad and getting ready to shift at Geneva, Prashant Kishor wrote a research paper about 'Malnutrition in rich high growth states of India' which had a comparison of 4 states – Haryana, Karnataka, Maharashtra and Gujarat. Interestingly, Gujarat was at the bottom. It is exactly at this time; Prashant Kishore got a phone call from Gujarat's CM office (Narendra Modi's office) to know why so much critics. From here, the two got connected. Narendra Modi then invited PK to work in Gujarat, India, which can even be termed at the beginning of the new Prashant Kishore era.
His Switch from UN Diplomat to Joining the CM Gujarat Office Wasn't Easy
Having established himself as an UN Diplomat and getting good salary, it wasn't easy for his family to suddenly accept the shift. He, like any other middle-class man had to convince himself as well as to his family members including his parents on this major drastic career risk.
Again, winning a political leader's trust and confidence wasn't easy – each day it was a battle. However, through speech writing, data analytics, strategical approach and ideas – Prashant Kishor did what he is now best known for – turning ideas into reality and giving results that which every political leader aims for.
PK Campaigned for Narendra Modi for 2012 Gujarat Elections
Not working in the hierarchy, Prashant Kishore then campaigned for Narendra Modi to win Gujarat elections starting from 2011, this time through a novel and innovative strategy taking into consideration his image in media back then. Modi did win Gujarat's election for the third time in 2012 this time with PK.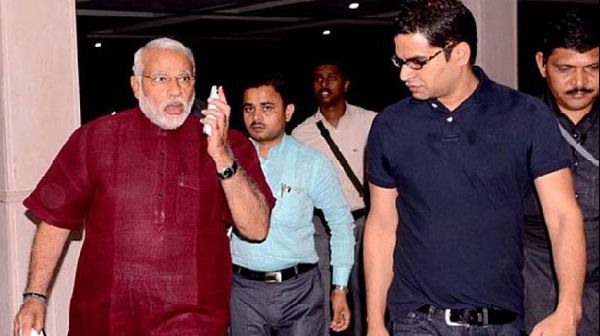 PK was the Mastermind Behind Modi's Chai Pe Charcha Campaign ahead of the 2014 Elections
Narendra Modi's PR Campaign ahead of the 2014 elections was not only remarkable but also noteworthy. From slogans to speeches to catchphrases – everything garnered a lot of attention. Remember the Chai Pe Charcha Campaign post the Mani Shankar Iyer's remark, well it was the idea and masterstroke by Prashant Kishore.
PK is a Cheer Leader of Lateral Entry of Professionals into the Government
From the very start, Prashant Kishore has been urging political leaders to give way to the lateral entry of professionals into the government. He in several interviews said how this became the major cause of his separation from Narendra Modi. How Kishor wanted it to happen within months and how PM Modi wanted it to take it slow post his appointment as PM of India.
Prashant Kishor's Company IPAC Even Provides Overseas Political Consultancy Services
PK's IPAC (Indian Political Action Committee) team consists of about 300 graduates from premier institutes including IIT, IIM, NLUs etc. Not just in India, Kishor's company IPAC has been providing consultancy services even in Tanzania. IPAC did offer it's consultancy to the Tanzanian Chama-Cha Manpinduzi (CCM) party.
Prashant Kishor's Wife Jahnavi Das Is a Doctor
Prashant Kishore is married to Jahnavi Das who is a doctor by profession. It is said that the couple met while working on a health program during the couple's stint in Andhra Pradesh. The couple has a son.
Also Read: All About BJP IT Cell Chief Amit Malviya – Profile & Controversies!