The BJP IT Cell Chief Amit Malviya off late is in the news for several reasons. His tweets, messages and actions are creating a lot of noise on social media. His bluffs, puffs and huffs have made him fall into several controversies so much that Sandip Roy in his Huffington Post article asked if he is currently BJP's biggest liability.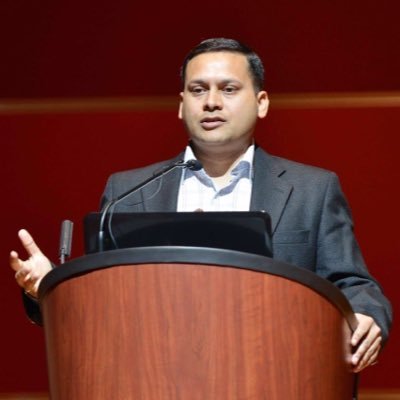 With so much popularity and controversies around the man of the moment, here we dig into his past and share everything you wanted to know about Amit Malviya
Early Life and Background
Amit Malviya did his BBM from Dayalbagh Educational Institute in Agra, Uttar Pradesh. He did his PGDM in Finance, System from Symbiosis Institute of Management Studies, Pune in 2000. Post the completion of his course, he joined ICICI as Assistant Manager in Mumbai area where he worked as Credit Risk Manager for Retail Assets (Credit Cards). After working for 1 year and 4 months, he joined Caylon in October 2001 as a business analyst.
Next, he made a big leap in 2003 when he joined HSBC BANK as Senior Vice President where he worked for 7 years till June 2010. From playing a significant role in building commercial banking business to leading the large corporate business in Mumbai, he did it all.
In July 2010, he joined Bank of America as Vice President – Global Treasury Sales, South. He stayed here for two years. In the year 2015, Malviya became the national head – Information and Technology of Bharatiya Janata Party and shifted to Delhi.
Connection of Amit Malviya with Bharatiya Janata Party
The connection of Malviya and BJP goes long back. It in fact started in 2009 when he launched the forum Friends of BJP to attract the intelligentsia class. He was the organizer of the movement and asked people to join the group by logging into www.friendsofbjp.org. A public meeting was arranged in Lucknow, Uttar Pradesh for the same where Malviya was a prominent face.
How Is he Misleading People Through Half Truths and Bogus Photos/Figures
Malviya's tweets have been alarming with half-truths. He tried to malign NDTV's Ravish Kumar by conveniently taking a 11 sec video clip from a 10 minute speech. However, he faced the ire of the public for misleading them by such agenda.
पत्रकार की कौन सी पार्टी होती है? pic.twitter.com/oUdqqkniLO

— Amit Malviya (@malviyamit) September 10, 2017
Check out the complete 10-minute speech of Ravish Kumar here
Another such misleading tweet came right after Ram Rahim's past connection with BJP came affront. Malviya tweeted stating that Rahul Gandhi met Dera Sacha Sauda leader Ram Rahim when in reality he met another Dera's chief who had no connection with Dera Sacha Sauda.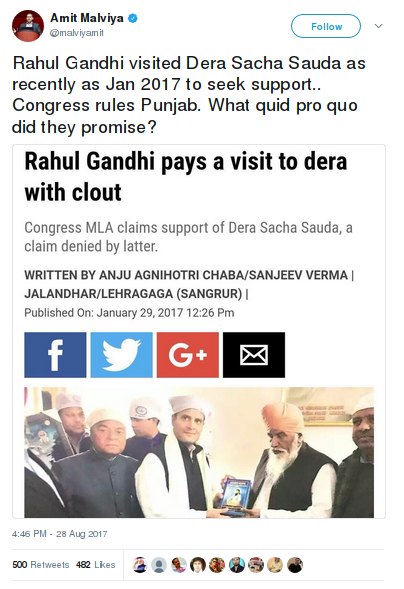 In the past, such attempts by Malviya was made on Arvind Kejriwal too –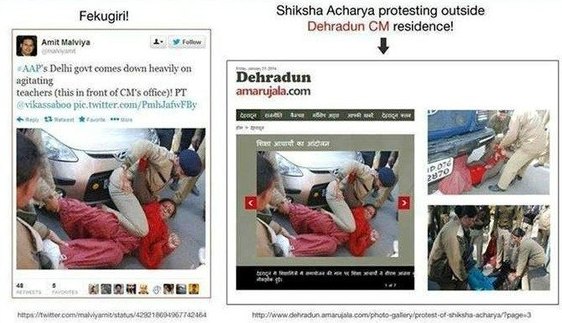 The best is this tweet, where he claims Demonetization to be an enormous success –
#DemonetisationSuccess pic.twitter.com/bdTErQg6Dl

— Amit Malviya (@malviyamit) August 31, 2017
Sorry Amit, now that Amit Shah has asked us not to believe everything we come across on social media before verifying it ourselves, we had to verify these.
Controversial Tweets and Statements by BJP IT Cell Chief Amit Malviya
When Nupur Sharma used Gujarat riot photos during the Bengal riots, Malviya defended the use of representational image by a weird reply –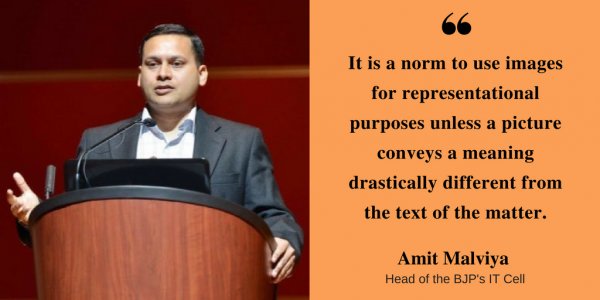 His statement on Muslim women too created a lot of stir –
They will, only when Muslim women refuse to marry in the community and that day is not far.. https://t.co/5XciTIWQnz

— Amit Malviya (@malviyamit) September 10, 2017
When he compared marital rape with homosexuality
Those seeking to decriminalise homosexuality (reduced role of state) are also seeking law on marital rape (increased role of state)! #Irony

— Amit Malviya (@malviyamit) March 17, 2016
Also See: 8 Shocking Controversies Surrounding BJP IT Cell!
These two tweets attracted a lot of backslashes where people even questioned his education and mindset. However, criticism is nothing that can stop him as he has been doing what he is at best. This is the reason why he is also referred as Troll in chief sometimes.