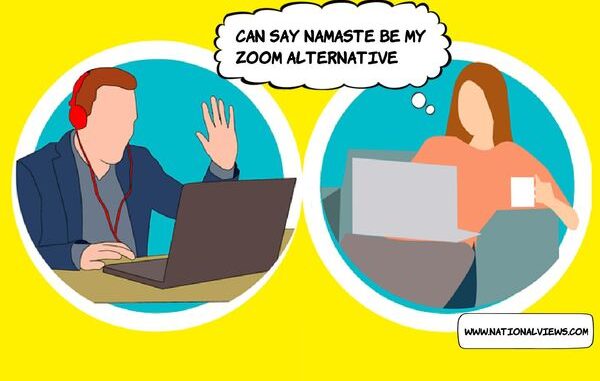 Post the Indian government's announcement about the bugs and glitches of the globally used video-conferencing app – Zoom app, many Indian users flagged it red and decided to avoid the app for safety purposes. Despite the prevention and cautionary measures given to use Zoom and other video-conferencing apps there was a sudden surge in the demand of a swadeshi video conferencing app. This implanted a seed of thought in several Indian minds and thus was born, Say Namaste – a video conferencing app in India amidst the catastrophe of Covid-19 and chaos of lockdown extension.
Here are some of the very basic facts regarding Say Namaste App that can also be answers to those questions running in your mind
Is It a Government App?
To start with, 'Say Namaste' is not a government app made by the government for its citizens as many of your WhatsApp forwards may claim. It is made by a Mumbai-based web development and software firm 'Inscripts' and is still in its Beta version.
Say Namaste Is Not an App, but a Video-Conferencing Platform
You can go to the site saynamaste.in on your browser and access the site online. When it was launched there wasn't any app as such. The developers however plan to launch it as an app both on Android and iOs but as of now there are no apps available.
How does the Say Namaste Video-Conferencing Platform work?
It is made on the principles of Zoom so the basic things of entering the room and conducting the meeting remains same. You can either conduct the meeting as a host and/or join the meeting with a meeting ID.
How many members does Say Namaste App Allow?
Right now, the online platform allows only 25 members but the makers have claimed that going forward they will extend it to 100.
Is, 'Say Namaste' Safe?
Now that the platform is in beta version everything is under exploration phase. According to the company's CEO they are encrypted and are working their best in terms of privacy, security and performance of their services. They claim that they do not collect any user information.
However, till it is properly launched and checked for its claim, one cannot affirm it as 'safe'.  Besides, going forward in terms of expansion, it would be interesting to see if this firm can indeed keep the hackers and intruders out of our way.
Whether Say Namaste App Can Be Your Zoom Alternative?
Although it is an interesting application and a total made-in-India product, let's get it straight, that as of now it is of no match to the already existing Zoom app. Firstly, it is in its beta version and we all know what does it signify – that the features neither are stable nor reliable. In our attempt to use the platform, we faced some technical issues while creating a meeting link and found that the platform isn't steady as of now.
While Zoom comes with lots of interesting features, Say Namaste's limited features too doesn't function properly. Well, the platform's 'sending files' option didn't work properly during our testing. That said while it might sound motivating, at the current stage, Say Namaste app cannot be seen as a full-fledged Zoom Alternative at this moment especially if you are following those strict guidelines to avoid any kind of Zoom Bombing.