The young CBI officer Adhiraj of Rishton Ka Chakravyuh has a lot of female attention. Tall, smart and handsome, Adhiraj aka Ankit Siwach is nothing less than a Bollywood actor. Now that this is a debut serial, there is a certain mystery around this young TV actor.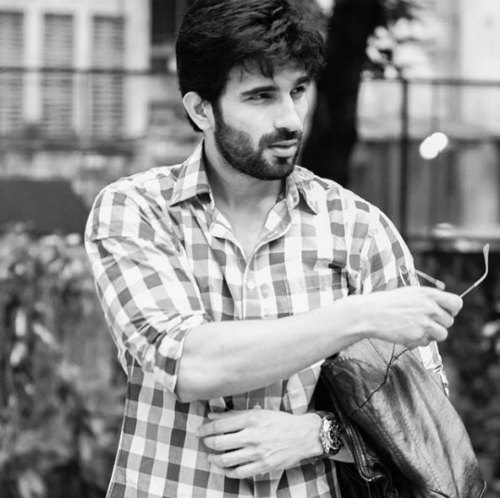 Here we share everything you wanted to know about Ankit:
Early Background
Born on January 23, 1991, Ankit Siwach originally hails from Meerut. Ankit did his schooling from St. Mary's Academy, Meerut Cant. and shifted to Delhi for his graduation. He did his graduation in Human Resource and Psychology from Delhi University. During his college days, he started modeling but eventually stopped as he didn't enjoy. He aspired to become a theatre artist but he couldn't because of studies. He always took great interests in cultural activities and sports. He is an avid Volleyball fan and a national level Volleyball player.
Ankit Siwach is an MBA
Post completing his graduation, he did his MBA from AMITY Noida. Next, he did his internship with Indian Oil Corporation in the HR department. 
Personal and Family Life
Ankit's father Mr Manoj Siwach is a Civil Defence officer. Ankit's younger brother Sagar Siwach is a national level basketball and handball player. Going by his Instagram account, he appears to be very close to his family especially his mother, Rita Siwach. He seems to be best friends with Sandeep Goyat who was seen as Kuku in Rahul Dahiya's 2017 film G Kutte se.
He Shifted to Mumbai By Making an Excuse to His Parents
In 2014, Ankit, shifted to Mumbai by lying to his family about getting a job in Mumbai. After coming to Mumbai, he started as an assistant director. Even though he knew nothing about filmmaking, he assisted Farhaz Ansari and Tanuja Chandra for 'Silvat' a short film. Once again, he started auditioning for TV commercials.
Ankit Siwach gave nearly 100 Auditions Elsewhere Before Bagging Rishton Ka Chakravyuh
It isn't so easy to get a lead role in TV serials and Ankit's journey was no different. He literally gave 100 auditions but couldn't get through anywhere. There came be a moment when he felt like a failure. In fact, in September 2016, that is exactly a year before, he decided to go back to Meerut to start a business.
After Being Bedridden for 3 Months, Ankit Got His Mojo Back
In October 2016, Ankit Siwach broke his leg while doing gymnastics. His legs were injured and he had to go ankle and knee surgery. He went to his hometown and was completely bedridden for three months. Having enough time to think and rethink about his life and his goals, Ankit came back to Mumbai in March this year. He got to know about the role in a TV serial (Rishton Ka Chakravyuh), he went and gave his shot. Next, his history. Yes, he did bag the role in just a month's time.
The Stubble and the Physique Is a Part of the Role
He has grown the stubble for the role. He also worked on his physique. Good development, I must say. After all, girls are going crazy for these two specific features that Ankit has inculcated for the role of Adhiraj.
We wish the actor a great success for his current and upcoming roles.
P.S: Thank you, Fizza Abbas, for contributing to the article.