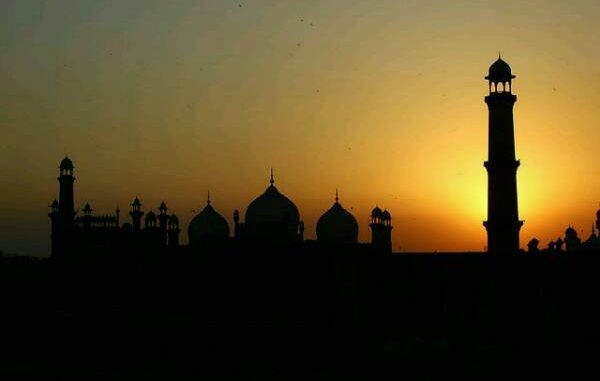 Pakistan is an Islamic nation but the vision of Muhammad Ali Jinnah have faded with the passage of time. As the years went by, not only non-Muslims even the sub-sects like the Ahmadis, Sufis and Shias were targeted and harmed. While, the religious persecution continues for Ahmadis and Sufis, Shias are being killed mercilessly in their own country.
Here we share about the atrocities on Shia Muslim in Pakistan, and why the country is no more a safe place for the Muslim Sub-sects and minorities.
The Killing of Shia Muslim in Pakistan – Statistics
As per the United States Commission on International Religious Freedom report, around 600 Shias were killed between 1999 and 2003 and 500 Shia doctors approx. fled Pakistan as a result of extremist violence.
According to a report by the Human Rights Watch (hrw.org), more than 850 Shia Muslims have been killed in 2012 and 2013 alone.

Here is a complete compiled list by SATP – The South Asian Terrorism Portal on all the atrocities and violence faced by Shia Muslims from 2001 to December 25, 2016.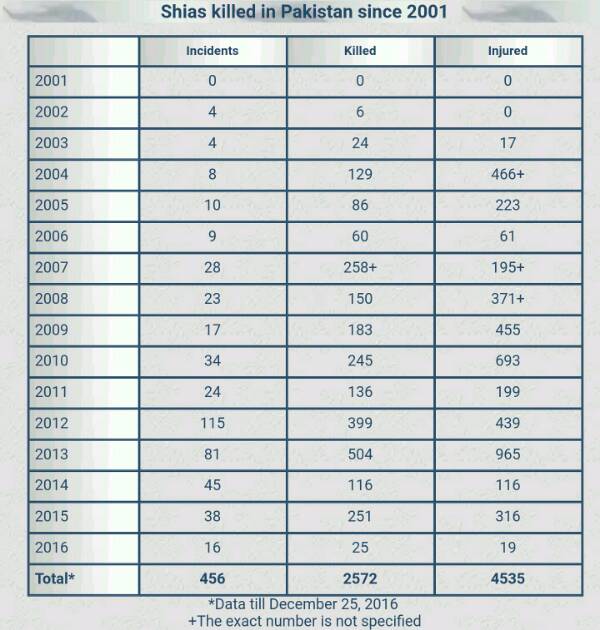 Check the link of SATP to know the details of the killings of Shia Muslims – when, where and how many were killed and/or injured.
Why Shia's are Being Targeted in Pakistan?
Over the years, the Shias that account 15 to 20% of the Pakistani population have been targeted specifically. They have been killed brutally not just by machine guns but even suicide bombers in mosques, markets, on a trip to their pilgrims and even while living their daily life normally.
The reason being, Shias are labelled as 'apostates' by some of the extremist Sunni groups as well as individuals. As a result, they face regular hostility from public as well as the extremists groups who go on a regular rampage to kill them.
This is the reason why we hear news about bombings in Gilgit-Baltistan province as the majority of the Shia populace reside there.
Besides, Quetta is a favorite target as most of the Shia Hazara lives in the vicinity. According to estimates published in Human Rights Watch, if 10 Shias are killed in Pakistan then 5 out of them belongs to the Hazara community.
The Extremist Sunni Organization Are On a Mission To Kill Shias in Pakistan
In the year 2011, extremist Sunni organisation Lakshar-e-Jhangvi sent an open letter to the Shia Hazara people in Quetta stating that:
All Shias are worthy of killing. We will rid Pakistan of [this] unclean people. Pakistan means land of the pure, and the Shias have no right to be here…

…We will make Pakistan their graveyard—their houses will be destroyed by bombs and suicide bombers.
And now that ISIS share similar school of thought with these extremist Sunni organization, and have already established contacts with Tehrek-i-Taliban, Lakshar-e-Jhangvi and Jundullah, brutality will only increase in the coming days for Shias and other.minority sects.
Also Read: Pakistan: A Fertile Growth Region for ISIS to Expand Its Base in South Asia 
Time For the Shia Muslims to Leave Islamic Pakistan?
No city in Pakistan is safe anymore for Shia and other minority sects. Over the years, there have been continuous killing of Shia doctors, lawyers, legislators and other professionals in various cities of Pakistan.
The rooted support for militants over the years, and the insufficient judicial system in Pak has formed such a situation where hardly any terrorist is convicted of sectarian or any other form of terrorism even though the state tries to suppress all the violence against the Shias.
The archaic judicial system in Pakistan have set free several militants as it is incompetent of convicting groups and/or individuals involved in modern-day guerilla warfare.

Shias in Pakistan especially the Hazara youth now have no choice but to relocate in other countries to chuck the death traps in various cities specially Peshawar and Quetta.

Seeking asylum in another country may not win the Pakistan's superior courts approval (they have mocked people with dual citizenship). However, it is still better to be 'alive' in exile than to live with the fear of being splattered on a wall one day in your own country.