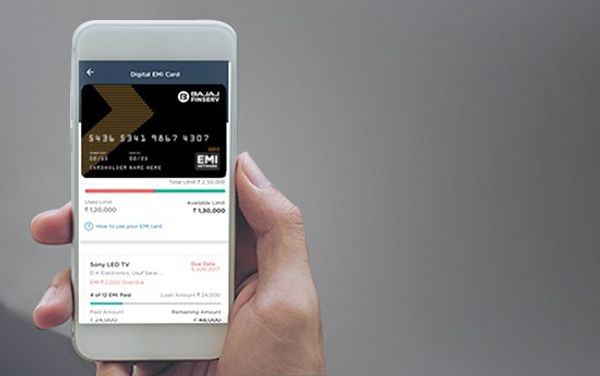 More than just a pleasing experience, shopping is also a necessity! After all, renovating your house, buying essential appliances, upgrading your winter wardrobe isn't just splurging but necessities that requires proper budgeting and financial arrangements. Good thing is, not every time you need to have ready cash to buy everything essential. With Bajaj Finserv EMI Network Card, you can shop for almost anything you need on EMI without having a credit card.
From electronics, appliances, clothing and accessories, home decor products, life care facilities to fitness packages, travel and other items, you can get anything that which you want on easy EMIs. The EMI Network includes over 60,000 online and offline partner stores spread across 1,300 cities where you can use the Bajaj Finserv EMI Network Card to shop both for essentials and luxury.
Bajaj EMI Card – The Must have Payment Option
The Bajaj EMI Card expands your shopping experience without having to compromise your wishlist. With more than 1,000 unique deals from partner stores and a catalog of more than 1 million products, you can find literally everything you need without having to go anywhere. Moreover, apart from discounts and rebates, you can enjoy repayment with incentives such as 'cashbacks'. To pay back your shopping bills with ease, choose from a convenient tenor range of 3 to 24 months – opening your door to affordable shopping all year long!
As an EMI card holder, you can keep track of all your expenses in any partner stores by accessing the Bajaj customer portal or by logging into the Bajaj Finserv Digital Wallet. Here is everything you need to know about it –
How do I order a Bajaj Finserv EMI Network Card?
Online or offline, you can apply for an EMI Network Card. If you are an established customer of Bajaj Finserv, simply submit a card through the customer portal Bajaj Finserv and download the digital version of the card from the Bajaj Finserv Wallet app.
Walk to the nearest partner store and pick a product of your choosing to apply for the Bajaj Finserv EMI Network Card offline. Basic documents such as the Aadhaar card, PAN card, a cancelled cheque, a copy of your passport, and a signed ECS mandate would need to be sent. Then on simple EMIs, you can take your preferred product home and the EMI Network Card will be mailed to you. You can instantly obtain the EMI Network Card from your Bajaj Finserv Wallet app.
What are the benefits and uses of the Bajaj Finserv EMI Network Card?
When you opt for a Bajaj EMI card you get the following benefits –
Make purchases via simple No Cost EMI
Pre-approved loan of upto Rs. 4 lakhs
Repay easily (3-to-24-month tenor)
Get access to pre-approved offers
Get access to special discounts
Only basic documentation is required
Foreclose your loan account at no extra charges
How can you shop better on EMI, without a credit card?
In order to use EMI service, credit cards usually charge you a fee or interest. However, when you make a purchase by using the Bajaj EMI Network Wallet, you do not pay any extra fee. This is the reason why switching to EMI Network Card is affordable. With low EMIs, you don't have to worry much about having to pay a heavy bill every month for a smartphone or a washing machine.
Besides, shopping on EMI is safe and secure as every transaction needs your authorization in the form of an OTP. So when you opt for 'without credit card EMI' option from Bajaj Finserv EMI Network Card, you can rely on safe payments too.
Where Can You Shop Online and Offline with your Bajaj EMI Network Card?
From the comfort of your home, you can log on to the Bajaj Finserv EMI Store to shop or order your desired gadgets or electronics while you are on your way to work. With delivery within 24 hours at best prices, you can shop on the store or with any other online partner stores including – Amazon, MakeMyTrip, Flipkart, Yatra, Vivo and more that allow you to pay with your EMI Network Wallet.
To view different choices of offline partner sellers, you can explore the Bajaj Finserv website by entering your city and category on the store locator page. Reliance Digital, Vijay Sales, Talwalkars, Big Bazaar, AND, Brand Factory, Lawrence and Mayo, Reebok, Shoppers Stop, Cox and Kings, Gold Gym along with others are part of this list of partners.
Conclusion
Now that you know how handy the Bajaj Finserv EMI Network Card is, smartly use it to make your shopping simple and worry-free. Start by testing your EMI Network pre-approved offer by applying immediately to get all the EMI offers you need to achieve your goals without much hassle.