East encounters West in the sun-soaked gorgeous Goa where Indian ethos intertwines with the ancient Portuguese influence. The picturesque beaches, the tourist-centric spots, and the international flair have long served Goa as a magnet for serene hedonists. And joining these attractions are the luxurious beach resorts that make the pristine beauty all the more captivating to chill out.
Let us now share three of the best beach resorts in Goa where you can chill out lavishly:
Acron Waterfront Resort
Located across the Baga peninsula in North Goa, Acron Waterfront Resort is a picture-perfect union of luxury, entertainment, and leisure. A premium boutique resort, Acron is a calm, tranquil getaway in Goa where you can seek the pleasure of the vast Baga River but also relish every whim and fancy when it comes to modern amenities.
What's more the 51 rooms of the Acron Waterfront Resort, an ITC Fortune Hotel in Goa let's you enjoy the sunset over the Arabian Sea, get a glimpse of the fishermen bringing in their catch from the river, relax by the pool and/or gratify your appetite in one of the in-house river-side restaurant enjoying the live band. With their great hospitality, yummy restaurants, and luxurious amenities, an experience at the Acron Waterfront Resort is a trip to cherish forever.
Bogmallo Beach Resort
Nestled on the secluded white sands of Bogmalo Village lies Goa's luxurious Bogmallo Beach Resort! This luxury 5-star property is speckled with beauty and is enclosed within palm fringed headlands. With a panoramic view of the Arabian Sea from its lavish rooms, posh suites, deluxe cottage and luxurious chalets, the resort is a perfect blend of old world charm with modern amenities.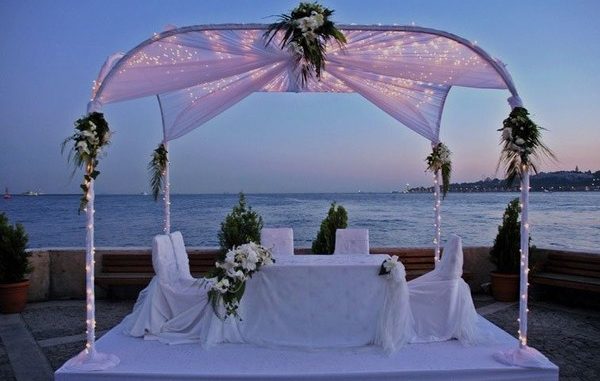 Interestingly, this beautiful spacious resort has several multi-cuisine restaurants, cafes and even poolside bars. For those looking for recreational activities, it has ayurvedic massage center, pool, gym along with a Casino with several gaming facilities. With also these modern amenities and serene gorgeous private beach that the resort flaunts, makes it a popular resort for many of the Indians preferring destination weddings.
Lemon Tree Amarante Beach Resort
If you are planning to enjoy your stay in North of Goa away from the hustle bustle yet amidst the Goan pleasure, Lemon Tree Amarante Beach Resort is the place to be at. Positioned right at the picturesque Candolim beach, this extravagant beachside property features expansive rooms with contemporary furnishings along with smart amenities.
With an award-winning restaurant, Republic of Noodles that offers a wide-ranging choice of Pan Asian cuisine from Myanmar, Vietnam, Thailand, Singapore, Indonesia and Cambodia to lively coffee shop by the pool along with several other facilities like exciting adventure activities, Lemon Tree Amarante Beach Resort makes for an excellent choice for leisure in Goa.