Dear Finance Minister of India,
To start with, don't think that the rest of India are nincompoops like your fans!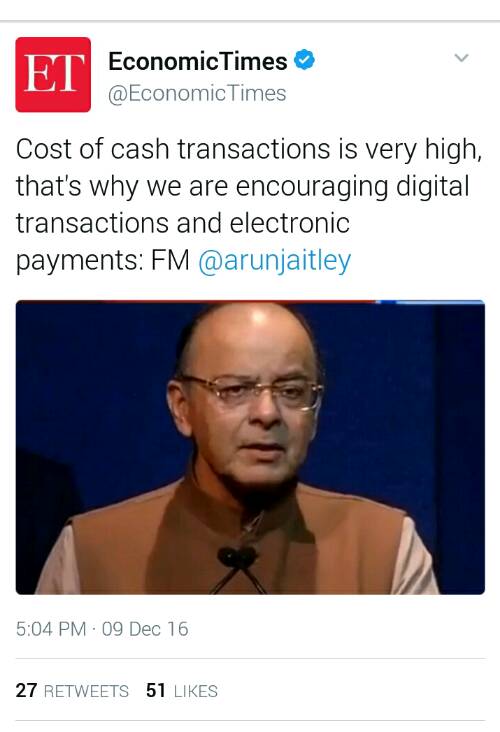 Really? Mr. Jaitley, the Cost of printing currency was Rs.3500-3700 crores per year when RBI removed pre-2005 notes from the system. Besides, card transactions amount to Rs. 4 lakh crores (made during the last FY), sucked Rs.8000 crores to Rs.12,000 crores (2-3%) transaction fee. This is when CASHLESS through credit/debit cards is believed to be less than 5-3% of the total transactions.

Now, imagine a MARKET with this CASHLESS transaction. But, before, will you give us the data as to how much each bank along with the card providers received last year? Will you give us the data of service tax collected by the Department of Revenue of Ministry of Finance last year from the CASHLESS transactions?

Mr. Arun Jaitley, before going gaga on anything, I would suggest you to go and meet any retailer and ask him/her how much he or she is paying as a transaction fee + service tax + mobile charge + POS cost and maintenance in all these cashless transactions.
Besides, you and your government can't even handle the voice calls with your STATE OF THE ART network system, are your networks able to handle the heavy traffic?

It is a known fact how IRCTC struggles to manage the traffic during peak times. Payment Gateways struggle during Flipkart & Amazon mega sales. I am not against going CASHLESS but when you use CASHLESS as a figleaf to cover your nakedness then I feel pity about you.
What is next Mr. Finance Minister? A butt plug to make people to use your Swachh Bharat waterless toilets? swipe and relieve??
See this Table from RBI Annual Report 2015-16, forget RTGS. Look from row No. 8 onwards, the total retail electronic clearing is 91,40,800 crores..!!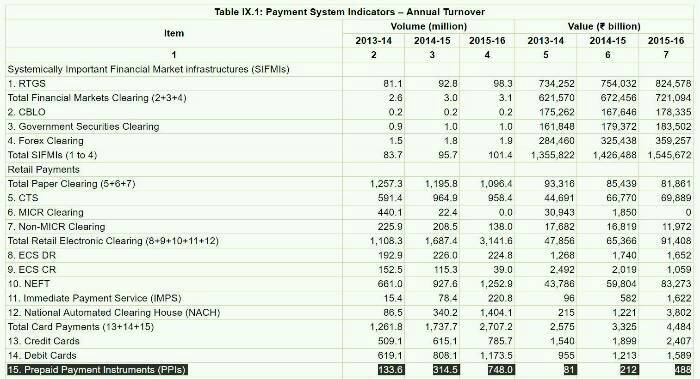 Yes Rs.91.41 lakh crores is your retail electronic clearing during FY 2015-16. Now imagine the cash transactions volume, many estimates we have and many say our retail & rural are still entangled in cash transactions and its 97% while some say it's 70%. Take it as 70% for some calculation.

So, just make a rough estimate of retail transactions = 91.41/0.3 = 304.7 lakh crores transaction business. Assume a 10% shifting to CASHLESS. A rough transaction volume of Rs.30 lakh crores opens 60K crores transaction fee for cards/wallets at 2% & Rs.9000 crores to Govt as Service Tax.

This is the market and this is the reason why people are pushed to queues.This is the reason for that pink Rs. 2000 preference. A forced habit change. When revolutions happen you need sacrificial lambs and each life sacrificed before the queue or due to despair is a small price for this GREED.
Also Read: India's Cash Crisis Is Here to Stay Beyond PM Modi's Deadline: Check out the RBI report 

You will be lured with free voice & free SIM's WHY? Opportunity from money transaction business is many manifolds than peanuts from voice. I miss our great Vinod Rai to give a stock of the national loss here. Networks who grabbed 4G with few thousand crores & their profit.

We miss the Supreme Court who jumped and teared apart every policy decision of UPA. Now we hear a meek plea why not ensure 24K per week. They are not asking you how they fixed this arbitrary limit? under what law? Not asking why made this mess when you take months to print. ??

Moreover, to all your CASHLESS preachers, I would urge you all remove all cash from your wallets. Now go to a remote village of India with mobile wallet & credit card PERISH.

When I made the above statement I know all your blind followers (the Bhakts) will rant on me but I have a base of saying that. Quoting exactly what PM Modi said earlier – "Go digital – Even beggars are using swipe machine".

Also, many of your followers have started narrating how they are disbursing wages to their maids and drivers. No wonder, GO INDIA ?? CASHLESS is a new catchphrase.

I thought there may be some forced change in the behaviour of our countrymen especially when they were left out of choice. So, I checked few data and found that the Reserve Bank of India has provided the details of Electronic Payment Systems data for the month of November here.

https://m.rbi.org.in/Scripts/BS_PressReleaseDisplay.aspx?prid=38779

I looked for only two data sets here. First is the total e-transactions through credit & debit cards through POS and PPIs (mobile wallets)

I looked first at the volume of credit and debit card transactions in billion rupees for the FY 2016-17. A graph is better here, have a look to the first graph.Unbelievable data, the POS transactions nose dived in the month of November after so much of extortion by PM, cohorts and whatsapp army.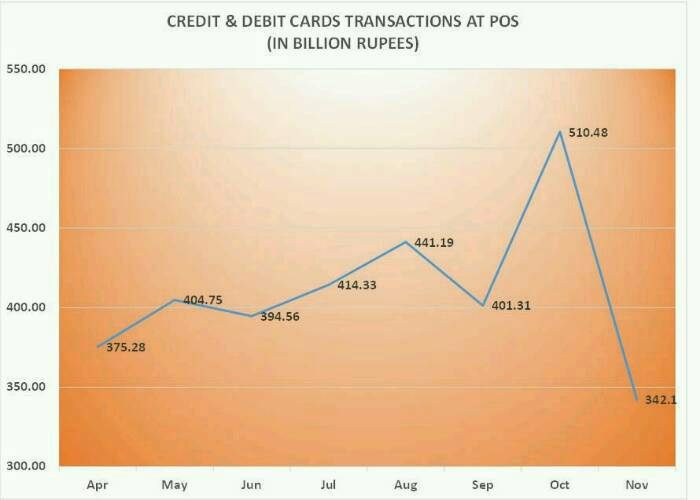 Next, I concentrated for the data of PPIs and yes even I too believed that Paytm & other mobile wallets got some slight advantage due to necessity and now have a look at the second graph – how India actually became wallet friendly.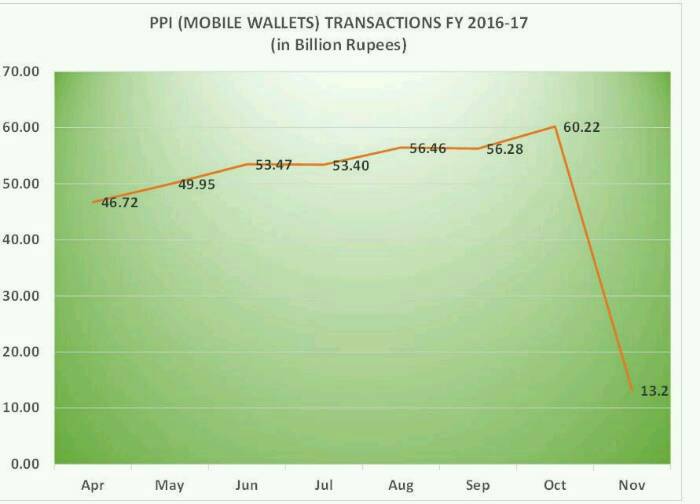 CASHLESS

               I CAN'T BELIEVE MY EYES

Interestingly, the blind followers (the Bhakts) do not pay any heed to these facts and rely on social media and Whatsapp forwards instead of digging deep as everything is available at their fingertips.

My source is RBI data which is in public domain. I don't have any special access. That is it..!!

Now you know why Dr. Manmohan Singh described this whole episode as a monumental mess.
Regards,
Bishnu Das