A RBI Report showed the position of currency in circulation as 16.415 lakh crores, out of which SBN value was 14.18 lakh crores. However, as per the latest data available on currency in circulation, the figure is 17.974 lakh crores as on 4/11/2016. Have a look at the url http://rbidocs.rbi.org.in/rdocs/content/docs/PR1160091116_RM.xls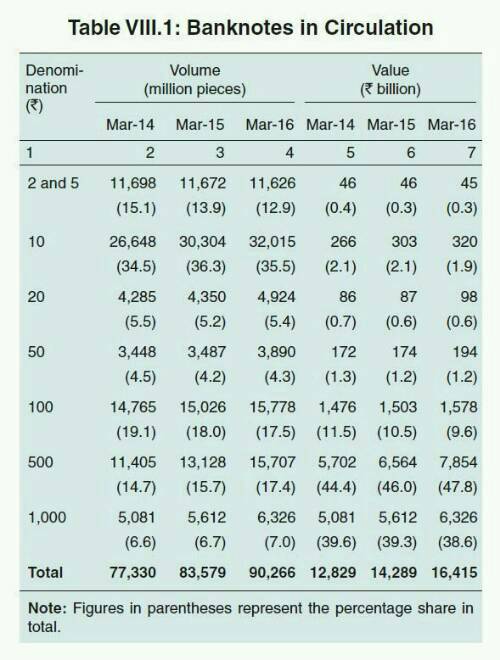 Point is here to understand that between 31/03/2016 and 4/11/2016, the Reserve Bank of India printed and disbursed 1.559 lakh crore more currency to meet the cash demad.
Though, the Central Bank publishes the data on currency in circulation every fortnight, it isn't denomination wise. Currency in circulation denomination wise is published once in a year.
If we assume that the same 86% ratio of SBN followed this Financial Year too, there will be at least 15.46 lakh crores SBN will be in circulation.
R Gandhi, the Deputy Governor of Reserve Bank of India said on 13/11/2016 at a press conference.
Again point to understand that within last one month & all great stocks of 1.5 to 2 months of 2000 notes, they were only able to disburse 4.61 lakh crores.
Check out the screenshot of his edited transcript from RBI website.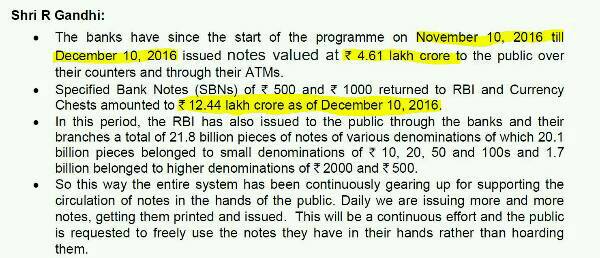 Now they have only 15 days in their hand, but most of the note stock they have is already exhausted, so they have to heavily depend on printing capacity. Its now like in serving 'appam' in our weddings.. Once the stock is over, you have to wait in front of the "appachatti" to get the "appam".
Revisiting Printing Press Capacity if RBI
While revisiting printing capacity of currency printing presses once again. Look at SPCMIL first, Nashik 5800 million pieces while Dewas 2800 million. Now it is learnt from media that Nashik press is devoted to print 500 & Dewas for lower denominations. So how much Nashik press can do?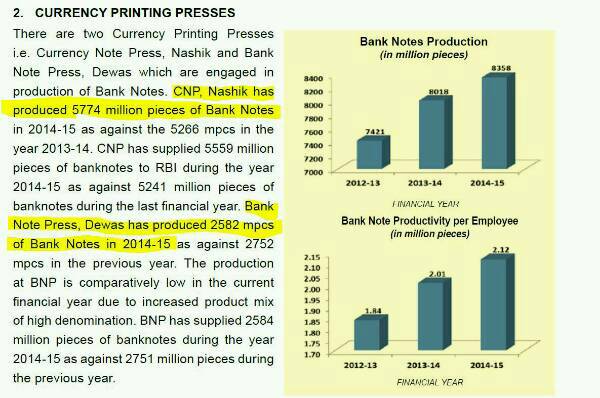 A maximum of 483 million 500 notes in a month = 24,150 crores worth 500 rupees notes/month from Nashik. What about RBI's Mysuru & Salboni? See these about the capacity about both Mysuru & Salboni.
Mysuru & Salboni presses together can produce 16000 million notes maximum if we look at the indent given by the RBI for 2016-17. That means both these presses together can produce only 1333 million notes per month.
Also See: Corruption in India: Politics, Demonetization & Scams
Two scenarios are possible here. Let us assume both presses are entirely dedicated to print Rs. 500 note. Then a maximum of 66,650 crore rupee value 500 notes can be pushed in one month. If one press is dedicated for 2000 & another for 500, then in that case, 1.33 lakh crores value 2000 and 33325 crore value 500 notes can come out from there.
In summary, if 3 presses are dedicated for 500, RBI can print 90,800 cr 500 notes in a month otherwise 1.33 lakh cr 2000 + 57475 cr 500 in a month. That means even if RBI decides to push more 2000 currency notes into system discarding demand for 500, it can only print 1.9 lakh worth currency in a month.
I am not considering the value of lower denominations here, because Dewas press is in low capacity and its value is insignificant too. So there is only 15 more days for the deadline asked by the PM. To satisfy 50% value of SBN, the Central bank has to pump 3.12 lakh crores in 15 days.
Total SBN = 15.46 lakh Cr
50% of SBN =15.46/2 = 7.73 lakh Cr
Money disbursed upto 10/12 = 4.61 lakh Cr
Remain = 7.73-4.61 = 3.12 lakh Cr
Now think about the logistical constraints and other issues and how much notes can printed in these 15 days, judge yourself and introspect.
Then remember between 2 Press conferences on 7/12 and 13/12, 0.9 lakh crores money was returned to the system. As on 10th, 12.44 lakh crores is back, so almost same inflow or more can be expected between 11/12/16 to 13/12/16, then in that case almost 15 lakh crores will return to the system by deadline.
So even to assure 50% disbursal of whole SBN return to system, these GREAT WIZARDS bring some magical wands from DIAGON ALLEY.
Even 50% based on value is a far stretched goal for Govt to achieve. Recollect when they started they were in possession of lower denominations of 100 and below printed to replace existing notes and soiled notes.
Former RBI Governor Raghuram Rajan brought high security features and expanded serial numbers and gave a huge indent of lower denominations this Financial Year. Then they had a good stock of ₹2000 printed between 1.5 to 2 months time too with them when the Emperor ordered the surgical strike on 8/11/2016.
So all those stock currency is almost disbursed when they disbursed 4 lakh plus crores. Now very few lower denominations are returning to the system. So most of the calculations that I have shared here are based on denominations ratio availabile as on March end published in RBI Annual Report.
Just because of demonetization now RBI Governor is also under threat as people are uncontrollable now. Intelligence agencies have already reported this to PM Modi but he doesn't seem to understand the threat.
Its not institutions alone, people who head those institutions bring glory to it. What a difference between RBI under Raghu Ram Rajan and Urjit Patel..!!