Amidst the political ruckus and chaos, Raghuram Rajan, the Indian economist currently serving as the 23rd Governor of RBI has clearly stated that he is definitely not going for a second term as the Reserve Bank of India Governor. This has created a lot of furor as Indians mostly think it is a forced exit. Recently, there have been a lot of debates on the issue across various social media platforms.
A majority of the Indians now think that Raghuram Rajan's exit will be a huge loss to India and India's pain will be America's gain. However, there are some people who do not think the same. After all, India under the current government has a lot of competent people who are suitable for the post.
After all, all the recent political appointments made by the NDA Government is not only odd but bizarre –
Image Courtesy: The Desi Cracked Pot via Facebook
A TV Actress as an HRD Minister
who is totally visionless about everything.  All she knows is to create drama like the typical saas bahu serial she acted in. She can call "Dear" to another minister and Editor of a Newspaper. However, when Bihar's Education Minister calls her "Dear Smriti ji" she gets offended. Yea, she is that way, knows how to create drama and divert attention to non-productive things.
A Lawyer as a Finance Minister
While we cannot have Raghuram Rajan as our RBI Governor for the second term, it isn't surprising that we have a Lawyer as Finance Minister. He seems to be competent to the ministry maybe because he is good in bargaining with the local baniya by using his Lawyer giri.
A B Grade Filmmaker as a Censor Board Chief
This man who showed all the nasty things in his own films is now cutting down scenes from a realistic film that needs to be shown to the society. No wonder, he was selected as the CBFC chief because he was indeed very good at censoring off clothes from the actresses in his movies. Worst, he openly calls him a Modi chamcha.
A Cricketer as the Head of Fashion School NIFT
After all, we could see his fashion sense on the field though he insists that he got the job for his banking and cricketing experience. 
Now going by such preferences, there is a huge fear that the two Babas who are close to the current government might become RBI Governor post  the exit of Raghuram Rajan. Yea, let's wait and watch.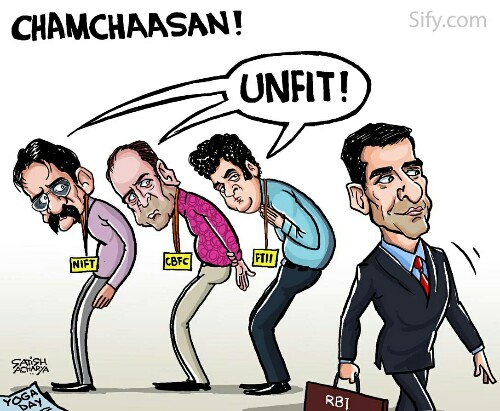 Image Courtesy: @SatishAcharya via Twitter
Meanwhile, the buzz is that some people are suggesting Salman Khan's name to make him the head of ISRO as he is very good in flying kites. Remember his viral photo with Modi during the Uttaran festival in Gujarat?
This post has been inspired from the photo and status shared by The Desi Cracked Pot
Do Not Miss Reading:
Bitchwanti, Burkha, Ornob; A Fictional Satire on Indian Politics &; Media
Political Sex Scandals Involving RSS Pracharak & BJP Politicians
Yogi Adityanath Vs Anupam Kher; The Battle of The Biggest Sanghi!