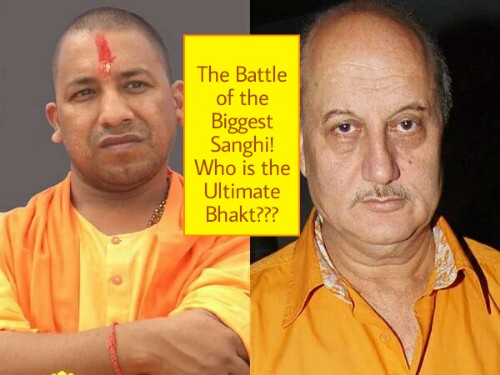 It's war of words, not amongst the members of different parties but passionates of the saffron brigade. One, being the Baba of Gorakhpur – Yogi Adityanath, and the other being the unofficial spokesperson of BJP on Twitter. Yes, the husband of another Kiron, a BJP MP and also a self-proclaimed BJP supporter, Mr. Anupam Kher.
Being Husband to any Kiran these days gives a certain boost to the interim rhetoric skills. Well, it gives you an ability to put your foot in your mouth that too very proudly!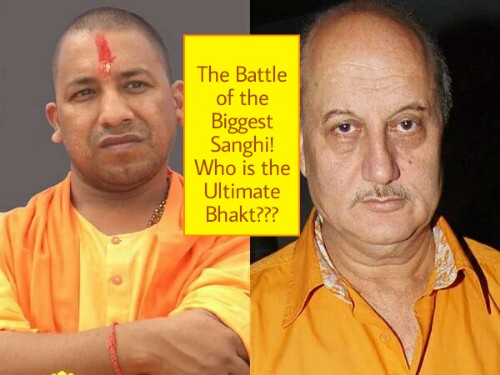 Base Image Source: OneIndia via Twitter
The two (Yogi Adityanath and Anupam) are battling out in open and fighting out hard to win the imaginary crown of – Who is the Biggest Sanghi? However, the two have no idea that there is a wild card entry in the Battle. Surprised?
Subhash Chandra – The Newest Sanghi On the Block
Well, I'm talking about Zee Networks' Subhash Chandra – The newest BJP Bhakt on the block whose channel went to the extent of doctoring videos in order to prove that they are the Biggest Bhakts who can go to any extent to show their immense support.
It is not hidden that Group Chairman of Zee Network is also a BJP member and his ideology is influenced by RSS (these days). Besides, as of now he seems to be running around the bushes like a typical majnu to please the Modi Government just the way he did with the 80s Congress Government to crack some deals and even managed to wow both Sanjay and Rajiv Gandhi. Thanks to all the bribing to the various Congress' governments, he was worth 1,000 crore in 1992 after starting very small.
However, now that Rahul Gandhi is of no use to him, he has shifted his loyalty to the Modi Government. But, but, but people who cannot be true to their own biographies can never be loyal to anybody. Good riddance Rahul Gandhi, I must say. Failure often frees you from certain leeches which is a good thing.
Yogi Adityanath Vs Anupam Kher – Who is the Biggest Bhakt After All?
Coming back to Yogi Adityanath and Anupam Kher. Yogi Adityanath is a firebrand BJP MP and a priest since 1998 who has won all the Lok Sabha elections of Gorakhpur. He has done almost everything for his city – Riots, Spreading Hatred through his Inflammatory Speeches, Disobeying the Magistrate except of course any productive things. He seeks more power but the power is not for the upliftment of the people or let's consider just Hindus, but only to satisfy his alter ego.
This is precisely the reason why Gorakhpur, though a district in Uttar Pradesh is still lagging behind and doesn't have facilities and amenities that a small town of Gujarat might have. Despite being a religious and historical center and having an Air Force Station, no flights can fly to Gorakhpur straight (except of course Delhi which started recently). Besides, there are frequent load sheddings in the area almost all the time, and this man has won Lok Sabha election 5 times back to back.
By making provocative statements in the JNU row at the time when the entire camera flashed only on Kanhaiya Kumar and the JNU University, Yogi Adityanath too wanted a bit of limelight. After all, why only Aunty National Smriti Irani should have fun? And Mr. Newbie Sanghi gave him exactly what he wished for – The Much Awaited Limelight!
Anupam Kher said that Adityanath should be jailed and thrown out of BJP for his statements. While, the Liberals, Congresswallahs, and the AAPians enjoyed the statement, the Bhakts feared the reaction from Adityanath. And Yogi Adityanath bounced back at Kher declaring him as the "Real Life Khalnayak".
The General audience for the first time have agreed to both their statements for each other while the entire BJP forces bang their head on the walls.
So, Who is the biggest Sanghi – Yogi Adityanath? Anupam Kher? Subhash Chandra Goel?
Well, the Battle is still on and we will soon see many of them trying to get some limelight just like BJP MLA who even counted the condoms in the JNU campus to prove the parties' allegation on the Shutdown JNU saga. Just wait and watch, there are more die-hard fans who can do anything to prove their loyalty and Anupam Kher will surely have some tough competition.
Hold on your breaths for some more entertainment and fun, while Narendra Modi, Rajnath Singh, Sushma Swaraj and other hardcore members of BJP along with the loyal followers scratch their head in disbelief!
Do Not Miss Reading:
The Biggest Critics of Narendra Modi Government is not Congress but BJP and Its Loyalist
Political Sex Scandals Involving RSS Pracharak & BJP Politicians
Yo BJP So Corrupt – Yells Congress #BJPLovesCorruption!