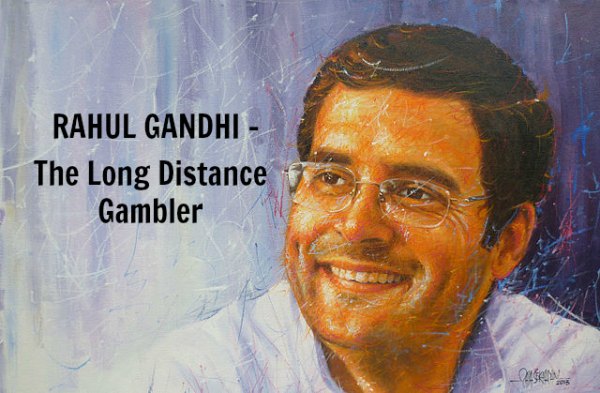 Rahul Gandhi, the Congress Vice President is one of the most talked about politicans today. Although the heir of Nehru Gandhi dynasty became a politician years ago (more than a decade ago to be precise), nothing concrete is known about him other than his family tree and background.
Here we share interesting facts about Rahul Gandhi – The Fantastico Politician! (Atleast that's what the Congress babus think)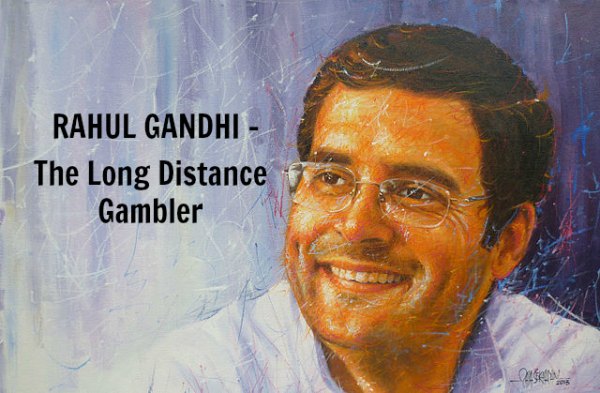 Image Source: OIL PAINTING BY Rajasekharan Parameswaran via Wikipedia.org
The Early Life of Rahul Gandhi & his Education
Rahul Gandhi, 45, is the elder of the two children of Rajiv Gandhi and Sonia Gandhi. He completed his schooling from New Delhi and Dehradun. He has a Bachelor degree from Stephen College, New Delhi. After completing his graduation, he then moved to Harvard to pursue further studies. It is said that after his father's assassination, he came back to India and later joined Rollin's college. After completing his education, Rahul Gandhi then started his career in a London based firm as a consultant.
"My friends with whom I played killed my Grandmother" – Rahul Gandhi
The death of his grandmother left a negative impact on Rahul. He was merely 14 when his grandmother Indira Gandhi was assassinated by her own loyal bodyguards. 7 years later, in a public meeting, Rahul Gandhi, recollected that the 2 assassins who killed his beloved grandmother were his own friends who had taught him how to play badminton. He even mentioned the same once – "My friends with whom I played killed my Grandmother"
From Farmer to Strategy Consultant
In 2004, the official website of Congress called Rahul Gandhi a  "farmer". However, in 2009 after winning the Lok Sabha election, the term "farmer" was changed into "strategy consultant". While, Subramaniam Swamy debates about Rahul's education qualification the site displays it as M.Phil in Development Economics. 
Rahul Gandhi Was Arrested Once
In May 2011, Rahul Gandhi was arrested at Bhatta Parsaul village by the UP police when he was on his way to meet the agitated farmers who were demanding more amount of money from the land owners who had acquired their land for a highway project. If only he was as agressive today things would have been better.
His Relationships
Rahul Gandhi in a rare public conference while speaking to an Indian Express journalist cleared all the miss-information about his girlfriend. He not only revealed about his relationship but also gave out her name – Veronique Cartelli and cleared the air about her profession. Reportedly, the two studied in the same university and were best of friends all through their college life. He was also alleged to be dating an Afghan princess by Sunday Guardian in 2012. The princess though married an Egyptian prince in 2013.
Rahul Gandhi and Priyanka Gandhi – The Siblings and Friends
Rahul Gandhi is 2 years elder to Priyanka Gandhi but they both are more like friends than siblings. No wonder, Priyanka was outraged once when the media as well as critics were behind Rahul like anything. She even threatened of filing a case.
Rahul Gandhi is often criticized for his actions. However, after losing the 2014 Lok Sabha election we have seen a lot of changes in him. Will he prove his potential in 2019 election? Well, only time will tell. What do you think – Will Rahul Gandhi have a fantastico win in 2019?
Do Not Miss Reading:
Rahul Gandhi & His Two Love Affairs: Know the Relationship History!
Rahul Gandhi Version 2 : 5 Facts and Changes You Need to Know
This blog post is inspired by the blogging marathon hosted on IndiBlogger for the launch of the #Fantastico Zica from Tata Motors. You can apply for a test drive of the hatchback Zica today.