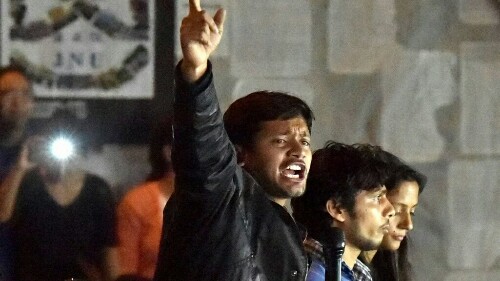 The release of Kanhaiya Kumar on bail has brought a few amusing changes and trends, and the most noticeable is the change of tune in Kanhaiya's rhetoric.
Before he was arrested, Comrade Kanhaiya Kumar was accused of making anti national slogans or standing in support of leftist fringe elements who were accused of making extreme anti-national slogans but now his views have changed from being anti-national to anti-BJP.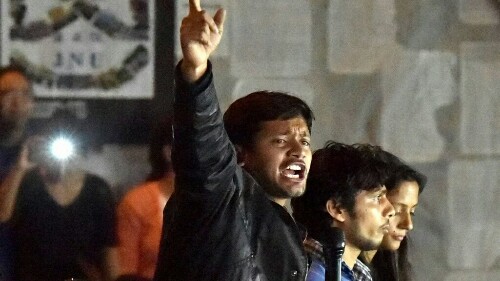 From Bharat Ki Barbadi to Bharat Mata Ki Jai – Kanhaiya Kumar's Dramatic Transformation!
An Indian flag was being waved behind him during his comeback speech at JNU and only the chant of 'Bharat Mata Ki Jai' was missing. Indeed, a change in sloganeering tactics from 'Bharat ki Baarbadi' To 'Bharat Mata Ki Jai' would have been pleasantly dramatic.
Another rather disturbing change that has been noticed is the change of perception in the eyes of the media and anti-BJP supporters in regard to the phrase 'out on bail'. As soon as Kanhaiya got out on bail he was celebrated as a hero who has been exonerated from all the charges. Kanhaiya's supporters started chanting 'Satyameva Jayate' while the truth is yet come out!
Kanhaiya Kumar Is Not A Hero 
It has to be noted that Kanhaiya was not granted bail in a manner befitting a 'hero', that his supporters claim him to be, but rather he was granted interim bail with a stern warning, which was more akin to those issued to the misguided youths. The judge issued the bail on the condition that Kanhaiya should not participate "actively or passively" in such anti-national events. Referring to the anti-national slogans the judge said "the thoughts reflected in the slogans raised by some of the students of JNU who organised and participated in that programme cannot be claimed to be protected as fundamental right to freedom of speech and expression".
She further added that the court would "consider this as a kind of infection which needs to be controlled/cured before it becomes an epidemic". She also compared the anti-national tendencies and sentiments to gangrene. The judge noting that the 20 days spent in the jail might have given Kanhaiya enough time to introspect on the events, the judge declared that she was "inclined to provide conservative method of treatment" and thus the interim bail was granted.
Kanhaiya Kumar – The Rabble Rouser
But the bail was used as if the court has vindicated Kanhaiya of all the charges and putting his oratory skill to good use, Kanhaiya launched a tactful diatribe against the BJP Central government while standing in the left bastion of JNU. Kanhaiya's speech, which was centred on the theme of 'Azaadi' and scathing personal attacks against Smriti Irani, Rajnath Singh and PM Modi, was nothing short of rabble rousing.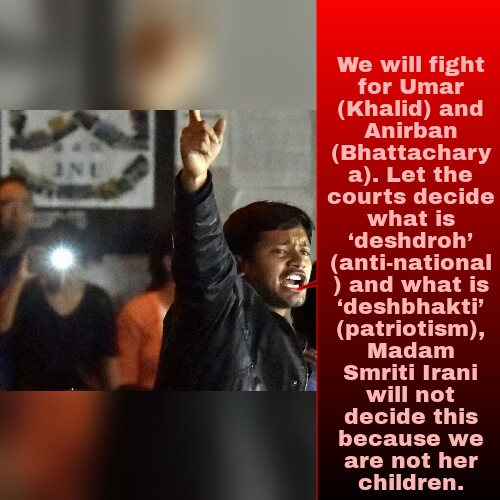 The bombast of duplicitous demagoguery, which was skilfully hidden under the carpet of "Azaadi", meant nothing meaningful but was designed to impress the political laymen and launch a self-desired political career. He talks about 'azaadi' from corruption, hunger and discrimination but speaks nothing of the grand failure of 'socialism' and left leaning politics that has dragged India's progress for half a decade and instead takes a dig at the two year old Modi government.
Comrade Kanhaiya Kumar And His Tirade Against PM Modi & RSS
According to Kanhaiya's speech, listening to Modi speaking about Stalin and Khrushchev angers him so much that he feels "like jumping into the TV screen, grabbing his suit and saying — 'Modiji, please speak about Hitler a little'. Forget about Hitler, talk about Mussolini.."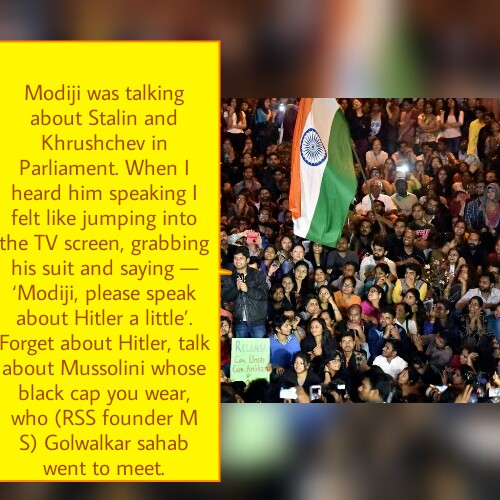 PM Modi may not have any affection for Stalin, Hitler and the rest, but Comrade Kanhaiya Kumar seems to have tremendous affection for the likes of Stalin, a Communist dictator who killed more than Hitler and Mussolini combined.
Kanhaiya Kumar, in his speech, points out that 'If you speak against this anti-people government, then their cyber-cell will send doctored videos, they will abuse you and count how many condoms there are in your dustbin', but I fail to believe that Kanhaiya Kumar is so naïve to believe that it's only the right wing that resorts to such tactics.
It is a grim reality that the fringe elements on the both ends of the political spectrum in India have resorted to cheap propaganda through doctored pictures and videos.
Here are few anti-Modi examples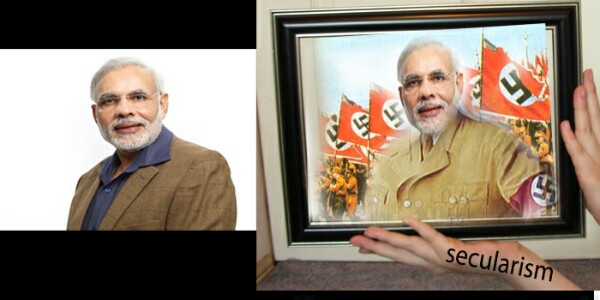 Image Courstesy: Hinduhumanrights.info
The Doctored Image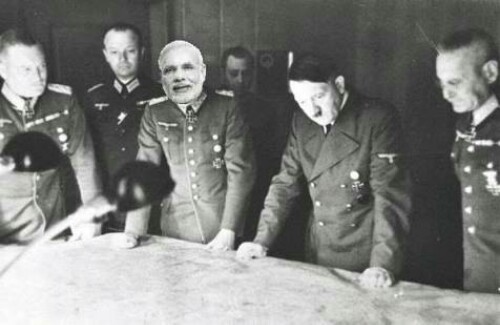 The Original Image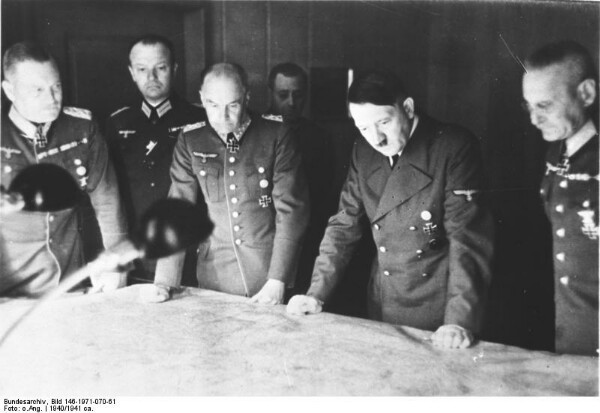 Image Courtesy: German Federal Archive via Wikimedia Commons
Kanhaiya took a further swipe at Prime Minister Narendra Modi when he said 'Modiji tweeted Satyamev Jayate. I also say 'PMji, I have huge differences in opinion with you, but Satyamev Jayate is from the Constitution. Today, I also say to you Satyamev Jayate'. Mr Kanhaiya, you are out on bail and the court is yet to take a judgment on your alleged anti-national activities. Let the law take its course and when the final verdict comes I hope we all gladly accept that Truth alone triumphs.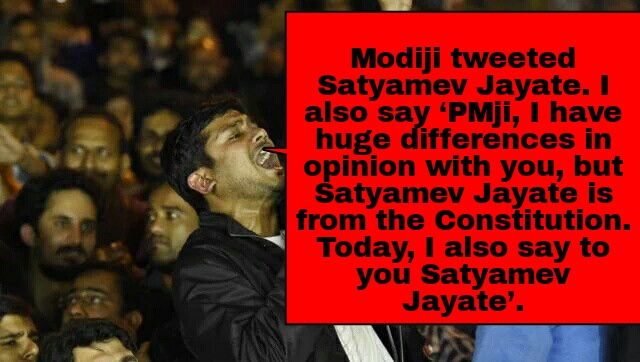 Kanhaiya Kumar – The Politician In Making
Kanhaiya has been excellent in milking the bail granted to him for scoring political brownie points and, it would not be wrong to say, launching his political career. All of a sudden he wants 'freedom in India' and has full trust in the Indian judiciary. That would make many wonder why he was present in a protest against the hanging of Afzal Guru?
After all, it was the same Indian Judiciary that had convicted Afzal and sentenced him to death. Moreover the slogans in that protest did not call for 'Freedom in India' but rather 'freedom' from India.
Information can be presented in many ways and a shrewd person can change the very picture that the data really presents. Kanhaiya seems to be a master in it. He declares '69 per cent of the country do not believe in your (BJP) ideology. Even the 31 per cent who voted for you were fooled by your jumla. We Indians forget easily but we still remember all the 'jumla' used during election campaign.' In the 2014 Lok sabha election the Left parties got 4.5 % of total votes, which is the lowest among all the political groupings, and the BJP got 31% of Votes, which was the highest among all the parties. It would not be wrong to say that in 2014 95.5 % of Indians rejected the ideology of the Communists.
Comrade Kanhaiya Kumar And His Acrimonious Hatred For the Right Wing!
It is quite clear that his tirade against the BJP is not grounded in sound reasons but acrimonious hatred for the right wing. This strategy of rabble rousing to corner the government will have a negative effect on the country and its political stability. Disruptive politics and rhetoric cannot fool the Indian people in the long term, who have a good understanding of political intrigues and propaganda.
If this tactics of creating bogeyman of Hindu fascism, hurting people's sentiments and resorting to rhetorical propaganda based on misinformation continues then in the people's mandate of 2019 the left might have to deal with the ignominy of having more than 95.5% of Indians voting against their ideology, and then we can have 'Azaadi' from Communism.
Do Not Miss Reading:
10 Lesser Known Facts about Kanhaiya Kumar – The JNUSU President!
JNU Row: Between Abuse of Freedom of Speech and Mob Justice, Nationalism is Lost
10 Quotes From Kanhaiya Kumar Speech At JNU!