While, it was impossible to reach out to any of the External Affairs Ministers in the past, the current Foreign Minister Smt. Sushma Swaraj is just a tweet away.  One of the best Foreign Ministers on and off the Internet, she has been appreciated from various corners of the world for solving individual's problem without much fanfare. One of the few Ministers who has really made the Narendra Modi government proud, and restored our faith in bureaucracy, Sushma Swaraj has many feathers to her hat.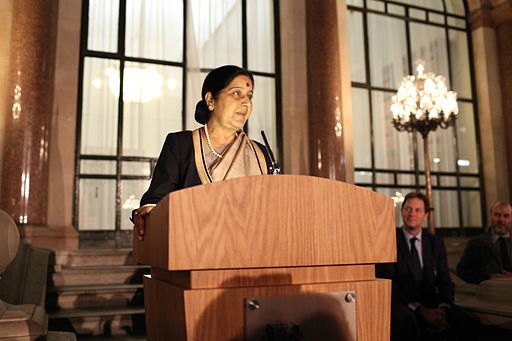 Image Courtesy: By Foreign and Commonwealth Office (Indian Diaspora event) via Wikimedia Commons
Here we share some of the lesser-known facts about Sushma Swaraj that you probably didn't know
Sushma Swaraj Entered Politics with Students Wing of RSS – ABVP
Sushma's father Hardev Sharma was a prominent Rashtriya Swayamsevak Sangh (RSS) member, and so her political inclination towards RSS was quite apparent. She joined Akhil Bharatiya Vidarthi Parishad (ABVP) – a student wing of RSS in the early 1970s when she was pursuing her Law Degree at the Panjab University of Chandigarh. In 1974, when Arun Jaitley had contested for the post of President of the DU Students Union, she had even campaigned for him.
She was Highly Influenced by the Ideas of Indian Socialism
Although Sushma Swaraj's family had a tradition of following political parties which backed the Hindu rights, young Sushma was highly influenced by the ideas of Indian socialism. Her faith in this ideology became strong when she met Swaraj Kaushal (now her husband), an advocate in the Supreme Court who strongly believed and supported social democracy.
During the Emergency, She Gave Free Legal Services to the Activist of the JP Movement
During the emergency, when Jayaprakash Narayan initiated the Movement of Democracy against Indira Gandhi's emergency, he invited all the young minds to join this movement. Among all the youngsters, Sushma too joined the movement. What's more, she even gave her free legal services to the activists who were detained during the Emergency. She was also a part of George Fernandes Legal Defence team in the Baroda Dynamite case
An Anti-Emergency Activist, She joined Janata Party and became the youngest Cabinet Minister (till date) at the age of 25
After the Emergency was lifted in the year 1977, and Janata Party was formed, Sushma Swaraj became a member of the party and campaigned for it. She even contested the election from her home constituency. Being an anti-Emergency activist, she garnered a lot of support particularly from young voters and women. Next, Sushma Swaraj at the age of 25 became the youngest Cabinet Minister in the newly formed Janata Party.  She also became Janata Party's state (Haryana) President at the age of 27.
Sushma Married Swaraj Kaushal During the Emergency
Both, Sushma Swaraj and her husband Swaraj Kaushal were not in the favor of Congress politics. It was their mutual disinterest in Congress that brought them together in the Emergency Movement led by JP. Next, they teamed up for the defence of socialist leader George Fernandes who was arrested for organizing the biggest strike
The couple married during the times of Emergency on July 13, 1975. Their marriage was largely backed by their law professor AS Anand (also former Chief Justice of India) who thought the couple  made a great match.
A Socialist, she later joined BJP but never became its President – (Why?)
In the year 2005, when RSS was looking a leader for the post of BJP President, Sushma Swaraj was the perfect candidate. However, according to the media reports, her socialist background during the Emergency became the greatest hindrance as she didn't possess the RSS indoctrination that is essential to become the BJP President. As expected, Sushma Swaraj didn't bag the presidential position, however, it is said that it was not because of her socialist connections.
Sushma Swaraj Once vowed to Shave Her Head, and wear just white Saree, if Sonia Gandhi Became PM of India
In 1999 Lok Sabha elections, Sushma Swaraj contested against Sonia Gandhi from Bellary, a Lok Sabha constituency in Karnataka but she lost against her. Next, following the 2004 election when Congress was all set to form the government,  an emotionally charged Sushma Swaraj threatened that if an Italian born Sonia became Prime Minister of India, she would shave her hair, wear just white saree and would eat only groundnut.
Sushma Swaraj Pushed Congress to Form a Separate State for Telangana
Arguing with her own mentor Senior BJP Leader LK Advani, a ferocious Swaraj made sure that the Telangana Bill is Passed. She in fact, was one of the key members in the Opposition to strongly support and push the Telangana Bill. This is the reason why she said, "Telangana, when you thank Sonia amma for the formation of Telangana state, don't forget your Chinamma (Sushma Swaraj referring to herself)"
Source and References:
Economic Times – Sushma Swaraj re-invents herself in a party dominated by Narendra Modi
Elections.in – Sushma Swaraj
Economic Times – Swaraj Kaushal: Sushma Swaraj's achilles heel or her pillar of strength? 
Do Not Miss Reading: 
Lalit Modi Visa Controversy : Is Sushma Swaraj 's Action Really Condemnable ? 
Narendra Modi : Facts From Godhra and Beyond – Part 1
Narendra Modi : Facts From Godhra and Beyond – Part 2