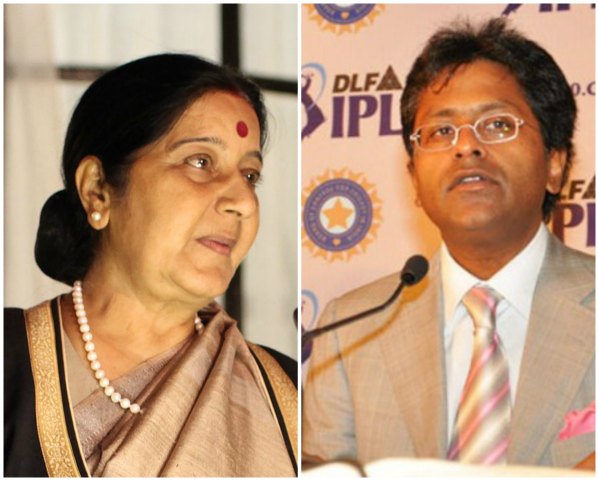 In a so-called 'expose'  it was reported that the Indian External Affairs Minister Sushma Swaraj helped the controversial IPL founder, who lives in the UK, in gaining permission to travel to Portugal. This report came as a blessing for the opposition which created quite a stir in the parliament and demanded the resignation of Swaraj.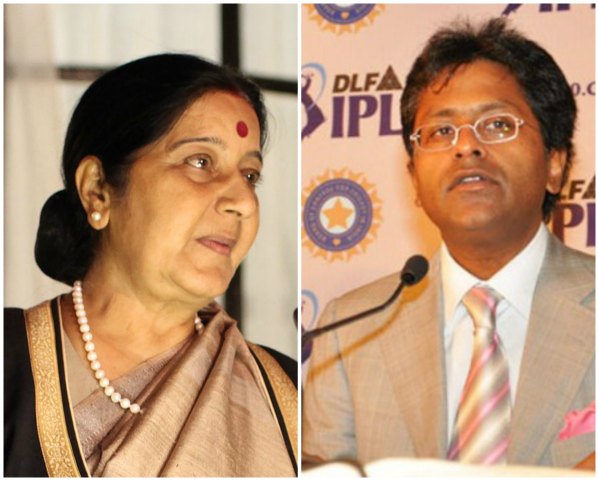 Image Courtesy 1a: Foreign and Common Wealth Office via Wikimedia Commons
Image Courtesy 1b: TopNews.in via Wikimedia Commons
Despite Swaraj claiming it was a humanitarian act on twitter, the opposition parties are in no mood to eschew this opportunity to corner the central government.
But the question remains if what Sushma Swaraj did is really condemnable?
Sushma Swaraj took to twitter as soon as the expose was reported in the media. She wrote in a guilt free manner that what she gave her assent to the possibility of Lalit Modi travelling to Portugal if the British Government allowed so as per their rules and regulations. As the British government was wary of its implications on Indo-British relations, external Affairs minister Swaraj assured them that it would not have any ramifications on our bilateral relation.
Swaraj defended herself that the move was humanitarian in nature as Lalit modi wanted to visit her ailing wife, who suffers from cancer and is in need of a surgery for which Lalit Modi's consent, in the form of signatures, is required.
Sometime in July 2014 Lalit Modi spoke to me that his wife was suffering from Cancer and her surgery was fixed for 4th Aug in Portugal.

— Sushma Swaraj (@SushmaSwaraj) June 14, 2015
  Swaraj's proactive stance as far as a humanitarian issue is concerned is wide known. She has been instrumental in safeguarding the lives of stranded Indians abroad. Be it the evacuation of Indians from war torn Iraq and Yemen or several incidents where Swaraj personally reached out to the Indians who were in trouble abroad and ensured their safety. In the past one year the importance of being an Indian abroad has increased manifolds as the government has been very active in promoting the well being of Indian citizens. Here we should not forget that Lalit Modi, despite being an Enforcement Directorate (ED) absconder, is still an Indian Citizen and so is his wife. Swaraj's action may just make Minal Modi's recovery possible.
What benefit did I pass on to Lalit Modi – that he could sign consent papers for surgery of his wife suffering from Cancer ? — Sushma Swaraj (@SushmaSwaraj) June 14, 2015
It is important to know that Modi is not an accused in any cases as ED has no serious evidence against him to declare him an accused. Moreover in august 2014 a divisional branch of Delhi High Court has restored Lalit Modi's passport which was revoked by the UPA government. In view of all that it is difficult to hold Swaraj's action as condemnable. Lalit Modi may not be innocent of all the charges levelled against him but still what Swaraj has done will remain humanitarian in both letter and spirit.
He was in London. After his wife's surgery, he came back to London. What is it that I changed ?

— Sushma Swaraj (@SushmaSwaraj) June 14, 2015
It has been reported that Lalit Modi came back to UK after the operation but despite that the row over Lalit Modi's visa row would likely be played out further in the parliament as well as in 'tabloid' news channels which act as court themselves. The opposition parties would try hard to turn this issue into a 'scam'. But still, on a positive note, it is good to know that after one year of the New Central government 'Scams' are humanitarian issues rather than frauds worth thousands of crores.
Do Not Miss Reading:
Lesser Known Facts about Sushma Swaraj, India's Firebrand Politician and External Affairs Minister
International Yoga Day : Dont Let Religious Dogmatism Taint Yoga
The 1962 War : Why It Should Feature More Prominently in School Curriculum