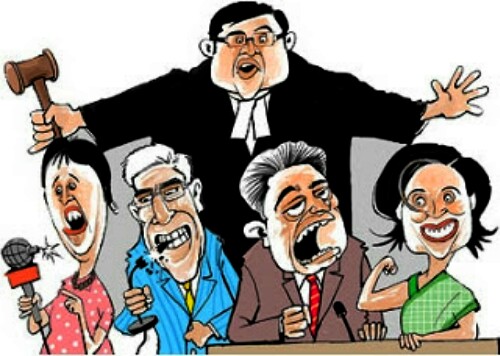 It's a fictional satire on current politics and media of our country.
Breaking News
New Delhi, a Friday morning of March….
A senior journalist of leading news channel Niharika Bose was waiting at the cafeteria of a five star hotel in anticipation of the big breaking news. She has harboured long her dreams to create a meaningful impact against proceedings of the current government and regain the control over the Lutyen's Delhi.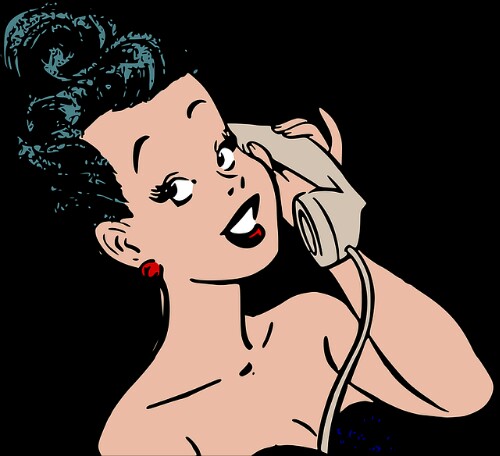 Image Courtesy: via Pixabay
Exactly nine past ten, walked in Bitchwanti, in her signature noodle strap blouse, draped in Rina Dhaka saree. Bitchwanti was a socialite cum PETA activist, who was a regular in the not so cattle class of political, fashion and Bollywood circle. She keeps her friends close and enemies closer. In Niharika's case, common enemies made great social cause for friendship.
Bitchwanti these days was fighting for the social rights of the stray dogs, who she felt was marginalised and wronged by this transformational right wing government. The killings of stray dogs by right wing activist in name of Bharat Swacch Mission made her wrath know no bounds. An angry and hurt Bitchwanti, blurted out "What did these poor animals do to deserve this", grabbing a big bite into her beef burger. Niharika tried to console her by saying, see their favourite is your fodder right now. She looked at the beef burger and smiled to herself – justice has prevailed.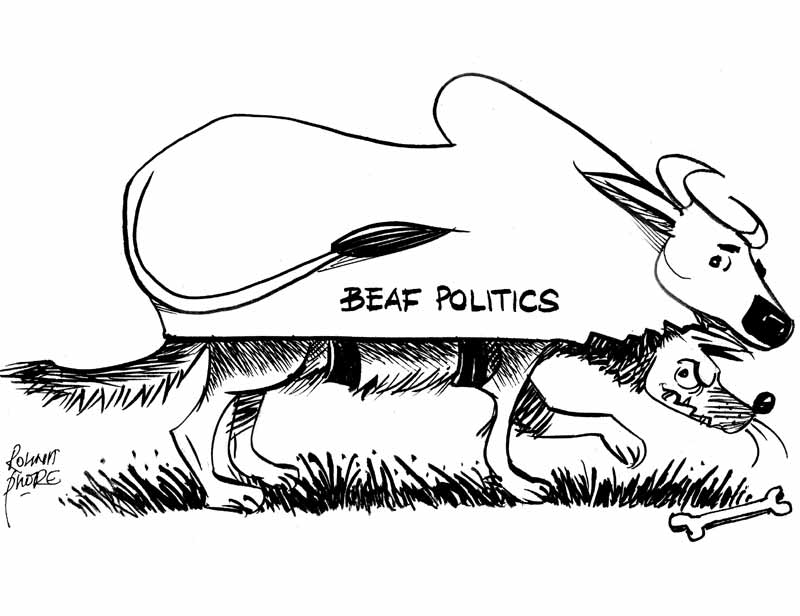 Image Courtesy: The Financial Express
Back to business, Niharika wanted to be absolutely sure about the authenticity of the news. Bitchwanti confirmed that she had a chance to eavesdrop at Mantri ji's personal residence when she went with her petition. The current government was planning to table a bill of making Cow, the National animal of India, replacing the tiger which is on its way to extinction. This was breaking news – Niharika just needed to explore all possible angles – religious, communal, social to exploit it and make it the next big thing. Bitchwanti handed her the sting video having the recording of the discussion – Niharika just couldn't wait for the fun to begin.
Image Source : via Pixabay
The world war between Bhakts and Adarsh Liberals was waiting to unfold on twitter.
Meanwhile in the editor in chief's cabin of another Leading channel…
An assistant slowly whispered in the ears of Burkha, the secret meeting that had taken place between Bitchwanti and Niharika an hour back. She looked unperturbed. Niharika was clearly never in her league or competition, as the former always focussed on short term victories.
Burkha focussed back on her current muse, poster boy, Kanha for her directional debut in her next breaking news. She always chose her subjects carefully and ensured even if the news is political, it has a social impact. Pratyusha was a hot story this week, but that did not interest her as she had covered depression with Bollywood A lister. Clearly Burkha believed in extremes when it came to profiling of her subject matters.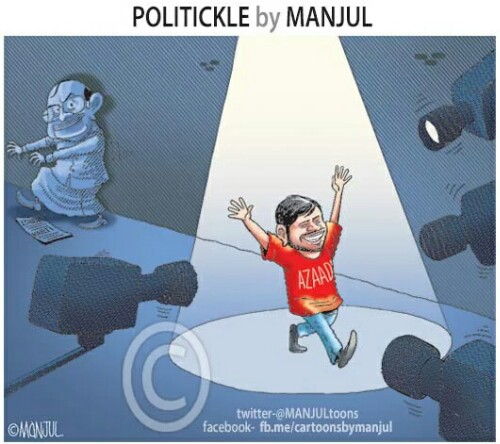 Image Courtesy: @ManjulToons via Twitter
Burkha knew Kanha fitted the perfect bill of the image of a poor and socially backward class persona with right kind of street smartness and aspirations that would evoke mass sympathy for him and against the government. She always believed in striking where it hit hard.
Her creative director meanwhile was busy seeing the rushes of Bachhan's movies of 80 to give Kanha the right look of angry young man, fighting for social justice and freedom of speech. The briefing was clear; Burkha wanted a distinct different positioning in terms of image from their earlier poster boy of a middle class man. The muffler had to go.
Aam Nautanki Party's office
The ruling party of Delhi clearly understood the power of Media. They prepared their own breaking news every week and performed on it. This week there was a new challenge at hand. Tired of their content writer, who scripted shoe-hurling and ink-throwing drama at their CM KhadakaroBawal ji during press-conference, week after week, they fired him. They clearly needed a new screenplay especially after their main agenda of providing free power, was over-powered by the Central Ministry of power. Also news of Kanha making big in Delhi made KhadakaroBawal ji uncomfortable. His initial support to Kanha, in attempt to malign the PM, was clear short-sightedness.
Image Courtesy: @ManjulToons via Twitter
Times How office in Mumbai was buzzing with what Nation wants to know next….
Ornob always believed in staying two steps ahead of competition. His foresight to understand what his competition can offer best kept him ahead. Nationalism was hot cake but nothing better than India-Pak conflict. He clearly had to raise his bar. This time he decided that he will have "Nation wants to know" debate with Nehru and Jinnah, the flag bearers of this conflict, who were till now co-existing peacefully in heaven. Clearly his sources would have told him that both follow Times How channel and clearly there is no escape from his ire. From realms of past, they have to face Ornob's blast.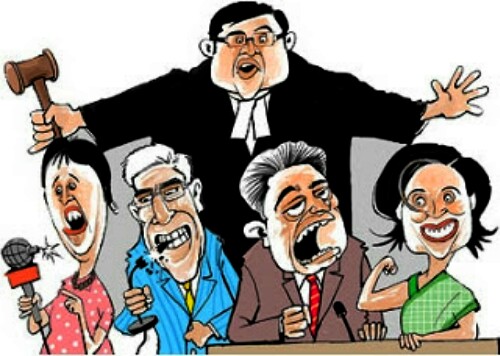 Image Courtesy: Indian Journalists via MediaCrooks
Away from the prowling eyes of Media and the race of breaking news, the cow community from different parts of India had decided to do a peace march towards India Gate – chanting "Bharat Mata ki Jai"– clearly they had never felt so safe ever before in this country.
Image Courtesy: @ManjulToons via Twitter
What PETA couldn't do, the government has done for them – Acche din for 'C for Cows' if not 'C for Corporates'. Now that calls for a news channel to break!!!!!
(To be continued)
Do Not Miss Reading:
Top 5 Fake Journalists in India – Know Why Indians call these Journos Fake
A Tale of Barkha Dutt and her Two Muslim Husbands
Rajdeep Sardesai Controversies