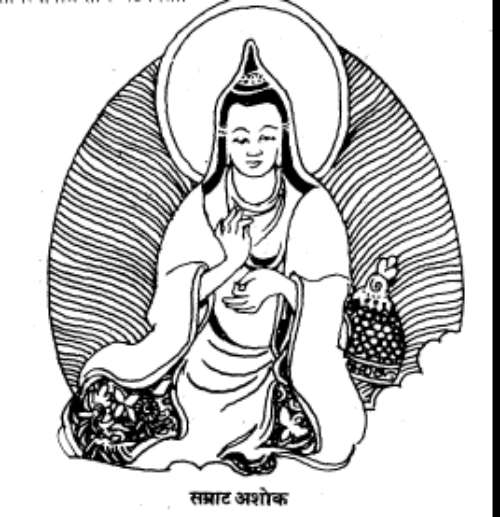 The immediate successor was not Chakravartin Ashoka Samrat 's son but his grandson – Dashrath Maurya.
While, he had capable sons, it is rather a fact that none of them succeeded him to this throne. Interestingly, his elder son Mahendra who was not even Ashoka's heir to the throne become his spiritual heir spreading dhamma outside India unlike his other son Kunala who was considered as a probable heir from the very start.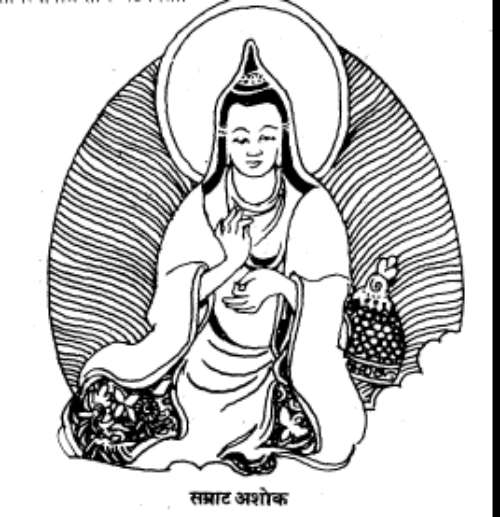 Image Source: By multiple authors (konkani vishwakosh-goa university) via Wikimedia Commons
Chakravartin Ashoka Samrat Had 3 Sons – Mahendra, Tivala and Kunala : Why None of them Became His Successor?
Mahendra was Samrat Ashoka's first son. He was the son of Maharani Devi whom Ashoka married in Avanti when he was 18 and still a prince. She and her two kids – Mahendra and Sanghamitra never went to Pataliaputra. She is believed to be of Shakya race which links her to Buddha.
Apparently, since Mahendra was always away from the royal palace despite being a prince he lived his life like a commoner and possessed all the qualities of a Buddhist. Next, when Ashoka changed his lifestyle and adopted Buddhism, he sent Mahendra to Sri Lanka to spread Buddhism.
Tivala was Samrat Ashoka's second and favorite son. He was the son of Rani Karuvaki whom Samrat Ashoka married during his period of exile. Interestingly, his name is mentioned in the Queen Edict along with his mother. It is believed that he was Samrat Ashoka's favorite son. Probable, he could be his possible heir too but perhaps he predeceased during Ashoka's time. During Ashoka's reign he was the viceroy of Taxila.
Kunala Was Ashoka's Third Son and his Presumed Heir. He was his third queen Rani Padmavati's son. Rani Padmavati died early so Kunala grew up under the care of Samrat Ashoka's chief wife Rani Asandhimitra. He was unofficially declared as the next successor. However, he did not annex the throne.
Why Didn't Kunala Succeed to the Throne?
After Rani Asandhimitra died, her favorite maid a young Tishyaraksha took great care of Chakravartin Ashoka Samrat. She did attract the Samrat and so Ashoka made her his concubine and even promoted to the ranks of queen. Now Tishyaraksha was attracted to Kunala as there was a huge age difference between Tishyaraksha and aging Samrat Ashoka.
It is believed that Tishyaraksha was attracted to Kunala who was very handsome and had lotus like eyes. He was also the presumed heir. However, Kunala shunned Tishyaraksha since he was aware of her position. Annoyingly, she blinded Kunala. Now, since he was blind he was not made the heir.
Kunala Once Made an Attempt to Claim the Throne
Years later Kunala came to the palace as a minstrel and impressed Samrat Ashoka by his music. So impressed was Ashoka that he wanted to reward him greatly. Immediately, Kunala reveald his own identity and asked his right to inheritance. Samrat Ashoka had to sadly refuse because he was blind. Prince Kunala said he is asking the right not for himself but his son. Fully delighted, Samrat asked when? "Samprati" meaning now was the answer was Kunala.
This is how Kunala's son got the same name Samprati, and this is precisely how Samrapti (just an infant) was declared Samrat Ashoka's successor.
Then who was Dasratha Maurya & How was He related to Chakravartin Ashoka Samrat?
Dasratha was Samrat Ashoka's grandson. Though it is not known whose name he was but logically he can be Tivala's son because had he been Mahendra's son we would have known. When Samrat Ashoka died, Samprati, Kunala's son who was declared as his successor was too young. So, Dasratha Maurya was declared as Chakravartin Ashoka Samrat 's successor who was then succeeded by Samprati Maurya.
Do Not Miss Reading:
Know Everything about Samrat Ashoka and His Five Wives
Ashoka, the Great Emperor – Know the Real History and Facts