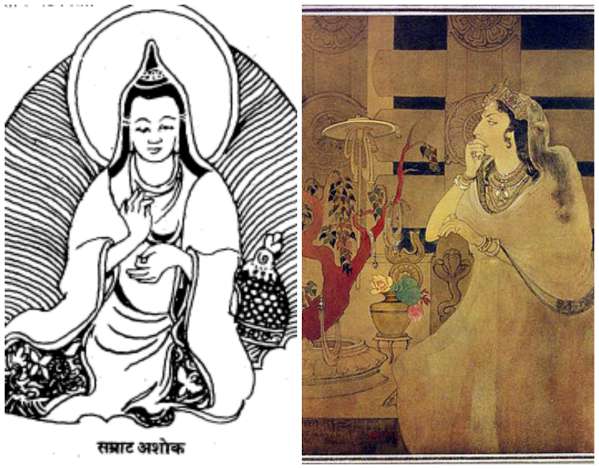 In his life, Samrat Ashoka married not once but five times. While, three of his marriages were out of love, two were mainly for political reasons. Needless to say, Samrats and Kings were bound to marry princess of equal status under imperial pressure.
It is interesting to notice that only one of his wife belonged to a royal background, one is assumed to be a princess and rest three where commoners who came from a humble background.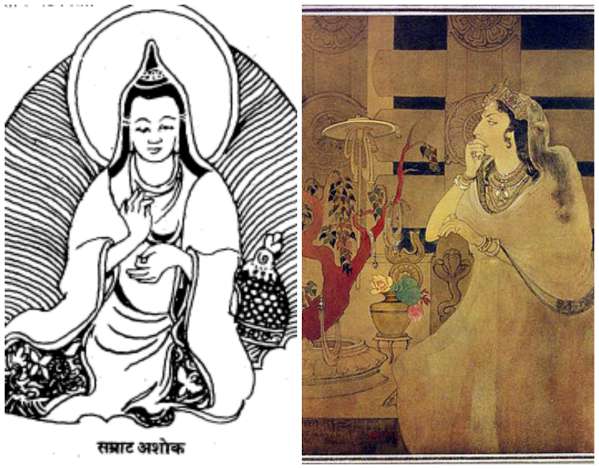 Image Source: Pic 1: By multiple authors (konkani vishwakosh-goa university) via Wikimedia Commons Pic 2: Abanindranath Tagore [Public domain], via Wikimedia Commons
Here we share everything about Samrat Ashoka and his wives
Samrat Ashoka Married His First Wife Devi When He was 18
When Ashoka turned 18, Samrat Bindusar made him the viceroy of Avanti, a region in Ujjain. It is interesting to note that Ashoka that time was known as a heartless general and that was precisely the reason why he was sent to Avanti to curb an uprising. However, even the heartless general fell in love with a common girl and married her. The girl was none other than Samrat Ashoka's first wife Maharani Devi.
Ashoka's first wife Devi did not belong to any royal family. She in fact, was a daughter of a merchant of Vidisha. According to Mahabodhivamsa, Devi however belongs to Sakya clan making her a relative of Buddha. This link is however disputed.
Devi was the mother of Ashoka's first son Mahinda (Mahendra) who was born two years after their marriage in the year 285CE when Ashoka was 20 years old. 3 years later was born Sanghamitra, Samrat Ashoka and Maharani Devi's second child.
When Ashoka married Devi he was not a Samrat but just a prince. Later, when he was called to Pataliaputra again, Devi didn't accompany him. She stayed back in Avanti itself looking after her kids.
Also Read: Life of Samrat Bindusara: Facts & History
The Second Wife of Ashoka was Rani Kaurwaki or Karuvaki also known as Charuwaki/Kaurubaki
Rani Kaurwaki was a daughter of a fisherman who stayed in Kalinga (present day Orissa). According to the legends, Ashoka met Karuvaki and fell in love with her when he was living life in exile and had gone incognito.
Yes, when Ashoka could easily curb Ujjaini's revolt just by his presence, he was praised and applauded for his bravery and skills. Rajkumar Sushim couldn't bear all this and so he planned to defame Ashoka in front of his father's eyes. He was successful in his approach and that is why Ashoka was compelled to go away from Magadh. He came to Kalinga where he fell in love with Kaurwaki and even married her.
Kaurwaki became the mother of Ashoka's second son Tivala or Tivara who later became the viceroy of Takshila. Both the name of Kaurwaki and Tivala are found in Samrat Ashoka's edicts.
Also Read: Everything About Kaurwaki aka Karuvaki – Ashoka's Wife!
The Third Wife of Ashoka was Rani Padmavati
Nothing much is known about Rani Padmavati except the fact that she was the mother of Samrat Ashoka's son Kunala. Rani Padmavati died very early and so it is also not known whether the marriage was out of love or a political alliance. However, she was the mother of Ashoka's third son Kunala.
Besides, though Kunala was younger than both Mahendra and Tivala, he was always seen as Ashoka's heir. This makes us believe that Rani Padmavati would definitely be from a royal background and would be next in line after Devi and Kaurvaki.
The Fourth Wife of Ashoka was Asandhimitra, his Chief Queen
While, both his earlier marriages (Devi and Kaurwaki) were purely because of love before he became a Samrat, Ashoka's fourth marriage was an imperial decision after he became the third Samrat of the Mauryan dynasty. This time he married a princess unlike his previous marriages and gave her all the royal rights.
Her name was Asandhimitra and she belonged to Assandhivat, a little kingdom which finds its presence in the present day Haryana. Yes, Asandhimitra who married Samrat Ashoka (not prince Ashoka) became the chief consort of Chakravartin Ashoka Samrat and continued to remain so till she died her own death in 240CE.
She did not bore any child but took care of Prince Kunala ever since he was a little boy because his biological mother Rani Padmavati died when he was very small. This is the reason why Rani Asandhimitra is often thought as Rani Padmavati, the biological mother of Kunala. However, Asandhimitra and Padmavati were two different individuals.
Also Read: No Ahankara Cannot Be Asandhimitra – Know the Reasons Why
The Fifth and Last Wife of Samrat Ashoka was Tishyaraksha, again a Commoner
After Samrat Ashoka's chief consort Asandhimitra died in 240CE, her favorite maid Tishyaraksha took care of Ashoka. It is said that she attracted Ashoka by her charm, dance and beauty. Next, it is believed that Ashoka made her his concubine and even promoted Tishyaraksha to the position of Chief Queen.
The age difference between Tishyaraksha and Samrat Ashoka was huge. It is believed that Tishyaraksha was attracted to Ashoka's son Kunala – the presumed heir to the Magadh throne. However, Kunala regarded her as his mother due to her position in the Kingdom that time. Tishyaraksha couldn't accept this rejection and this is the reason why she blinded Kunala whose eyes attracted Tishyaraksha, the most.
Though the attraction of Tishyaraksha for Kunala do not have any historical evidence except that they are penned down in two Bengali novels, according to Ashokavadana it is known that it was Tishyaraksha who was responsible for blinding Kunala, Ashoka's presumptive heir. 
Source and Reference:
Aśoka (3. rev. ed., repr ed.). Delhi: Motilal Banarsidass Publ. pp. 9, 45.
 "Ashoka's family". Ashoka. Penguin UK. 
History of India, in Nine Volumes: Vol. II p. 175.
The Legend of King Aśoka: A Study and Translation of the Aśokāvadāna. Motilal Banarsidass Publ. p. 18.
Aśoka and the decline of the Mauryas. Oxford University Press. p. 30.
History of India, Volume 2; Volume 6. The Grolier Society. p. 175.
Historian Alex von Tunzelmann on Kaurwaki
Historian M.N. Das on Karuvaki
Do Not Miss Reading:
How Did Ashoka's Mother Rani Dharma Die?
Who Was the Real Love of Samrat Ashoka – Devi or Kaurwaki?
Kaurwaki Was a Fisherman's Daughter not a Princess!
Everything About Kaurwaki aka Karuvaki – Ashoka's Wife!
Ashoka, the Great Emperor – Know the Real History and Facts
Lesser Known Facts About the Urban Life of Mauryan Empire
Was Samrat Bindusara Really So Emotional and Sentimental? – Know the Facts
Editor's Note: NationalViews is a home for people with views and opinions that caters to the changing India. It is a place for the common men to articulate their views and opinions on any topic. A platform where you express and we publish. Mail us your opinion, views, and thoughts at editor@nationalviews.com and we will help you reach out to the masses.