Rajkumar Bindusar in the serial Chandra Nandni seems to be a cruel and heartless prince who neither has any feelings nor does he care for any emotions. This is the reason except for few people who know how to use him well, he is rude and intolerant to everybody especially Dharma with whom he shares a relationship of hatred and animosity.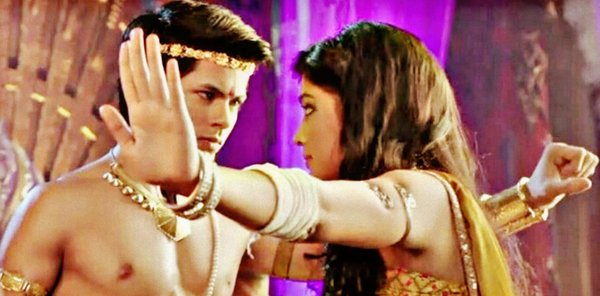 This makes us wonder how will he react when he will know that Kartikey his would be brother-in-law doesn't love his sister Ellis but Dharma.
Chandra Nandni Latest: Will Bindusar Know that Dharma Is in Love with Kartikey?
Ellis is on a revenge mode and she has been trying to hurt Dharma. After all, Dharma is her would-be husband's first love. This has brought Dharma once again at the centre with everybody focusing on her. Now that, even Helena and Apama is aware of the fact that Dharma and Kartikey are very much in love with each other, the trio will not leave any chance to humiliate Dharma.
You never know if they create such a situation where Dharma's secret comes out in front of Bindusar. Being a hothead, we know how this will infuriate Bindusar badly, one, because Kratikey is his sister's would-be husband, two, because he hates Dharma and shares a strong relationship of hatred with her so much that he cannot even bear somebody giving pain to Dharma other than him. Remember how annoyed was Bindusar in the Chandra Nandni latest episode, when he saw Dharma crying because it was not him but somebody else who made her cry?
How Will Bindusar Act & React Post Knowing about Dharma and Kartikeya?
Currently, Bindusar is getting married to Chitralekha but Chitralekha loves Bhadraketu. Her family is adamant that she should marry Bindusar. Meanwhile, Helena has convinced Bindusar that marrying Chitralekha will ensure a prosperous wedded life of Ellis in Champa Nagar as Chitralekha is Kartikey's sister.
Also Read: Will Bindusar Fall in Love with Dharma? How Will they Unite?
However, the twist in the tale is that Chitralekha will insist Dharma to help her and somehow take her place. Dharma will take Chitralekha's place. Now that Helena has overheard this, she'll ensure that Dharma marries Bindusar. After all, now that Kartikey loves Dharma, this step is nothing but a masterstroke for Helena as she can keep Dharma away from Kartikey forever. 
It would be therefore interesting to see how Bindusar and others would see this accidental marriage. However, more than that we would want to know how will Bindusar act and react if he gets to know that Dharma is in love with his brother-in-law Kartikey.
What are your views?