Travelling with our girl gang is something that most of us fancy and when it comes to backpacking for India's beach bounty Goa, a kaleidoscopic blend of fun, tranquillity, and adventure, excitement soars to new highs! No wonder, Goa caters to every tropical whim and never cease to tantalize and surprise even the seasoned travelers.
So, the first hiding spot that came to our mind for a girls-only trip away from the chaotic machinic sounds of Mumbai was South Goa! Yes, the party lover's paradise is not just about Baga, Vagator, Mambao and Tito's. Ready to taste the vim and vigor of Goa as well as the beauty of its white sands with a sense of privacy we landed in our service apartment in Benaulim that goes with the sobriquet of Coastal Suites Goa.
The First Impression
Nothing pleases an eye than a contemporary interior infused in a classic tone along with modern amenities that meets all your requirement. Entering the service apartment booked for four made us feel exactly the same way. The bonus and the best part was that our new home booked for 3 nights and 4 days looked same as that shown on the website from where we booked. Ditto!
Inside Coastal Suites Goa Room
The apartment had two rooms – the living room and bedroom along with an attached balcony. The living room encompassed a huge comfy convertible sofa where two people could easily sleep. Besides, there was a dining table and an LCD TV. In addition, the room consisted of an open kitchen with following items – induction, microwave, washing machine, necessary utensils, coffee kit and a double door refrigerator.
The bedroom had a king-size comfy bed wherein three people could sleep comfortably. There was a wooden wardrobe along with a full-length mirror and a locker. The bedroom too offered a table and chair. The attached bathroom was well equipped and we had hot water 24×7.
The balcony was spacious enough to sit and relax on a chair, but without any view.
Accessibility and Connectivity
Situated at Sernabatim Beach Road, Coastal suites is only 10-minute walk to Sernabatim beach, one of the calmest, peaceful and tranquil beaches of Goa. This beach is connected to Colva beach and Benaulim beach. and is only a 10-minute drive to Colva. At an almost 5-minute walk, there are plenty of good options to dine, shop and chill. And the road that leads to these places are the ones that you always yearned to walk on. 
One of the restaurants, where we ate our dinner twice, was – Once Upon a Time. Pretty good quality food at a very reasonable rate. Drinks are cheap too. A 30ml of Old Monk is available at Rs. 30. If you plan to rent a bike, or a car with or without a chauffeur you get plenty of options here. We hired a car on all three days from this place after we were thrown in with a last-minute surprise by the car rental where we had previously booked.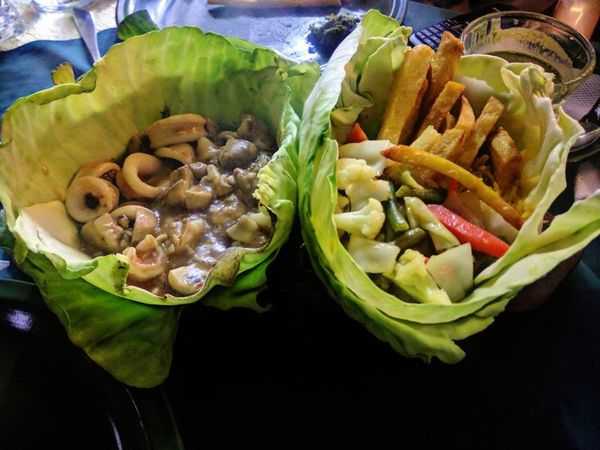 Coastal Suites is also 15 minutes' drive away from Margao railway station, 40 minutes' from the Goa International Airport and almost an hour from Karmali railway station.
The Hospitality
Though we were just 4 girls on a vacay, we would highly recommend it for couples, family and couples with children. In fact, two of the married ones decided to come back here with their family and kid. Yes, the hospitality and feel, made them make their mind!
The young owner Brian Fernandes of Coastal Suites Goa is very helpful, co-operative and obliging. There is a maid that comes daily to clean the rooms. When we asked if she could clean the utensils, she obliged too. And three cheers to the kind-hearted, helpful and concerned watchman who made us feel like home.
There is no restaurant in the premises nor Zomato delivers at the place. So, if you are looking to have food, you'll have to eat out (hardly 5 to 10 minutes away) and then come to snoop into your bedroom.
Do I recommend it? Yes.
Is it safe to roam around during night? The place is a bit quiet. So, make sure you have somebody along during night time.
Value for Money – Yes.
Does It Have Wifi? – Yes and it works all the time
Convenience – It is better when you have your own rented bike/car
Is it Budget-Friendly? Yes.