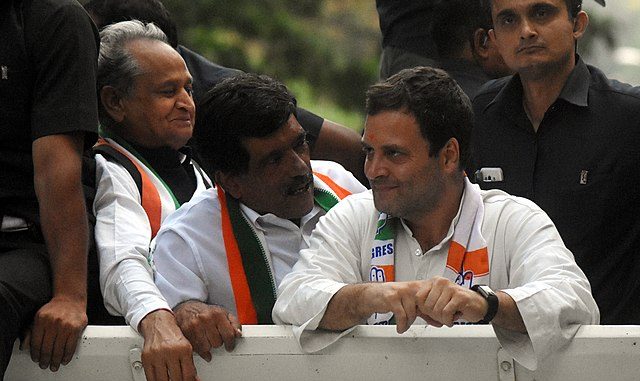 WITH JUST ONE week to go for the D-Day May 23, the die is not cast yet, and we know little about the complexion of the new government in the offing. The last few days, marking the initial build-up for the post-poll scenario, however gave some hints as to which way the wind is blowing. After a pause for the past few months, the Congress party is veering round to the view that it would not perform well. Its hope is that all non-BJP parties can join hands and together perform something like a Karnataka miracle – robbing victory from the jaws of defeat through a post-poll alliance. On the other hand, the BJP-led NDA seems more confident about retaining power this time.
Notably, the over-a-month-long campaigning did not see any anti-incumbency wave, a likely hint being that the voters are ready to suffer Prime Minister Narendra Modi for one more term. Turn to Uttar Pradesh. By now, the initial euphoria about an SP-BSP combine sweeping the polls is ebbing. The BJP is putting up a strong fight there and some BJP leaders are even hopeful that the near-total sweep it effected in the state in 2014 at the height of a Modi wave could be repeated. Such a premise would have been laughable till a week ago; not now. UP, with 80 LS seats, is the main battleground state. If the BJP wins at least half, it will still be a good show.
Notably, this time, the countryside has come to accept PM Modi as one of their own. In 2014, they had reservations about him in view of the image he rightly or wrongly came to acquire past the Gujarat riots. Today, both Modi and the Lotus symbol have come to acquire a charm, which is irresistible for at least sections of them. This might be true of not just UP, but across the Hindi belt, and chances are also that those who have voted out the BJP in the five-state assembly polls last year in states like Rajasthan and Madhya Pradesh might act in a different way in the Lok Sabha polls.
Cynics must accept the fact that Modi has no challenger, per se, in the LS polls. Rahul Gandhi comes closer to being one, and none else. The rest, the scheming regional satraps, are not in the reckoning of wider India. This round of campaigning saw the Congress projecting Rahul Gandhi in a more forceful way. He did a job, yet has not scored full marks. No one sees him an equal to Modi. Chief minister Mamata Banerjee is acceptable to West Bengal. Yet, who cares for her in the rest of India? With the BJP showing its clout in Kolkata, the large throngs that followed Amit Shah on his road show was one surprising hint that the Saffron tide is catching up with Mamata. If she loses Kolkata, she would eventually lose the rest of the state too. The 30 per cent Muslim votes is her solid support against the BJP. That might remain so, or get split in future. The party will be over if she loses her edge. Sand is slipping from under her feet.
Mamata Banerjee is rattled. She has warned that, if push comes to shove, she could be "very dangerous." That is also the story behind the fall of a statue of a revered figure. Not just PM Modi, but any sensible individual can guess as much. This, for her, could be the beginning of the end.
Another PM hopeful is Mayawati. Like Banerjee, she too is seeking a "promotion." Both were "hopefuls" in 2014 too, alongside J Jayalalithaa. They hid their heads after the results were out. This time, even if Mayawati wins a good number of seats in UP, in association with the SP, there still are the imponderables. The five-state assembly polls showed she has no sizeable support in the rest of the Hindi belt. Both Mayawati and Mamata are hoping against hope for a fractured verdict this time, so that they can fish in troubled waters.
The Congress, caught in a tricky scenario, has made it clear its principal aim is to oust Narendra Modi and the BJP from power. In other words, it would go any length to achieve this aim. It is ready for adjustments with other Opposition parties, and would not insist on making Rahul Gandhi the next PM. Gulam Nabi Azad could not have stated this without the party leadership veering round to such a view. There is palpable relief among the regional satraps about the situation having reached such a pass. N Chandrababu Naidu is keeping his son Nara Lokesh ready to step into his shoes should a chance arise for the wily politician to occupy a top slot in Delhi. So with his Telangana counterpart K Chandrashekar Rao, who has groomed his son KT Rama Rao to take over from him in Hyderabad. Mamata Banerjee might or might not have such a plan in place for her nephew, though he is now in the fray for a Lok Sabha seat. Every dirty, unprincipled politician's first instinct is to make a dynasty out of himself or herself in politics. The more the leeway, they can indulge in plunder with both their hands.
Ambition is one thing; national interests are a different ball game. Why is Rahul Gandhi not acceptable to the regional satraps? Banerjee kept saying he is "junior" to her in politics. Possibly, out of a sense of dignity, Rahul Gandhi has not hit back at her. There is more to politics than a junior-senior line-up. Such claims show how much depths one can stoop to, fired by a greed for power and pelf. Rajiv Gandhi had worked as Congress general secretary for some time before he was installed by the Congress leadership as slain mother Indira Gandhi's successor. He had no governance experience at all. Yet, this did not come in the way of his governance. Rather, he boldly and imperiously carried on. He was credited with several new initiatives which made a big difference to the way India was governed. Even India's unexpected leap in the IT sector came about because he as prime minister grasped its potential before India could get to know what a computer was, and he gave great support for growth in the sector. Congress chief minister SM Krishna pushed the projects in Bengaluru.
When the Congress governs, we repose faith in it. It is not just one individual who runs the government. The Grand Old Party has a wealth of experienced leaders. Lack of expertise was a serious problem with the Modi ministry in Delhi. For the Congress party, it has demonstrated a vision to take the nation forward, though the UPA periods were also seasons of large-scale loot of the exchequer. It was here that a chance beckoned for Modi and the BJP. In part, they squandered the opportunity. Had they done a job, there would have been no need for the PM to struggle as much on the campaign front now. To his credit, however, there is no perceptible anti-incumbency wave. By the time the results are out, we would know whether there indeed was such an under-current at work.
There are issues like the Rafale, the Demonetisation etc, which might work against Modi and the BJP this time. Yet, no one thinks Modi is personally corrupt. Some of his decisions might have gone wrong, but he having been conditioned as an RSS pracharak, cared for national interests. Balakot is nothing; but it's something. Overall, this wasn't a bad season. Reason why the nation might still have faith in him. Juxtapose Modi with a Mamata Banerjee or Chandrababu Naidu or even Mayawati. What could a disruptor do with the nation other than mess up with it? Can a Mayawati run a government for more than a few months in Delhi? How wide is her support base? Or, who has faith in a Naidu? Even his own near and dear ones would not trust him. That's the way he is. By comparison, a Modi with his RSS conditioning or a Rahul Gandhi carrying with him the wealth of experience of his party leadership by way of a back-up for governance can still be better choices.
Those among the Opposition figures who do not accept Rahul Gandhi as a prospective PM are blinded by their lust for power and positions. Despite the scams of the past, the Congress still has its better sides. It sees India as one. The Congress party is a behemoth. If Rahul Gandhi as its president goes and addresses a meeting anywhere in India on the spur of the moment and without advance publicity, people will still crowd around and listen to him. Can a Naidu, Mayawati or Mamata go outside their state and fetch more than a hundred people as audience? The Nehru family has a history to put it on a high pedestal. This is not to suggest that we vote for dynasty politics. It is a curse on India. What the Nehru family started since the 1950s has spread like a canker on India's body politic. Everyone now is promoting dynasties. Modi came in like a whiff of fresh air.
If Modi returns to power, which is quite likely considering the current trends, it could also be a verdict against two curses — scheming regional chieftains and dynasty politics.