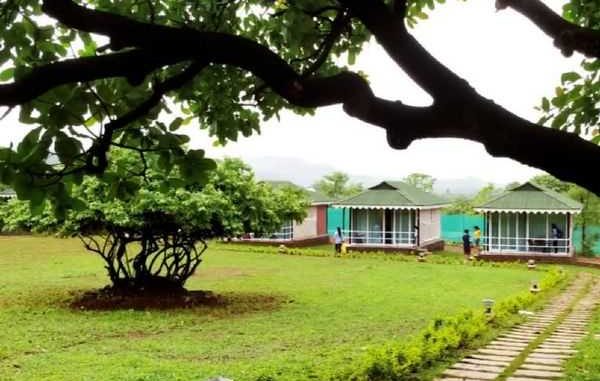 Brave choppy mountains with sweeping views of river, rappel your way through natural waterfalls, swing like a Tarzan inside the captivating Sahyadri and get your fill at the super deluxe tent as you experience the thrill and adventure in one of the most scenic and gorgeous landscapes of the Western Ghats – The Durshet Forest Lodge.
Hardly 8km from Imagica and 2 hours drive from Mumbai as well as Pune, Durshet Forest Lodge is slowly becoming one of the favourite weekend getaways from Mumbai and Pune. Ah, Lonavala and Khandala have become too passé now! Besides, nothing can be more exhilarating then getting to taste a thrill of adventure activities with your mates amidst the picturesque nature for a blood pumping experience.
Durshet Forest Lodge – For the Love of Nature and Adventure
Set against the gorgeous Sahydari range, the forest lodge in Durshet by Nature trails resorts lets you escape into the forest environs where you cannot only go for an exhilarating nature walk, spot an elusive rare fauna or star gaze but also beat all your woes as you indulge into various adventure activities one by one in the 35-acre land that is purely structured to offer a wide variety of thrilling and delightful experience.
Rappelling at Durshet
Thrill seekers will definitely enjoy the waterfall rappelling at Durshet that is run and managed quite well in the presence of experts.
Look at me enjoying my way down along with my fellow mate – Brinda Shah, a popular fashion blogger.
The Guides are here to monitor you all the time, right from where you start till the end.
Zipline at Forest Lodge in Durshet
If swinging like a tarzan from one tree onto another give you thrills, then zipline at Durshet Forest Lodge is something that you must try. Nah, it isn't scary even if you are the one scared of heights and thrill. On the contrary, it was one of the most joyful rides that I and others have experienced. Have a look.
Tarzan Swing
A funny trip, this activity will surely add to the humor side of your weekend trip – Splash!
Burma Bridge
For adventure junkies, this is a classic rope walking activity as you can feel your heart racing while stretching your hands on the side. Walk on the shaky trail engraved by ropes and test your balancing skills. Whoo-hoo!
If you are visiting in monsoon, there are several other fun-filled activities that you get to experience here like Kayaking, mud fight, rice planting etc.
How about the Accommodation?
Well, based upon your choice and preference you can opt for any of the following – Super Deluxe Tent (2 to 3 people), Cottage Room – Small (2 to 3 people), Cottage Room – Large (2 to 3 people), Cocoon Rooms – (2 to 3 people), and Dormitories – (10 to 25 people). The accommodation includes breakfast, lunch, evening snacks and dinner along with the activities that are on the premises.
We preferred the Super Deluxe Tent to enjoy the nature at its best and get the real raw feeling –
Interestingly, this resort by Nature Trails is one of the hotels near Imagica which a perfect stop-over point for Kolad rafting is, one of the most sought-after destination for adventure enthusiasts looking to try out white water rafting all year round.
How to Reach Durshet Forest Lodge?
If you are coming from Mumbai:
Take the Mumbai-Pune Expressway upto Khalapur Toll Plaza. After paying the toll for Khopoli go for ~ 1 km and take the Khopoli exit on your left. After exiting the expressway, take the flyover to your right, immediately after flyover, take left turn on Pali road and drive for 12 kms till you reach Durshet. 8 kms after Adlab Imagica.
If you are coming from Pune:
Take the Mumbai Pune Expressway upto the Khalapur Toll plaza. Take left immediately after paying Khalapur toll. Go 2 kms take left on Pen road, go to Pali phata, take right after Adlabs Imagica. Resort is just 8km ahead.
Here's a Sum up of the gorgeous place from The Moonchazers
Featured Image – Nishant Patel