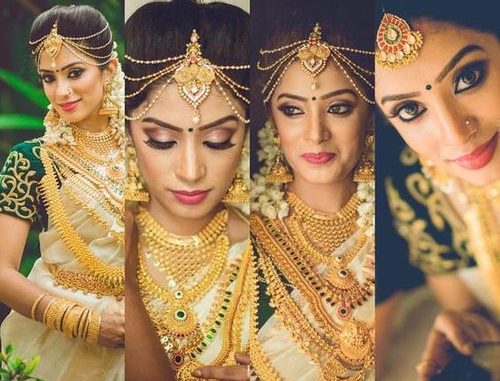 In India, gold jewellery has always been an integral part of every wedding ceremony since generations. After all, it is one of the most prominent as well as essential aspects of the bridal trousseau. Now that jewellery shopping always haunts the bride's bandwagon, we decided to ease off your bridal stress by listing the latest and trending Indian bridal jewellery here at your fingertips with inputs from wedding experts so that you know what's hot in the Indian wedding scenario.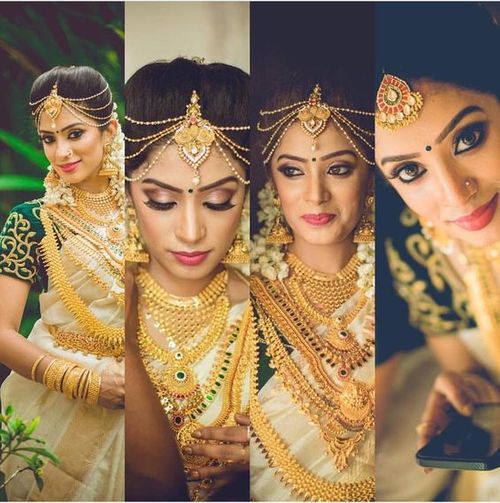 Gold Haram – The Evergreen Indian Bridal Jewellery
Current bridal trends suggest a bold combination of gold and diamonds. Brides can now match gold Haram with a Diamond Vaddanam or vice versa. A bridal look in this combination would accentuate the overall appearance. Even if you prefer just the Golden Haram, something like a long 24 to 26, it would just go perfect along with your bridal getup. No wonder, the different varieties of gold haram collections that are available in the market gives the bride enough freedom to choose the perfect one that goes with her bridal look.
Here are types of Haram that You Can Choose to Complete Your Indian Bridal Look –
Temple Haram
The elegance of Indian temples is brought to life through the Temple Harams. They contain an element of history and relics in them, the common forms of detailing include Goddess Lakshmi, Lord Krishna & Radha, Ganesha, Ram Parivar etc. A Karigar takes about 15-20 days for making a single piece of temple jewellery. This handmade wonder would be very apt to match on Kanjeevaram saree. This design is quite common in South India. A plenty of designs like the Lakshmi Haram, Mayura Haram, Coin Maala is available with Vaibhav jewellers collections along with other prominent jewellers dealing in South Indian bridal jewellery.
Antique Haram
It has always been a privilege to collect, hold and own antique collectibles. Now, if that comes in the form of jewellery it becomes even more precious. Jewellery coming with oxidized finish giving a dash of history has been a rage. They are antique by their make and finish and surely not by their age. However, they perfectly qualify as heirloom pieces worth passing through generations in the family.
Polki Haram
The power of Polkis in Jewellery making is boundless. They are nothing but raw form of Diamonds that have a glossy shine and they look outstanding. They are highly valued when compared to Kundan and CZs. Polkis go well with both contemporary and fusion wear. Polki Harams coupled with Diamond Vaddanams form a great bridal wear.
Rani Haar
Rani Haar is another range of contemporary Jewellery which completes the Bridal look. They come straight from the Rajput Gharanas, imposing designs engulfed in Kundans, Polkis and semi-precious gemstones, Rani Haar come in both layered and short patterns. Whatever the length may be, adorning it would surely give you second glances. This style stands Ideal for every bridal wear from a lehanga to a saree.
The above list fits in perfectly to wear on your D-day. Besides, you can match your Gold Haram with a Diamond Vaddanam or Kamarbandh to complete your Indian bridal look. There are a plenty of designs available in the shops as well as online in all sizes, price ranges, weight ranges and designs. However, before buying, make sure you compare the diamond vaddanam prices along with the prices of kamarbandh across various jewellers and only then place an order to customize your signature piece.
The post was written by Rajeswari
Lipitor no prescription
Buy Professional Cialis
buy Aciphex online