The love charger baba aka Gurmeet Ram Rahim has been convicted and sentenced to 10 years jail for raping two of his women followers in 2002. While, his followers are creating ruckus in the state of Haryana, the logical ones seem to be rejoicing the judgement. Across the internet, jokes and memes are being circulated over the news.
Here we share some exclusive Rhymes on Dera Sach Sauda chief penned and shared by Darshan Mondkar on his facebook timeline: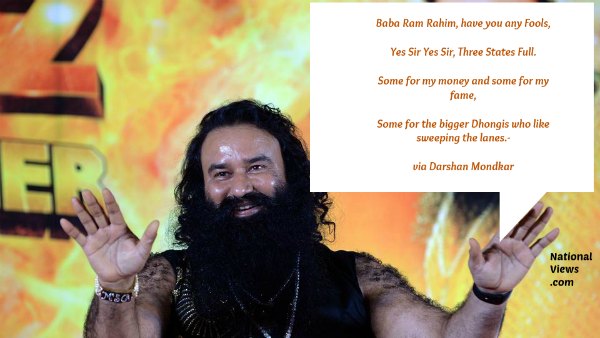 Rhyme One:
Baba Ram Rahim, have you any Fools,
Yes Sir Yes Sir, Three States Full.
Some for my money and some for my fame,
Some for the bigger Dhongis who like sweeping the lanes.
Rhyme Two
Baba Baba Super Star,
You look cute behind the bars.
Don't worry about the followers you keep
They will find someone else to worship
Rhyme Three
Bachon aur Sadhviyon
Yes Baba Ji ?
Do you want Maafi?
No Baba Ji ?
Castrate Kar Dun?
No Baba Ji ??
Who will you vote for?
BJP
Rhyme Four
Baba Ram Rahim sat on a wall
Baba Ram Rahim had a great fall
And all of BJP's Ministers
And all of Khattar's Men
Will not be able to use the Baba for campaigning again…..