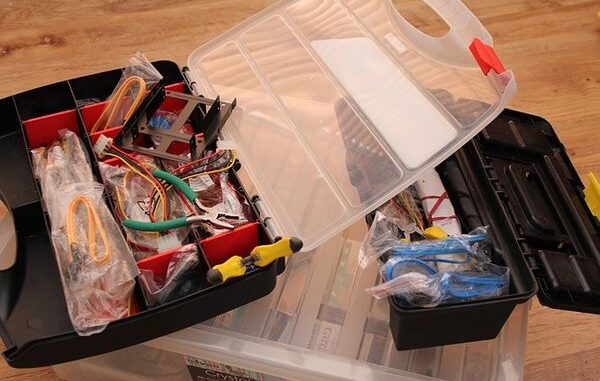 A tool collection can never really have too many components; the more tools you have, the more things you can do. And the best part about having tools is that they enable you to complete fun DIY projects, like creating striking home decor wall clocks, doing home maintenance, and even car maintenance and repairs on your own.
You will never need to call a handyperson for many repair tasks if you have the right tools for the job. Doing these yourself can save you a lot of money on service fees.
With that said, if you're wondering what kinds of tools to add to your collection, we've listed some great options for you.
Welding Machine
Teaching yourself to weld at home is possible, although you must consider safety precautions. There are also welding courses out there that can have you welding like a pro. Nevertheless, one does not necessarily need to go for training to start welding.
And when it comes to welding tools, the MIG welder cart is one of the most accessible carts to move your welding machine around the home or even in the workshop. In addition, you'll also need a welding machine and all the relevant components.
Many home welding machines are inexpensive and, if maintained correctly, could last many years. However, you may need to add a welding mask and welding gloves when purchasing a welder, as, without these, it can be a dangerous activity.
LED Work Light
These lights come in many forms and sizes. A torch is an essential item in any toolbox. Imagine doing a repair job at night without adequate lighting; it will be a very frustrating task. You could use a head harness light which requires no hands to light up an area.
Or you can opt for a multipurpose torch that can bend and has a magnet to pick up dropped nails and screws. These torches are also great to keep in one place in the toolbox. Knowing where a torch is can be essential when the power goes out. At least you will know where to look first if needed in an emergency.
Utility Knife
These knives are essential in any toolbox. Utility knives were initially created for general work use ranging from cutting cords to scaling fish, although you should never use a knife in a toolbox for food.
These multipurpose knives are relatively cheap, even for the high-end versions. Thanks to the fact that the blades can be bought separately. The old blades can be easily replaced with new ones as well.
Adjustable Spanner
These spanners can remove the need to keep an entire set of spanners, although you'll want to hold onto your spanner collection anyways. They may be large and bulky, but you can loosen almost any size bolt. Shifting spanners are also used as multipurpose tools with a hammerhead on one side.
One downside here is that the cheaper the tool, the worse the quality of adjustable spanners. The cheap brands tend to strip a nut easily due to the poor quality of the threads used to adjust the size. Nevertheless, these tools are fantastic to keep in any toolbox, even if you already have a complete spanner set.
Cordless Drill
A cordless drill can have many uses, such as an electric screwdriver or a paint mixer. Keeping a cordless drill well maintained is simple. According to most manufacturers' instructions, it will last for many years as long as you care for the rechargeable battery.
Although many of the cordless drills may not have the same power as a conventional drill, they are still pretty handy to have. Another reason to keep a cordless drill is to avoid the need to get a cord tangled up every time you need to use it.
High-Quality Level
These simple yet essential instruments can differentiate between an easy assignment or a pricey job. Getting anything installed as straight as possible will be challenging without a level. Another thing to consider is that a low-quality level may not always be accurate. So, it's wise to spend a bit more.
It will be a great disaster to try to hang a bookshelf without one of these. To find a high-quality level tool, you can have a look at level reviews for clear insight.
You don't need to have the most expensive tools. But one thing to remember is that you will always get longer-lasting equipment if you buy higher quality. And because you won't have to replace tools as often, you will actually save by spending more per tool in the first place. Even if you are a highly skilled handyperson, lower-quality tools make straightforward tasks more tricky.