As the countdown to the Independence day enters its last leg, deals on mobile phones, fashion wear, grooming accessories, laptops, electronic and home appliances are picking pace on Flipkart Big Freedom sale – The Big Freedom sale from 9th to 11th August.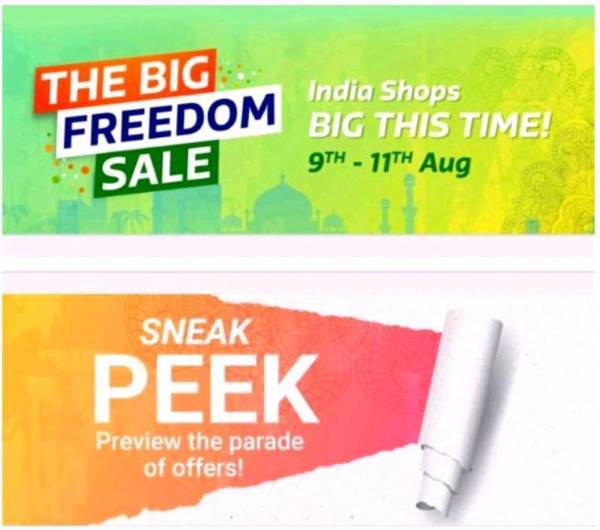 While, the e-commerce website is gearing up with it's annual online sale, here we share how to grab the best deals without losing out on any lightning offer –
Bumper Deal Every Hour
Flipkart's annual Freedom sales bonanza returns from 9th August and lasts for a bumper 72 hours. Every hour the e-commerce giant will bestow the buyers with lightning deals with minimum 71% discount. Now that the best deals don't last long, you need to grab the opportunity (hour) of your desired product to get the best offer.
From 'just launched' electronic appliances to 'only on flipkart' mobile phones and everyday products, you cannot only grab the spotlight of the hour but also the best exclusive deals.
Shop From Flipkart Mobile App
As Flipkart app is handy and quick, use the mobile app rather than Flipkart Lite or Flipkart site to ensure you don't miss out the legendary deals on the hourly offers.
Get upto 60% off on Home & Furniture and upto 50% off on Flipkart SmartBuy – Quality products across 30 categories including Home appliances, mobile accessories, furnishing, auto accessories and more.
Get 10% Instant Discount With HDFC Bank Credit and Debit Card
When you shop, don't forget to sit with your HDFC Debit or Credit card to get additional 10% discount. Going by the last year's Flipkart Freedom Sale, the minimum transaction limit to avail discount on HDFC card this year too is expected to be Rs. 4999 while the maximum discount per card is expected to be Rs. 1500.
Add Your Desired Item in Your Cart/Wishlist Well in Advance
For big offers and big savings on your desired item, make sure you have either added the product in your cart or in your wishlist, so that it is easier for you to buy the product on the D-day without much struggle of finding it amongst a wide range of offers and deals.
In addition, also check whether or not your desired item permits exchange offer or EMI so that you can prepare to take advantage of the best deal well in advance.
You can also check for coupons to have direct access to the available deals, coupon codes and exclusive offers on all the products in a single page. Moreover, if you subscribe to the site, you'll get timely notifications with some exclusive offers.
Get Maximum Deals in Minimum Traffic
In case you want to avoid huge online traffic yet want to avail the maximum deals, the best time to get your hands on the app is 12.00 am on each day from 9th August to 11th August. This makes sense for most of the shoppers who are eyeing lightning offers on 'Flipkart only' products including newly launched mobile phones.
Lastly, As 'India Shop Big This Time' make sure you apply all the above tricks and tips to grab the best deals on Flipkart Freedom Sale 2017.
Happy Shopping!
buy Bactroban cream online
buy bupropion online
buy cipro online
Buy citalopram Online