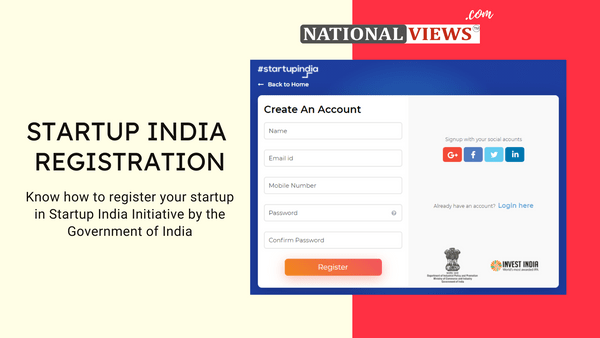 If you are offering any product or services that is not being offered elsewhere or redeveloping an existing product/service into something innovative, something better, your business comes in the startup category. No matter how small or novel it is, you can register startup in startup India initiative by the Government of India and here we tell you how –
Incorporate Your Startup – The First Step towards Registering Your Startup in Startup India Scheme
Choose a name and incorporate your startup either as a partnership firm, Private Limited Company or as an LLP – Limited Liability Partnership. Follow all the process required to register your startup no matter which of the three you chose to go with.
Startup India Registration – Create an Account
Once you have met with all the incorporation formalities, the next step is to register with Startup India. Now, the first step is to create an account; go on the Official Government Website fill up the details. You will be asked to enter your email id and mobile number. Verify the OTP and your startup India account will be created.
Choose Apply from Various Programs under Startup India Initiative
Once your account is created you can choose the various programs from the list – mentorship/incubator/acceleration programmes. Besides, you also get access to various resources like Government schemes, state policies, learning and development program and even pro-bono-services.
Get DPIIT Recognition – Fill the Form, Avail the Benefits
After creating your account with Startup India, the next vital step is to avail recognition from DPIIT – Department for Promotion of Industry and Internal Trade. If you are a new user, click the 'Get Recognized Button', existing users can click on the 'dashboard button' and then hit 'DPIIT Recognition'.
Why DPIIT Recognition? Well because your startup can avail benefits like access to Fund of Funds, tax exemption for 3 consecutive years, relaxation in public procurement norms, easy access to high-quality intellectual property services and resources, self-certification under environment and labour laws etc.
Startup Recognition Form – Submit Your Documents
You will get the 'Recognition Application' page. Open it, under the 'Registration Details' section click 'View Details'.
buy doxycycline online https://healingtohappy.com/wp-content/languages/new/over/doxycycline.html no prescription
Fill 'Startup Recognition Form', hit Submit. You will immediately get a startup recognition number. However, the certificate of recognition will only be issued after a thorough examination of your documents. It usually takes 2 days after you submit your documents only.
buy lexapro online https://healingtohappy.com/wp-content/languages/new/over/lexapro.html no prescription
Any wrong/forged document is liable to a fine of 50% of the paid-up capital of the startup with a minimum fine of Rs. 25,000
Also Read: How to Apply for MSME Loans?
Documents Required to Register Your Startup in Startup India Initiative by the Government of India are:
Registration/Incorporation Certificate of your Startup
Details of the Partner/Directors
Startup Concept Materials like Pitch Deck, Company Profile, Website url, Videos and/or White Paper
PAN Number
Trademark and Patent details (Optional)
In case, you are not sure how to write pitch decks, white paper and the basic answers regarding your startup that the form demands, you can always hire experts who already have experience in the field. Our content writing partner Digital Samvaad provides content writing services across India to startups and entrepreneurs for writing pitch decks and answering all about your startup while filling the Startup India form.
Documents that have been waived off are:
These documents are currently not required to register for Startup India Scheme, a Government of India initiative
GST Certificate
Sanction Letters
MSME Certificate
Udyog Aadhar
Letter of Funding
Letter of Recommendations
Now that you know how to register startup in Startup India Initiative by the Government of India, we shall take you to the benefits by Government of India to startups under it's flagship program. For any queries, here's the tool free number – 1800 115 565
Also Read: Small Business Loans By Banks and Government of India Schemes