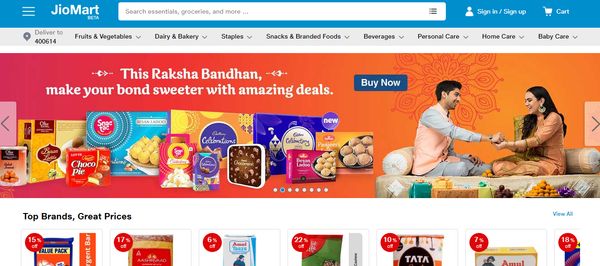 Right in the middle of great chaos in the form of Covid-19 lockdown and social distancing, Reliance launches yet another online grocery – JioMart. Yes, yes, this is one of the e-commerce ventures of Reliance's digital unit Jio platforms in which Facebook has invested $5.7 billion and acquired a stake of 9.99 percent.
Now that we have already used JioMart in its beta version and we are already a regular user of both, Grofers and BigBasket from quite a few years and now also of D-Mart app (courtesy strict lockdown), here we'll put down our JioMart review based on its features, quality, logistic support as well as the pricing factors.
You Do Not Have to Download the JioMart App
To start ordering on JioMart, you can directly start adding to your cart on the website, you do not have to download the JioMart App. Also, if you are already a registered member of RelianceSmart earlier RelianceFresh you just have to login and you will get everything as it is including the address. In case you have forgot your password, there is an OTP password login which solves the issue just like it did for me.
Prices on JioMart are More or Less Same as that of D-Mart and Grofers
We all know how shopping groceries online can be. The price fluctuates on a daily basis. While some items are charged at less price on JioMart than its competitors, some items are priced more than D-Mart and Grofers. So, there is nothing unique about it except that in its inaugural offer the deliver is free and there is no minimum order requirement. However, we are sure this might not continue for long.
There Would Be Missing Items from your Order List
Although you are issued a refund, expect some missing items at the time of delivery. The ordered list and the invoice would be different and the amount difference will be refunded in your account if yours is a prepaid order. Although I have faced missing item issue with D-Mart every time, and some time with Grofers (these people failed us big time during lockdown), never did we have this issue with Amazon Pantry and BigBasket.
buy Glucophage online https://bloinfobuy.com/ no prescription
JioMart Review: The Fruits and Vegetables aren't of Premium Quality
Although we have always received good quality onion and potato from Grofers and high-quality vegetables from BigBasket and even from the local start-ups who have been delivering vegetables amidst lockdown, ordering from JioMart is a bad idea. All those who have been buying vegetables from RelianceSmart would know that the quality isn't great and JioMart is no exception.
You Do Get Loose Items on JioMart App like Rice, Dal and Other Staples
While RelianceSmart or other apps like Grofers, BigBasket and Amazon Pantry doesn't let you book loose grocery items, JioMart like D-Mart let's you select and order loose items. This comes handy especially if you buy Pulav Rice, Pooha, Dal and other staples from RelianceSmart as the quality of their rice is really good. The packing is good too so as a customer you do not have to worry about the spilling and other things.
buy feldene online https://bloinfobuy.com/feldene.html no prescription
The WhatsApp Customer Care is Nothing but a Chat Bot & JioMart Support on Twitter is Useless
We have been using customer care service of few service providers like Godaddy and others on WhatsApp where a person comes online and interact with us. However, JioMart WhatsApp customer care is nothing but a chat bot which is not at all helpful. Also, while most of the service providers from various sectors are super quick when you DM their customer support on Twitter, these guys don't even reply you in 24 hours. Worst they don't even see. Check the screenshot.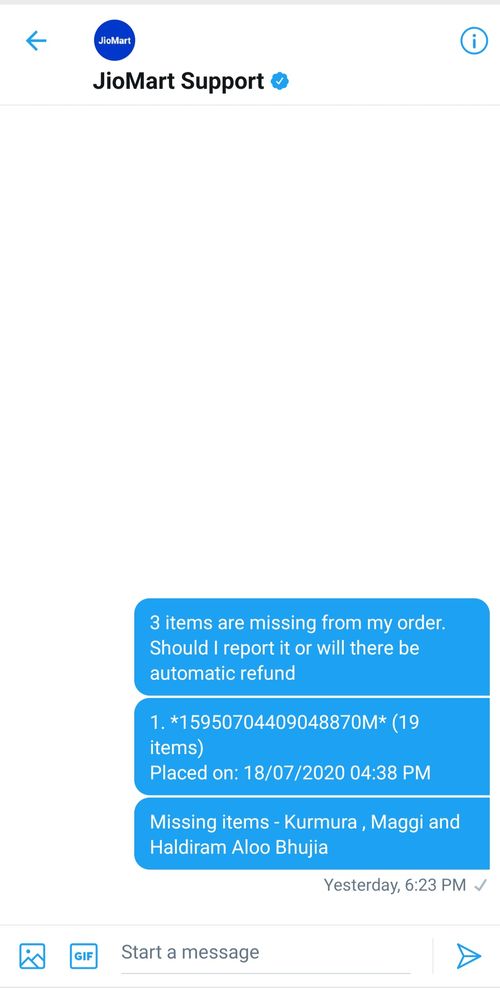 Just imagine, what if you get a wrong product or a spoiled product, wouldn't it be a huge struggle. Now this is the reason why so many moms raise their eyebrows when we talk about shopping groceries online.
JioMart Review: If You are Ordering from JioMart, Go For COD
Now since there are missing items and practically no customer care executive hearing your complains and pleas in time, it is best that you order COD so that you do not have to literally be at your toes to get your refund and/or sort out issues. People have been struggling for refunds for 2-3 weeks now. However, going by the website there is only Cash on Delivery and no mention about Card on Delivery
buy fildena online https://bloinfobuy.com/fildena.html no prescription
Sodexo Cards Can be Used but only on Prepaid Transaction
Reliance JioMart allows you to use Sodexo Meal cards on Food and Beverages. However, these Sodexo cards can only be used on your prepaid transactions not on COD. Also, unlike other online grocery shopping apps, JioMart currently isn't giving any bank or card deals but there is PhonePay, PayTM and MobiKwik cashback deals.
Reader's Added Review – You Might Not Actually Get What You Book
As per Sony Yadav, one of our readers who have been struggling for refund from past 2 weeks bring to our notice that, 'you might not actually get what you book'. For instance, she booked 5kg 'long grain' rice and much to her surprise she got 'tukda' rice of the same variety. Taking into consideration the strict lockdown and very limited options available with the temporary shut-down of D-Mart in her area, she was compelled to use it.
So, definitely this is a risky business and JioMart surely needs to look into it before turning a nightmare for it's consumers.
As of now, these are few things that you need to know about JioMart before you make a purchase. If you too have already used this online shopping app for grocery booking, let us know your JioMart Review.