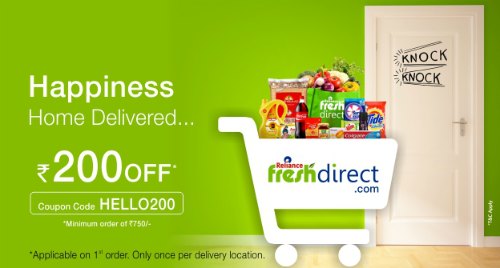 After giving flat Rs. 200 off on Rs. 500, Reliance Fresh is back with yet another offer. This offer is as attractive as the initial offer.
Well, yet again you can buy groceries from Reliance and get a flat Rs. 200 off!
What's the Reliance Fresh Latest Offer?
Well, you get a flat Rs. 200 off on minimum order of Rs. 750 on your first order which means you get almost 30% off on your first buy.
How do you avail Reliance Fresh Offer Online? What is the coupon code?
Well, if you plan to place your first order online, all you have to do is register yourself on the Reliance Fresh website, place the order and apply the coupon code HELLO200. Rs. 200 will be deducted from your final bill immediately. Next, choose the slot and your order will be delivered at your home with no extra delivery charge.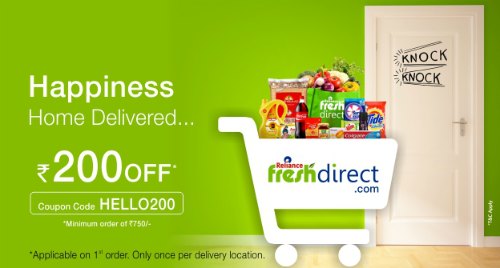 Image Source: RelianceFreshDirect
How do you avail Reliance Fresh Offer on Phone? How do I Book from Phone?
If you do not wish to register online, you can simply place all your order by phone. Call them at 02261220220 place the order and on the final bill you'll get a discount of Rs. 200. Please note this is only for the first order. All you need is a mobile phone to register on Reliance Fresh if you place the order on phone. There is no extra charge for home delivery. You can choose the delivery slot as per your own convenience.
The Rs. 200 Flat offer of Reliance Fresh started from October 1 and will continue till further notice by Reliance.
In case you need to enquire about anything you can call them on the customer care number 02261220220 from 8am to 8pm on all days.
For more such offers stay tuned!
Do Not Miss Reading:
Reasons Why Every Indian Should Use Groupon for Great Deals on Travel, Food & Drink, Style & Beauty!