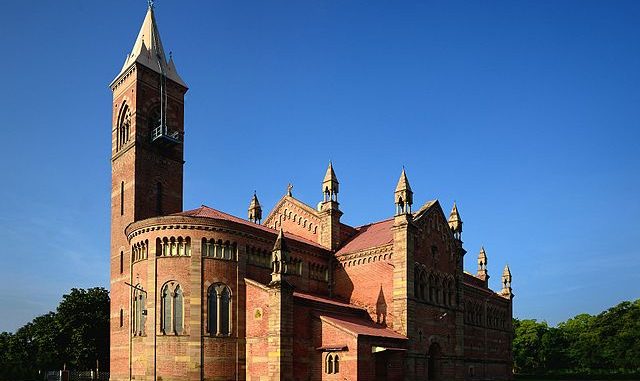 The only reason why most of us know Kanpur is because of one of the IIT (Indian Institute of Technology) campuses the city has been housing for ages. And also for producing the best leather products. But that's not what the largest city of Uttar Pradesh is all about. And I have to admit, that if I had not gone for my cousin's wedding in Lucknow, I would have never made the efforts to roam this interesting city, nor would have I known about the little treasures it has tucked up in its sleeves.
So, right after the wedding event, before we wrapped up our tour, my family decided to make a quick trip to Kanpur. Being at a stone-throw distance from Lucknow, it was easily possible to have a day tour of Kanpur. So we hired a reliable and cheap car rental service in Lucknow for the day.
Landing in Kanpur
The city is one of the oldest industrial settlements in north India, they say. And is often called Manchester of the East, for its enterprising community who have been driving the industries for generations. But besides its industrial development, Kanpur also boasts a rich heritage that I found in its ancient monuments and other dated architecture, some of which have still managed to survive amidst the growing millennial constructions.
A city with natural, spiritual, and historical places of interest, Kanpur was more than what we could savor in a day. And to make it possible and hassle-free, we had a reliable car and a local driver with us who enthusiastically took the responsibility of showing us the best of his home.
Exploring the city
Our tour started with the Kanpur Memorial Church. This place of worship was established by the British officers sometime in 1857 to honor the soldiers who died in the rebellion of 1857. It reflected the typical Gothic architectural style with red bricks and stone walls, high ceilings, and beautiful stained-glass windows. There was also a small cemetery where many British officials were buried.  There were old books and earlier versions of Bible and other historic artifacts saved as memoirs.
From one holy place to another, we reached the Shri Radhakrishna Temple or the J.K. Temple. Although a modern structure, its architecture was a mix of old artistry and modern materials. The all-white edifice of stone and marbles stood in the middle of a beautiful garden facing a moat. The temple enshrined idols of Vishnu, Shiva, Ram, Hanuman, and Krishna. The interior walls of the temple were adorned with fine murals depicting important scenes of Mahabharat. 
Since we were on a temple trail, our chauffeur suggested that we should also visit the Jain Glass Temple. This was nothing like most other Jain temples that I had been to. It was the most visually delightful thing that Kanpur could be proud of. The temple was literally made of small pieces of glass and mirror of varied colors! There was not an inch of space on the exteriors or the interiors which were not ornate with glass work, stone carving, or enamel detailing.
In between, we stopped by a few roadside eateries to sample the flavors of Kanpur. Many street foods here were similar to those we saw in Lucknow, and yet not the same. One of the most interesting food that we ate was aloo dhaniya, which had boiled potatoes dunked in coriander chutney and garnished with local spices.
It was late afternoon and the driver suggested that we should end our trip with a relaxing tour of the Moti Jheel. It was a public garden with simple but fun attractions. But it was the road to Moti Jheel that I personally found more interesting.
Old city, new elements
The road that led to Moti Jheel was a street art hub. While I know how street art is gaining popularity across the metros and other tourist cities of India, I had least expected to find it in a city like Kanpur. The walls along the pavement were covered with graffiti, artistic paintings, and artwork with social messages. As if the driver knew how intrigued I was, he pulled over and let me get down and take some photos. The colorful walls spoke volumes about Kanpur's new generation and how they perceived the city and its future.
Moti Jheel was like a huge public garden built around a water reservoir. There were duck ponds with swans elegantly floating around, play areas for children, and a musical fountain which started in the evening and entertained visitors for a couple of hours.
An old city with a new look, Kanpur was like a mystery box which reveals surprises only to those who intend to discover them. And I was glad to have been one of them.
Tips:
Do visit Allen Forest Zoo famously known as the Kanpur Zoo. It is one of the very few zoos in India that is created in a natural forest area.
Hiring a local rickshaw or a car is quite a task in Kanpur. So, it is better to book an AC cab from Lucknow to Kanpur with Savaari for a comfortable ride so that you can get the best experience of the city.
If you want the best leather goods, you can explore them on Meston Raod (Bada Chauraha).
And yes, you cannot leave Kanpur without eating a paan. Grab a paan after meal either near Cantt or around Phool Bagh to get some great options.