Sunderkand is the story of Lord Hanuman's journey and his quest to find Mata Sita. Lord Hanuman was oblivious about his power and strength until Jambvant praised him and even made him realize his colossal strength. This is exactly when he decided to start his voyage to search Mata Sita in Ramayan who had been kidnapped by Ravana.
Here, we share everything about Sunderkand, the 5th chapter of Ramayana that talks about the journey of Sri Hanumanji from Kishkinda to Lanka and highlights his knowledge, wisdom, and skill –
Image Courtesy: Jaihanumanjipage
Mainak, the Mountain in Sunderkand – The First Obstacle in Hanuman's Path in the Ocean
According to Hindu mythology, mountains used to fly earlier from one place to another due to certain geographical conditions. However, there came a moment that it was noted that the flying of these mountains led to the killing of many people. This is the time when Lord Indra cut the wings of the mountains. It is during this period Mainak the mountain was hiding in the ocean.
When the ocean realized that Hanuman, Lord Rama's messenger is passing through, he advised Mainak to come out of the ocean so that Sri Hanuman, the messenger of Lord Rama could rest on the mountain. Though Hanuman accepted Mainak's request, he didn't rest as he thought it was an obstacle in his journey.
Sursa in Sunder Kand – The Mother of the Nagas Vs Hanuman
Next, the demi-gods, the sages, and the Gandharvas wanted to test the monkey god's power. They requested Sursa – the mother of the serpents (Nagas) to take the form of a terrible rakshasi to test Hanuman's knowledge, wisdom, and skill. She met him on his way and said anybody who has to pass through has to pass through her mouth. Hanuman enlarges himself.
Image Source: British Museum Online Gallery [Public Domain] via Wikimedia Commons
Seeing Hanuman, Sursa too enlarges herself. Immediately, Hanuman reduces himself to his tiny avatar, enters her mouth and comes out of her nose. Impressed, Mata Sursa blesses him for his mission.
Sinhika, the Demon in Sunderkand
After facing two hurdles in the sky and the ocean, Lord Hanuman meets his third hurdle on the land. However, this time, it wasn't the Gods but a demon Sinhika who caught his shadow. She even managed to swallow Hanuman but he killed her and proceeded further.
Hanuman's Encounter With Lankini – The Rakshasi Guard of Lanka
After facing the above three hurdles, the monkey god reaches the Lankan shore. However, he finds a mighty force of demons guarding Lanka. He decides to enter during the night. At night he comes across Lankini (a guard at Brahma's abode who is cursed by Lord Brahma to guard Rakshasa's abode. She inquiries Hanuman but he tries to misguide her when she realizes that he is an intruder, she attacks him.
After some time, she realizes that this monkey is no ordinary monkey. She remembers the boon of Brahma,'you'll be freed from the curse only when a monkey will defeat you in combat and thus bring an end to the age of the Rakshasa.' Immediately, Lankini asked forgiveness from Hanuman as she realizes that Brahma's prophecy has turned true.
Image Courtesy: By Andhra Paintings of the Ramayana [Public domain], via Wikimedia Commons
Hanuman Meets Vibhishan who tells Him about Sita's Whereabouts
Hanuman then roams around the Palace of Ravana to find Sita. He then meets Vibhishan who tell him about Sita's whereabouts. He heads to Ashoka vatika where he sees Ravana threatening Sita to marry him. A demon named Trijata then consoles Sita telling her about her dream which forecasted the end of Ravana's legacy.
Seeing a very disturbed Sita, Hanuman then drops the ring that Lord Rama had given to him to present before Sita. Seeing the ring, Sita is happy.
The Meeting of Lord Hanuman and Mata Sita in Sunderkand
Hanuman then comes in front of Sita and explains to her how the Lord will be here soon to release her from Ravana's custody. With Sita's permission, Hanuman then eats fruit from Ashoka Vatika and also uproots many trees.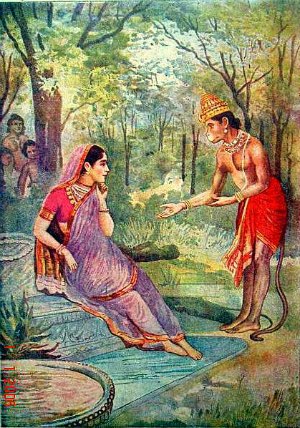 Image Courtesy: By bazaar art [Public domain], via Wikimedia Commons
He creates havoc and also kills many demons including Akshaykumara. Next, the demons complain the same to Ravana and he sends his warriors but they all lose in the fight with Hanuman.
Ravan Sends Meghnath to Fight Against the Monkey God Hanuman
Irritated, Ravana then sends his son Meghnath to tackle the monkey god. He is compelled to use Brahmastra against Hanuman and Naagpash to tie him down. Meghnath then takes Hanuman in the court of Ravana. Hanuman suggests Ravana to escort Sita to Lord Rama and live in peace forever. However, instead of listening to Hanuman, a fiery Ravana orders to burn the monkey-god's tail.
Sunder Kand : Lord Hanuman Burns Lanka
When Ravana orders to teach the monkey a lesson and burn his tail, Hanuman keeps on increasing his size. It is said that lot of cloth and oil was required to burn the tail. Finally, when Lord Hanuman's tail was set ablaze, he decreased his size and burnt Lanka with his tail. This is how Lanka was burnt in Sunderkand, Ramayana.
Hanuman Meets Sita and Heads Back to Kishkinda
Lord Hanuman then meets Sita and asks her permission to head back to the Lord. She gives him her ornaments to present it to her Lord. Taking it, Hanuman heads back to Kishkinda. He meets Lord Rama and Lakshmana and narrates them the entire story. Next, they conduct a meeting with Sugriv to plan their course of action in order to free Sita from Lanka.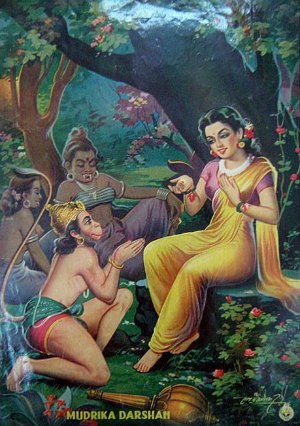 Image Courtesy: By MV Sharma printed by Anant Shivaji Desai [Public domain], via Wikimedia Commons
Both Mandodari and Vibhisan Try to Convince Ravana
Both seeing the damage done by Hanuman, the messenger of Lord Rama, Mandodari tries to convince Ravana by telling him about the effects and after effects but Ravana doesn't pay any heed to her. He even insults Vibhishan in the court when he tries to make him understand about the consequences. Vibhishan then meets Lord Rama and then requests for his friendship. Rama gladly accepts him as his friend.
Lord Rama Vs Ravana : The Initial Phase in Sunderkand
Sensing possible danger, Ravana then sends his men to spy around Rama. However, Shuka, the messenger his caught by Lakshmana. He then releases him and sends him to Ravana with a letter. This is the beginning of the war between Lord Rama and Ravana.
Yes, the Sunder kand is the story where Lord Hanuman not only finds Sita but also gives Lord Rama the much necessary support to wage his war against the cruel Ravana in Ramayana. 
Do not Miss Reading:
Know the Vanvas Route of Lord Rama – From Ayodhya to Lanka!
5 Reasons Why Lord Hanuman Didn't Kill Vali (Bali) in Ramayana 
Lord Hanuman and Shani Dev : Lesser Known Stories And Facts 
Interesting & Lesser known facts about Lakshman in Ramayan