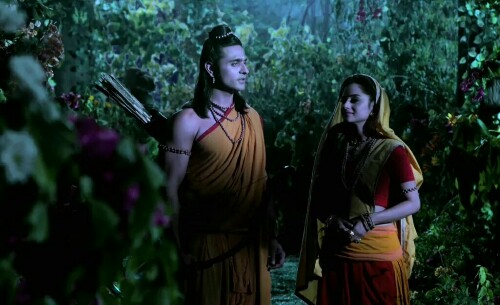 The journey of Ram, Lakshman and Sita started from Ayodhya after he decided to meet the demands of his favorite mother Rani Kaikeyi. Here we share the 14 years of vanvas of Lord Rama that started from Ayodhya in the north and went down till Lanka in the South.
The Start – From Ayodha to The End of Kosala Kingdom
Ayodhya is located on the southern banks of present day Ghagra River. They were escorted by Maharaja Dashrath's Prime Minister Sumantra in a chariot to the banks of Tamsa River almost 20km away from Ayodhya. Here, there is a place called Purva Chakiya, the subjects of Ayodhya followed Ram till here. However, Ram, Lakshman and Sita left the citizen in the middle of the night in a chariot along with Sumanthra so that none of them could follow Ram in the future journey.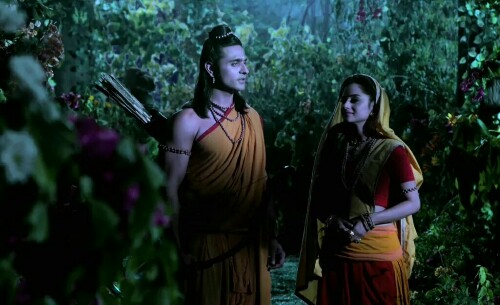 Image Courtesy: @SiyaKeRam_SP via Twitter
Crossing Gomti and Vadritha river, they came towards the bank of Sandika River. This was the southern border of Kosala kingdom.
The Journey of Lord Rama From Prayag to Chitrakut
Next, they reached Prayag.  It was here that Ram met his old friend Guha, a Nishada who helped the trio cross the river in his boat. Next, they arrived at sage Bharadwaj's hermitage, who counseled them to stay near the mountains of Chitrakut around 30 miles from Prayag.
2 km away from Bharadwaj'a ashram is Sita Kund a holy place, it was here that Ram requested Sumanthra to head back to Ayodhya. Next, the trio reached Triveni Sangam and crossed river Yamuna in a raft. It took 2 days for Ram, Laksham and Sita to reach Chitrakut barefoot after they crossed river Yamuna.
After crossing Ramnangar and Valmiki Ashram, the trio reached kamadgiri Mountains in Chitrakut. It was this spot where Bharat met Ram and took his paduka (slippers) to place on throne. Soon, many people started visiting the place disturbing the other holy men and sages. So, Ram decided to leave Chitrakut. It is assumed that Ram would stayed here for one or two years.
10 Years Into the Dandak Forest
Next they moved to Amravati almost 7 km away from Atri Asharam in Chitrakoot. It was here Lord Rama had killed the demon Viradh. Post this, he moved to Sharbhang Ashram in Satna (in Madhya Pradesh). There were plenty if hermitages here and so Lord Rama ended spending 10 years in the Dandak forest living few seasons, months and/or years in different hermitages.
After that he came in Ramtek area in Nagpur and then headed towards Nashik. It was here that Lord Rama reached the Sutiksha Muni (Disciple of Agastya rishi) ashram. This place had.many demons. Rama killed plenty of them. Interestingly, this is the same place where Maa Durga killed Mahisasur.
Next, Ram moved to Agastya ashram where Agastya Rishi gave him the knowledge of several celestial weapons. He then guided him towards Godavari river and also asked him to make his ashram near the river.
The Kidnapping of Sita in Panchavati
They reached Panchavati and started residing in a small hut. It was here that Lakshman had chopped off Surpnakha's nose. Also, this is the same place where Sita was kidnapped by Ravan killing Mareech and Jatayu.
Post the kidnapping of Sita, the brothers headed towards the Kaband Ashram near Ramdurg in Belgaum, Karnataka. Then to Shabri Ashram where Shabri, a disciple of Sage Matang tasted the berries and then gave it to Ram so that she ensured the berries are sweet. Shabri was the one who asked Ram to approach Sugriv to search his wife Sita.
Lord Rama Meets Hanuman in Kishkinda
In search of Sugreev, Ram and Lakshman came to Kishkinda. Here they met Hanuman who then took both the brothers on his shoulders to meet Sugreev.
Lord Rama then spent the monsoon in Billari. It was here that Hanuman gave information about Sita to Ram. Next, they headed towards Tamil Nadu and reached Tricullapalli. Here, Ram prayed to Lord Shiva and also asked penance for killing Khar and Dooshan.
Then from Rampath, Ramanthpuram, Lord Rama finally reached Rameshwaram from where a bridge was made to travel Lanka.
Details of each visit and place will be described in our upcoming articles on Ramayan.
Source and Reference:
Rama's Journey from Ayodhya to Lanka
Sri Rama's journey from Ayodhya to Lanka
Do Not Miss Reading:
Know Why Lord Hanuman Was Much Much Powerful Than King Bali
The Real Reason Why Kaikeyi Asked 14 Years Vanvas for Ram!
NationalViews is a home for people with views and opinions that caters to the changing India.It is a place for the common men to articulate their views and opinions on any topic. A platform where you express and we publish. Mail us your opinion, views, and thoughts at editor@nationalviews.com and we will help you reach out to the masses.